Deciding to create your own business is daunting, but writing out your business plan doesn't have to be. All you must know is what goes into a business plan—but what do you need to decide? What all should your plan contain
Hair Salon Business Plan Must Haves
Operations Information: How will you run your business?
Legal information: How will you insure your business?
Management and Staffing: Who will run your business?
Finances: How will you pay to run your business?
Location: Where will you run your business?
Marketing: How will you tell people about your business?
Mission Statement and Philosophy: Why do you run your business?
 As you determine what goes into your business, use the following as a guide to work on your own business plan.
1. Operations Information: How will you run your business?
This is the first and foremost decision you need to make on your business plan. Figuring out exactly how you want to run your business will inform the rest of your decisions, so make sure you do this first.
In this step, you should be considering your business structure. If you are operating under a name that is not your own, you may have to register as a Doing Business As business. If you register under your own name, that requires you to register differently, as is working as a partnership with another person or creating a limited liability company. Consult with your lawyer or attorney to find out which option is best for you.
Not everything in this section must be boring—this is also the point in which you should consider your business name. Make your business stand out by picking something unique, but also make sure it is timeless—you want your business to become a staple in your community, not be a flash in the pan. Learn how to protect your brand by visiting the U.S. Small Business Administration website.
2. Legal information: How will you insure your business?
Before you move on to the other sections of your business plan, determine how you plan on insuring your salon. Salon insurance is important as it protects you and your employees, along with your clients—work with your lawyer to determine what options are best for you.
Within this section, you should also outline all the licenses you will need to run your business. You will need a state cosmetology or beautician's license, potentially a salon manager license, a vendor license, a business license, a federal employer identification number, and a certificate of occupancy. Most of these licenses can be acquired through your state board of taxation or revenue; if they do not, most websites will guide you to where you need to go to find those licenses. The certificate of occupancy can be found through your local government offices.
 3. Management and Staffing: Who will run your business?
Whether you decide to go it alone at first or if you want to hire additional employees, you should consider your staffing in this section of the business plan. If you intend on running your business, great—make sure you put that down on paper. If you want to hire a manager, outline what you want in that manager so when you put it out for job seekers, you know exactly what you're looking for. Do the same with your potential employees or contractors.
When it comes to hair salons, you also need to consider what model you wish to use for your stylists. If you want to start out alone, that's great, but at some point down the line to expand your business you will have to open your doors to more stylists. You will have to decide whether you want to hire them on as employees—you pay them a flat rate, pay their insurance, and they earn a commission—or independent contractors—they pay you for rent of their booth and they pay their own insurance while keeping their income. Plan for this now and you will be ready when the time comes to bring in additional stylists!
You should also be considering any offerings you'd like to provide your employees, like health insurance or dental insurance.
4. Finances: How will you pay to run your business?
Before you move forward on any concrete decisions, make sure to set up your finances. Knowing what your budget is and all the loan options before you move forward is key—and in many cases, imperative to your business creation. Most loan providers will require you to have a business plan before you're even considered for a loan.
Within your budget, you shouldn't just have your day-to-day expenses and your start up costs. Consider your short-term and long-term goals. How much do you want to make in your first six months? A year? Five years? Think about these numbers so you can build them into your business plan, but be realistic and factor in additional costs where needed.
You should also consider in this point of your plan's implementation getting your own business account. By outlining it in your business plan, you can use your plan as a checklist when you decide to move forward, so making a note of this action in your business plan will help you stay on task.
5. Location: Where will you run your business?
Before you even go out and shop for a potential location, consider what you want out of your storefront. Who is your intended customer base, and what will it look like? How many booths will you offer? What will your waiting area look like?
You should also consider your price point and what you're willing to pay each month for rent and utilities. This can be done within your finances step—get a good handle on what you want to pay so you can easily decide on your location. Also consider the price of any equipment or improvements you may need to make to your building, as you may choose a place that is not set up for a hair salon.
You can also start thinking about where you want to move your business. Don't just limit yourself to a small section of your community—think about your demographics and where the need is. If you find yourself looking at an area with several hair salons, consider looking at parts of your community that are underserved—you may find yourself bringing in more customers down the road.
6. Marketing: How will you tell people about your business?
Marketing is the only way to get the word out about your business, whether it's word of mouth or online. In this part of your business plan, figure out how you want to do that, whether it's through online advertising, creating your own social media pages, and creating your own website. These costs can be included in your finances, but here is where you can delve deep into your marketing plan and determine exactly how you want to display your new business to the world.
Here is a great place to start outlining your branding. What colors do you want to use? What fonts? Make a list of things you want to have for your business, like images, videos, logos, etc. so you have a checklist for when you get to this point of your business creation process.
Check out these ideas on how to promote your salon business!
7. Mission Statement and Philosophy: Why do you run your business?
Once you've thought long and hard about all the factors that go into your business, it's time to wrap it all up into why you want to start your business. Figure out what it is you stand for and what you want to provide and write it down. You should explain what your business is and what you intend to do in a clear, concise way so your potential clients can get an idea of exactly what kind of business you are before they step foot in your doors.
Creating a business plan does not have to be overwhelming—use this list as a guide to figure out exactly what it is you want out of your hair salon. Don't be afraid to add more details along the way—the more information and decisions you make at the start of your business creation process, the less questions you have later! For more help on how to write a business plan, visit the U.S. Small Business Administration guide.
RELATED QUESTIONS
Why does my salon need a vendor license?
Many salons will sell retail products to their customers in addition to providing services. If you wish to do so, you will be required to have a vendor license so the government can collect sales tax on those retail items. As long as you have that vendor license, you can sell anything you want in your business except for items that require additional permits like food or alcohol.
Should I do commission or booth rental in my hair salon?
Commission is when your have employees working in your salon and they earn money based on the number of clients they bring in. Typically this is a percentage per person. Booth rental, on the other hand, means all your stylists are independent contractors and pay you a flat rate for their booth. If you want to pay your employees' taxes and manage them like employees, choose a commission model. If you would rather let them handle their own taxes but have less control over how they do business, choose the booth rental model.
Related Articles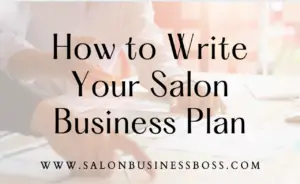 ​
​
​
​
​
​​
Looking to start your own Salon? Get the documents you need to get organized and funded here.
Please note: This blog post is for educational purposes only and does not constitute legal advice. Please consult a legal expert to address your specific needs.