The top best hair salon business quotes and slogans to use in your marketing are out there for the taking. But that doesn't mean finding the right ones for your hair salon business will be easy; great marketing takes work.
Catchy slogans are one thing and can grab people's attention, but a good marketing strategy is in a field all its own. Memorable quotes and slogans will give your hair salon the shot in the arm it needs to grow, as long as they speak to who you are. 
Using just the right words in your slogan or quote will attract customers because it will let them know precisely what you do. It will give your shop an air of professionalism and show your creative side as well.
To understand and practice good salon business marketing, you might have to learn to think in a whole new way. Doing marketing right means you will boost sales, increase revenue, and strengthen your brand awareness. 
Whether you're doing email marketing, social media marketing, or print ads, you can build a better brand by studying the marketing gurus techniques of our day. 
"Good marketing makes the business look smart; great marketing makes the customer feel smart." Joe Chernov, CMO, Pendo
The gist of this quote by Joe Chernov is about putting your customers first. Great marketing establishes the customer as the heart of your business and the reason for its existence. 
Gimmicks can only go so far and will probably fall flat on their faces if you can't deliver on the promises of those gimmicks. Instead, think of ways to make your customers the heroes in your business.
Styles to fit your lifestyle. This is a slogan that puts the customer at the center of your hair salon business. To do this, you need to develop a giving mindset. This mindset says that no detail is too small for your attention. It says that you do more than listen to your customers; you hear them. 
Your customers determine your future; every new client you add directly affects your growth. It's great to have various products and services to grow your salon clientele, but if your customers don't feel like you meet their needs, they won't become repeat customers. 
"Here's my whole marketing idea: treat people the way you want to be treated." Garth Brooks, Country, and western singer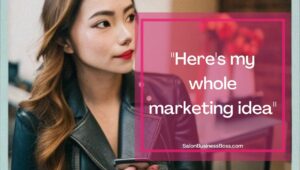 This quote embodies the best way to grow your hair salon business; it's also how you can develop that giving mindset. Put yourself in your customer's shoes. All it takes is common sense and practicing the Golden Rule.
Think about your last salon experience; what did you like and dislike about it? How would you improve it? Now take these ideas and incorporate them into your salon.
I want you to love your hair. This salon slogan is catchy and says it all. It should be every hairdresser's goal to have their customers walk out the door happy. It's what every customer dreams of. 
Whether your customers are men or women, everyone wants a good haircut to get their money's worth. No one wants a bad hair day! Hair, or the lack of it, is a prominent feature for all of us; it's part of our identity. 
Blondes have more fun. This isn't a slogan you would use today, but it is one of the great slogans of its time. Why was it so successful? 
We can learn from this catchy phrase of days gone by because it does contain some truth. Hair influences the way others see us, and studies on hair color have shown that blonde is the most approachable.
But whether that's true or not, hair does influence the way others see us. And that's a truth that all hair salon owners and managers should keep in mind. 
Love your hair; love yourself.
This slogan personifies what I just said about the influence of hair on people, including yourself. Women still flock to hair salons to 'go blonde' if only for a few months. 
 The lesson here is that when you look good, you feel good. A good hair cut can make your day, or it can break your day. 
"Content builds relationships. Relationships are built on trust. Trust drives revenue." Andrew Davis, marketing speaker, and bestselling author
Trust is not a 'given' in today's business world. Know your brand's values, and stay true to them. Your brand values are the compass that guides your brand story, actions, behaviors, and decision-making. Running a hair salon, as with any other business, can get rocky; at times, you'll be required to make tough choices.
Integrity, honesty, self-discipline, and dependability are shining examples of core values. When you demonstrate these values in your business, it has a much better chance of growing.
A Cut Above the Rest.
This slogan screams professionalism. It says to your customers that they've come to the right place, that they will get the most professional hair care on the market. Your professionalism shows that other people trust you.
It says to customers that your salon has proven itself, has stood the test of time and that your work speaks for itself. It's not meant to brag, it's merely the truth, and you can prove it. Truth is one thing people are looking for today; if you can provide that, you're already a cut above the rest. 
"Build something 100 people love, not something 1 million people like." Brian Chesky, co-founder of Airbnb
The essence of this quote is caring; when you care about people, they will know it. In most cases, they'll respond to it in kind. The best part of caring is that customers will tell others about you. 
Genuine caring is the heart of word of mouth advertising and is still viable in today's digital world. 
Styles to Fit Your Lifestyle
Many people these days seem to be in a big hurry. One of the biggest challenges as a stylist is to know how to cut hair and give your customers what they want, and do it in a hurry. As a stylist, your job is to give them the kind of hairstyle and cut that fits their life. 
Knowing how to cut hair that fits a person's lifestyle takes getting to know your customers and honing your listening skills so that you can match their cut to their lifestyle, busy or not.
"Give them quality. That's the best kind of advertising." Milton Hershey, entrepreneur.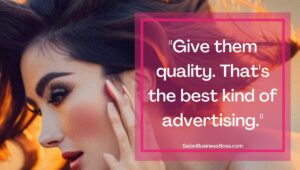 A loyal customer base demands excellent customer service. It starts with service from the heart. It also means going beyond your products and services. Loyal customers are the best customers because they will refer your business to friends and family. 
Connect with what your hair salon customers think and feel and how you can make their visit better. That's what a quality experience is all about. 
Where Guests are the Canvas and Art is Created.
This slogan creates an image in a customer's mind of a high-class salon. Your customers will be sipping wine and listening to classical music while you cut their hair in this salon.
Imagine giving your customers the ultimate calming experience. When they leave your salon, they'll have new hair, and they'll feel like a million bucks. This slogan will help distinguish you from your competitors.
"I've learned that people will forget what you said, people will forget what you did, but people will never forget how you made them feel." Maya Angelou, poet author
What else needs to be said? This quote says it all and covers everything you need to know as a person who cuts people's hair. Your customers come to you looking for quality care, and with this as your motto, they won't leave disappointed.
Changing the world one haircut at a time.
This slogan has a global feeling to it, but it also speaks to your customers individually. Together we can change the world with great haircuts. It may seem a bit trite, but the truth is that a great haircut can change a person for the better. 
Giving a person a great cut makes them feel more like going out into the world, and sharing the love and caring you showed them.
To learn even more tips on attracting clients, check out our article HERE!
"Marketing's job is never done. It's about perpetual motion. We must continue to innovate every day." Beth Comstock, Vice-Chair of GE
Every day you open the door to your salon is another opportunity to innovate, revolutionize, and transform. Success in the hair salon business means living on the cutting edge of style.
Focus on originality and improvement of your bottom line while never forgetting that it's your customers that make it possible for you to do all of this in the first place. 
Related Questions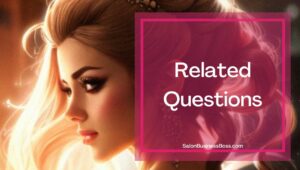 How can I create a salon culture?
Treat your employees just like you treat your customers by making them a priority. If stylists are happy, customers will be happy too. Concentrate on creating the kind of culture no one else has.
How can I stay social?
Ask your stylists to get and stay social. Use content that your stylists use on their own social media pages. It's a great way to keep your brand out there. And as a result, put a spotlight on your stylists.
Looking to start your own Salon? Get the documents you need to get organized and funded here.
Please note: This blog post is for educational purposes only and does not constitute legal advice. Please consult a legal expert to address your specific needs.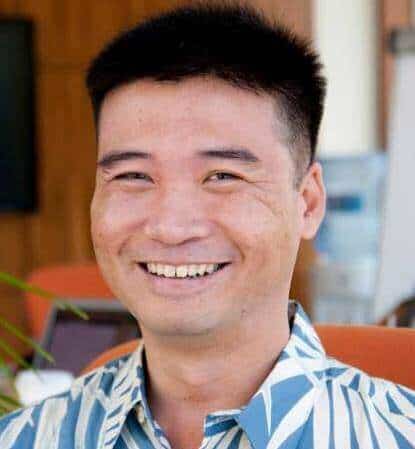 About the author. Entrepreneur and Salon Business Fan.
Hi! I am Shawn and I am a happy individual who happens to be an entrepreneur. I have owned several types of businesses in my life from a coffee shop to an import and export business to an online review business plus a few more and now I create online salon business resources for those interested in starting new ventures. It's demanding work but I love it. I do it for those passionate about their business and their goals. That's why when I meet a salon business owner, I see myself. I know how hard the struggle is to retain clients, find good employees and keep the business growing all while trying to stay competitive.
That's why I created Salon Business Boss: I want to help salon business owners like you build a thriving business that brings you endless joy and supports your ideal lifestyle.