Getting the correct licenses is an important step when opening your own salon, but what licenses do you need how do you go about obtaining them? State laws vary, but most businesses of this type are required to get a few very specific licenses in order to serve customers in their area.
To start, you must earn a cosmetology or beautician's license. Your facilities will then have to undergo a health inspection so you can get a salon license, and you will need to obtain a general business and possibly a retail seller license.
The process of obtaining these licenses can be a bit involved and may seem intimidating to a new business owner, but a little time and attention to detail will put you on the right track toward getting your new salon licensed. Let's take a look at each type of license you'll need and go over a bit more of the details on how to apply for them.
Cosmetology Licenses: Which Type Should You Choose?
If you are planning on opening a salon, chances are pretty good that you've already undergone the proper training and have earned your cosmetologist license through your state's board of cosmetology. If you haven't already done so, this must be your first step before moving forward with your business plan. It may go without saying, but you will not be able to open your new salon without the proper training and certification.
There are several types of cosmetology licenses to choose from, including cosmetologist, barber, aesthetician, manicurist, electrologist, and esthetician. So, when starting a cosmetology program, which one is right for you? All of them have their own special uses, but there is one that stands out above the rest for those who want to own and operate their own salon.
The cosmetologist license is the most versatile choice. It allows you to work on both men's and women's hair, skin, and nails, making it the best license for most salon owners. This option also has the longest required training time, at a range of 1500 to 2100 training hours, depending on your state. Though that degree of schooling may seem a bit daunting at first, it is certainly worth investing the time in order to reach your dream of opening a salon.
If you are planning to work with only male clients, then a barber's license may be a better choice for you. To earn your barber's license, you will take many of the same classes as those studying for a cosmetologist license, but you will concentrate on men's hair, including beards. Barbers aren't required to train for as many hours as cosmetologists, clocking in at an average of 1500 hours depending on your state, but do keep in mind that a barber's license will not enable you to open a salon that caters to both male and female clients unless you have a partner with a cosmetologist license. Because of this limitation, you may want to take the time to earn a more in-depth cosmetologist license instead.
The remaining cosmetology license options are great for some but are not sufficient for those who wish to open their own salon, though you can seek them as a secondary line of study to accompany your cosmetologist license. An aesthetician license is all about skincare, and those who earn one generally work in a medical office, while an esthetician cares for the skin in a salon or spa setting. A manicurist license can, of course, come in handy if you want to offer manicures and pedicures in your salon, or can be used to open a salon that caters only to nails care, but isn't enough for those who want to style peoples' hair. Finally, an electrologist license is great to have if you want to offer hair-removal services in your facility but is also insufficient for would-be salon owners.
Now that you've chosen which license you will obtain, it's time to select a school and get studying! You can visit the American Association of Cosmetology Schools (AASC) website to determine how many hours of training your state requires for your area of study, and to make sure that the school you are planning on attending offers an accredited program that will allow you to earn your license. After you have completed all of your training hours, you will then need to contact your state's board of cosmetology in order to apply for your license. Another visit to the AASC website can help you locate your local board. You will likely have to present your certificate from the state-approved school that you attended, and pay a fee in order to take both a written and practical exam. Keep in mind that fees vary by location, and can cost over $100, depending on where you live. 
Once you have passed your exams, you will finally earn your cosmologist license and be one step closer to reaching your dream of owning a salon!
Passing Your Health inspection and Getting Your Salon License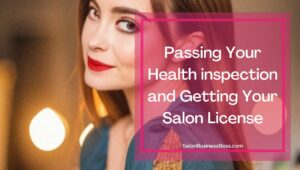 In addition to a cosmetology license, most states also require a salon owner to have a specialized Salon License. In order to obtain this, you will have to pass an inspection by the state health department. Preparing your salon for that inspection is a very important step, and requires careful attention to detail. Let's get into some of the things the health department official will be looking at during their visit to your salon.
During your inspection, there are several things that will be assessed using a checklist that breaks the process down into three to four categories. These include:
Licenses and Postings (sometimes broken into "Establishment" and "Personal" Licenses)

Sanitation, Health, and Safety
Other
When looking at your licenses, the inspector will want to make sure all of them are current and valid with the correct information, including up-to-date addresses. You will need to post originals of all of your employees' cosmetology licenses in plain view, and each of your cosmetologists will have to have a valid government-issued photo ID with them during work hours. You will also have to post something called a "Message to the Consumer" in the waiting area, which explains how a customer can file a complaint to the local board of cosmetology, and you should have any required business licenses, such as your retail business license, on display.
The sanitation, health, and safety portion of the inspection is the largest and most in-depth part of the process. The department of health officials will be making sure that you have the appropriate containers for disinfecting all non-electronic equipment and a sufficient amount of the correct kind of disinfectant. They will want to make sure you are properly disposing of cut hair as well as all salon items that cannot be disinfected, and that you have separate storage for clean and soiled instruments, as well as for one-time use supplies. They will inspect your chairs, shampoo bowls, and foot spas if you offer pedicure services. They will make sure your public restroom is clean, there is hot and cold running water for handwashing, and potable water available for drinking. All supplies will need to be properly labeled and stored, surfaces must be cleaned, and you must have fresh towels on hand for all clients. In short, they will check over everything you can possibly imagine, if not more, but there's no need to be intimidated. This part of the inspection is very in-depth, but you can prepare for it by checking your local regulations and making sure to operate within the required standards from the very first day you open your business.
The "other" category of the inspection generally includes things that the inspectors do not want to see, such as prohibited instruments and practices. The inspector may also check to make sure your employees are not carrying tools in their pockets, and that they are not working on clients who have obvious signs of infection or injury. 
When preparing for your inspection, your best course of action would be to visit your local board of cosmetology website and download your state's checklist. Using that checklist will help ensure that you are fully prepared for the health department's official visit. After you have gone through the list and are confident that you are ready, you can contact your department of health to schedule your initial inspection. If you fail on the first try, you can pay to be re-tested after corrections have been made, but a little time and care prior to the official's first visit to your salon can help you earn a top-score the first time through. Once you have passed your health inspection, you can apply for your salon license either through your local business licensing board, or your cosmetology board, depending on your state. Don't forget that, after your salon license arrives, you should display it with other licenses for your customers and future health inspectors to see.
Getting Your Business and Retail Licenses\
Finally, you will need to apply for your general business license, which all small businesses of any type must-have. This license comes from your state and authorizes you to open your salon within your geographic region. Business licenses are designed to protect consumers, and without one, you will likely have to pay fines, and your salon may be shut down. 
In order to get your business license, you will need to apply for one with your local business license department. This can be found by visiting your state's government website and doing a search for business licenses. You will find that every state has different requirements and fees, but you can expect to spend an average of about $100, depending on your location. This license will also have to be renewed approximately every one to three years, again depending on your state's specifications.
In addition to this general business license, you may also need to obtain a retail license. This will enable you to sell products, such as shampoos, conditioners, skincare products, and other items at your salon. Having a retail display can really boost your business, both by adding additional income from those sales and by inspiring customers to return to buy products and pay for your salon services again in the future, so taking the time to get a retail license and set up a display of products will be well worth your time. The application process for this is similar to the regular business license, and you may be able to apply for both at the same time. Like with all other licenses, the cost of the retail license varies by state but is usually less than the fee for the general business license.
Like with any business, getting your new salon properly licensed will take some time and determination. Once the process is complete, you will be well on your way toward opening your business and earning a living by doing something you are passionate about.
Related Questions
Will I have to renew my cosmetology license in the future?
Yes, you will have to renew your cosmetology license. The length of time your license is valid varies by state, but most seem to require cosmetologists to participate in continuing education and renew their licenses every two years.
How often will my salon undergo health inspections?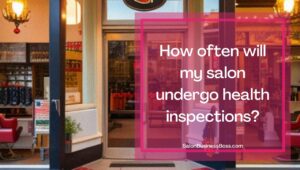 This varies by state, but you should expect to be visited by a health department official at least once per year. Keeping a copy of the inspection checklist on hand and going over it regularly to ensure that your employees and business are following all regulations will go a long way toward ensuring that you get a perfect score every time the health inspector comes.
What types of products can I sell in the retail portion of my salon?
Aside from the expected hair and skincare products, you can sell cosmetics, shaving products, or even candles and jewelry. Use your imagination, and try working with a local artisan so you can carry unique items that can't be found in the big chain stores in order to keep your customers returning again and again.
Please note: This blog post is for educational purposes only and does not constitute legal advice. Please consult a legal expert to address your specific needs.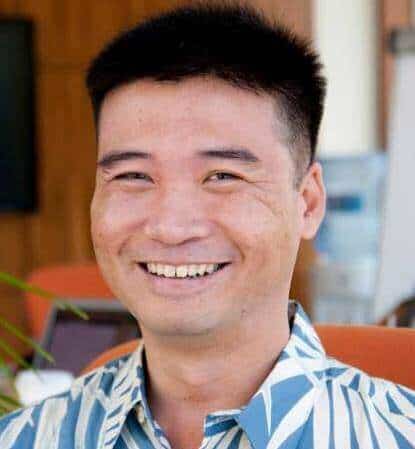 About the author. Entrepreneur and Salon Business Fan.
Hi! I am Shawn and I am a happy individual who happens to be an entrepreneur. I have owned several types of businesses in my life from a coffee shop to an import and export business to an online review business plus a few more and now I create online salon business resources for those interested in starting new ventures. It's demanding work but I love it. I do it for those passionate about their business and their goals. That's why when I meet a salon business owner, I see myself. I know how hard the struggle is to retain clients, find good employees and keep the business growing all while trying to stay competitive.
That's why I created Salon Business Boss: I want to help salon business owners like you build a thriving business that brings you endless joy and supports your ideal lifestyle.