When you start your own salon, it is likely that you will rent out space in your salon to a beauty professional at some point during the life of your business. If things don't work out well between your salon and the booth renter, it is essential for you to know how to evict the renter professionally and legally. We have included all the details you need to know if faced with this situation.
To evict a booth renter in your salon, you first need to research the requirements in your own state for evicting a renter. Each state will have its own regulations. Once you've done your research, you need to refer back to your rental agreement. The next step is providing the renter with the eviction notice. The last step is making sure you document all the details of the eviction.
Research Requirements in Your State
When a beauty professional rents space in your salon and pay you a monthly fee, you can not fire the beauty professional like you can when you hire an employee. Your booth renter has their own rights as a renter. You have to ensure that you follow your state's regulations when asking a booth renter to leave.
The first step in evicting a booth renter is researching the eviction regulations in your own specific state. Every state will have their own requirements for how much notice you must give the renter, how you need to notify the renter of the eviction, etc. Some states will also require you to get a court order before you give your renter an eviction notice.
You can often find your state's eviction laws by visiting your state's website. If you have any questions or don't understand part of the eviction laws, we always recommend getting clarification and reaching out to your state for help.
Not researching your state's eviction laws and not following all the regulations can result in legal trouble. If you evict a booth renter with no notice and not in the proper way, you can be sued by your renter and then face large fines from your state. This can ultimately put your business in jeopardy. 
Refer to Your Rental Agreement
When a beauty professional rents space in your salon, it is essential that you create a rental agreement or contract that clearly states what each party is agreeing to. In this agreement, you should include the length of notice you will provide, how much notice the renter must give, the monthly rental fee, and all other important details.
To keep both you and your business protected, we highly recommend having an attorney help you with creating your rental agreements and leases. An attorney will be able to make sure that all of the details and outlines of the agreement are legal. For example, there are certain regulations you can't legally require renters to follow in some states.
If you are planning on evicting a booth renter, it is important to thoroughly go through your rental agreement first. You need to ensure that you are following all of the details in the agreement and keeping any commitments you've made. You also need to ensure that your agreement and lease is still valid.
If your rental agreement is not valid any longer or if it's not written properly, then you need to know this before you give your rental an eviction notice. You will not be able to refer back to the agreement in the notice if the agreement is no longer valid.
One important factor to keep in mind is that if your agreement is no longer valid, you still can't evict your booth renter without any notice. When your renter pays you money for rent, and you accept the money, most states will consider this a common law or oral lease. Therefore, you will still be required to give notice.
Provide Renter with Eviction Notice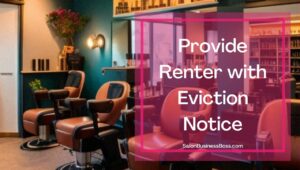 Before giving your booth renter a copy of the eviction notice, we recommend setting up a meeting with the renter. This way, you can discuss the details in person and attempt to keep the situation as calm and professional as possible. If you give your renter the eviction notice before talking in person, it can drastically change how the situation goes.
Once you and the renter have agreed on a time to meet, you should bring a copy of the eviction notice with you to give to your renter. During the meeting, it is important to maintain a calm voice and an open mind. If you expect the meeting to get escalated, you may benefit from having a third-party individual join the meeting to keep it professional.
Along with being calm during the meeting, it is important to also be firm. You should openly communicate why you've made the decision to no longer keep the renter in your salon, so they can know for future reference what they can improve on. Both parties should be able to give their feedback at the meeting.
The details of the meeting may vary, depending on the reason why you're evicting the renter. For example, Your meeting may go much differently if the renter stopped paying verse if the renter is no longer a beneficial addition to your salon. We recommend covering the details in the meeting, like which months you didn't receive payment.
If you are evicting the renter for behavioral concerns, we recommend being aware of the tone of your voice during the meeting. If it comes across like you are accusing or criticizing the renter, they will be more likely to get defensive in the meeting. The ultimate goal is for both parties to leave on good terms once the meeting and eviction is complete. 
Document the Details of the Eviction
Throughout the process of evicting a booth renter, we recommend keeping as much documentation as you can. Keeping documentation protects you as the salon owner. If the booth renter tries to sue you for illegal eviction, you want to be able to provide documentation that shows that you have evicted the renter legally.
Things you should document include any months that the renter does not pay their monthly fee, multiple copies of your rental agreement, multiple copies of your eviction notice, copies of any written conversation you have with the renter and any other documentation that may help you if you are faced with a lawsuit.
When you are dealing with legal matters, there is no such thing as having too much documentation. You will always be safe to have as much proof and documentation as possible. When renting space in your salon to booth renters, you should keep track of everything that is discussed between you and the renter regarding your agreement.
When you are creating contracts and agreements, it is also recommended to hire an attorney when possible. If your budget allows, you should have an attorney write and review all of your contracts. This will ensure that your contracts are thorough and legally binding. An attorney will also be able to catch anything that may cause you trouble in a court situation.
If you are wondering whether you should document a conversation or not, you should always lean on the side of documenting. You will never regret keeping a conversation or agreement. However, you can regret not keeping enough documentation. A part of owning a salon is protecting your business, which you can do by documenting as much as possible.
Evicting a booth renter in your salon can be a stressful situation, but it is more than possible to get through the eviction in a professional and calm matter! By following all of your state's regulations, having open communication, and being firm, both you and your booth renter can end your agreement on good terms.
Related Questions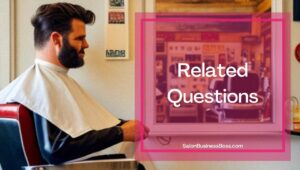 Do I need to hire employees for my new salon?
No, you are not required to hire employees to start a salon. To help you provide services in your salon, you have the option of allowing independent beauty professionals to rent space in your salon. In exchange for a monthly fee, the beauty professional would then have a booth in your salon and provide services to clients.
By renting space in your salon to renters, you will save money on not having to pay for certain employee expenses like employee insurance. You do need to keep in mind that as your salon grows, you will likely need to eventually hire employees to help with tasks like administrative work, customer service, etc.
What licenses and permits do I need to start my own salon?
When you are starting your own salon, there are certain licenses and permits you will need to get before you can open for business. The first documentation you need is your business license. The requirements to get your business license will depend on your state.
You will likely also need to get certain building permits in order to open your new salon. When you are starting your business, we recommend researching your state requirements first to see what regulations will be required in your specific area.
Please note: This blog post is for educational purposes only and does not constitute legal advice. Please consult a legal expert to address your specific needs.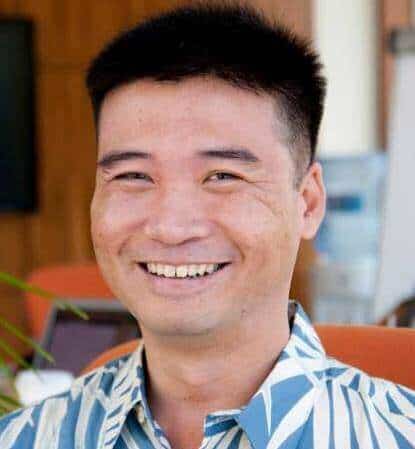 About the author. Entrepreneur and Salon Business Fan.
Hi! I am Shawn and I am a happy individual who happens to be an entrepreneur. I have owned several types of businesses in my life from a coffee shop to an import and export business to an online review business plus a few more and now I create online salon business resources for those interested in starting new ventures. It's demanding work but I love it. I do it for those passionate about their business and their goals. That's why when I meet a salon business owner, I see myself. I know how hard the struggle is to retain clients, find good employees and keep the business growing all while trying to stay competitive.
That's why I created Salon Business Boss: I want to help salon business owners like you build a thriving business that brings you endless joy and supports your ideal lifestyle.