Chances are pretty good that there are a few hair salons in your area, but how many of them cater strictly to children? To some, opening a kids' salon my seem silly, but businesses of this nature are popping up all over the country as licensed hairstylists recognize that kid-friendly salons make for a better experience for children, and can be a fun and rewarding way for them to open their own businesses. While opening a regular and a kids-only salon has some steps in common, there are some special things to consider when designing a stylish business around a younger clientele.
When starting a kids' salon, first you will need to create a business plan. Once your plan is written, you can then find the perfect location and begin the process of furnishing and decorating your new business in a fun, kid-friendly fashion. While these steps are, in fact, similar to those you might follow if you were opening a beauty parlor or barbershop for all ages, you will still need to keep your target clients in mind from beginning to end in order to ensure that your kid salon is a fun, relaxed environment for everything from first-time haircuts to picture day perfection. 
Begin with a Business Plan
The business plan is probably the most important step. This is where you will outline all of the details of your business, from your company's profile to marketing and budgeting. The very first thing you'll do when creating your plan is research. You will want to check your local area and see if a kids' salon has already been established. If there is one close by, how can you compete with it to bring in clients? If there isn't, why not? You'll want to make sure you learn as much as possible about your community's current needs for a business like the one you are planning on opening before you do anything else. 
Once you've determined that your dream of opening a kids' salon is feasible, then you can move on to the next part of your plan: writing your company description. Start with a fun name that will make kids want to visit your salon, then write out your vision for the business. This will include your mission statement, business goals, and the services you will provide, such as shampoos, hair cuts, kiddie mani-pedis, and even flower girl and ring-bearer hair styling. Use your imagination, but be sure to cater to your description of the kids you plan to work with.
Marketing is a key portion of your business plan. In this section, you will describe the ages of your clients and plan out how you will advertise in ways that appeal to both the children you will work with and their parents. This is also where you will include the market analysis research that you did before you began. Who are your business competitors, and how will you make your salon stand out above the rest so that it will be a success?
Your budget is another important part of your business plan. You can use programs like Microsoft Excel or Google Sheets and either create your own budget spreadsheets or download ready-made templates to help you record all of the money you are spending and earning throughout the process of starting and running your business. If budgeting isn't your strong suit, you may want to look for a financing course online or in your area or hire an accountant to help you get started.
Writing your own business plan can be a little intimidating, but it really is a very important step. Fortunately, there are a lot of free resources available online for those who are looking to create a business plan for the first time. Take a look at entrepreneur.com for some great, detailed articles on how to write a business plan, or download a free business plan template (like this one).
Finding the Perfect Location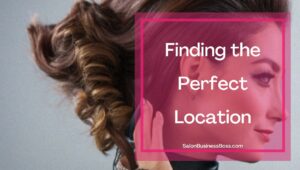 Once you have your business plan created, it's time to find the perfect place to open your salon. When you go to view rental spaces, make certain that the place you choose is large enough for the number of chairs, shampoo sinks, and other service counters that you want to set up. Though your clients will be smaller than the adults who frequent other salons, you will still want to ensure that you have enough room for all of your stylists to work. According to thesalonbusiness.com, you will need at least 175 square feet of space per stylist, and the average hair salon is about 1,500 square feet, providing enough room for up to eight chairs. They also suggest leaving at least 40 inches between each chair to give ample space for stylists to work. Keep in mind that you will also need room for your waiting area, shampoo stations, and space for manicures and pedicures if you plan to offer that service.
It is also a good idea to consider the actual location of your salon. You will want to select a space that is near other businesses that children and families already frequent, such as daycare centers and family restaurants. Doing so will ensure that children will see your business and will perhaps inspire them to want to visit, and it will make it more convenient for parents. You may even be able to come up with a promotional plan that benefits yourself and other child-friendly small businesses in your area, which will help you establish a customer base and boost your neighbors' revenue as well.
Keep in mind that wherever you decide to locate your salon, visibility and accessibility are key. You want kids to see your salon and be excited to go there, and you want parents to be happy to bring their children to you. 
Kid-Friendly Decorations and Salon Supplies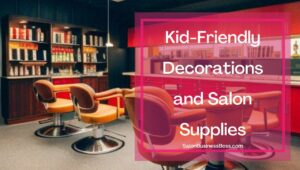 Now that you've picked the perfect space to open your business, the fun part can begin! It's time to decorate, supply, and furnish your business! 
When decorating, you'll want to use fun colors that will appeal to your target audience while remaining mindful that parents and stylists will also be spending a great deal of time in your salon. Calming, gender-neutral colors and kid-friendly themes are best. Use your imagination, and ask the children in your family for input, as well. Just be sure to select a theme or design that appeals to all of the children you plan to serve. Older children will be turned off by babyish decor, but kids of all ages can appreciate themes like under the sea or fun patterns like stripes and polka dots. 
Once you've chosen your style or theme, you can start furnishing your salon. When selecting salon chairs, you will find that there are a lot of great options available, from more standard-style chairs in fun colors to kid chairs that are designed to look like everything from animals to automobiles. If you are mainly going to serve very young children, a variety of fun chairs that look like carnival rides will be a great choice, but you may also want to select one or two "big-kid" chairs for older children and tweens. The more standard style chairs in colors that compliment your decor may also be a good choice for clients of all ages if you want your decor to have a more consistent look throughout. 
Salon chairs are, of course, not the only furniture you will require. You will need mirrors, shampoo bowls, stations and supply racks for those mani-pedis, counters, stools, and tool carts for your stylists, and, of course, a comfortable waiting area. For this, you will want to make sure to have chairs for both children and parents to sit in, and a variety of toys, children's books, kid style magazines, and reading materials for moms and dads. Again, keep in mind that you will want to accommodate clients of all ages and the adults who are with them in order to ensure that their visit to your salon is an enjoyable experience so that they'll want to come again.
There are, of course, some other supplies you will need, as well. Depending on your set-up, you may be able to ask your stylists to bring their own tools, but you will still want to make sure you have towels, kid-sized hair cutting capes, shampoos and conditioners, and other hair care products. You should also decide if you want to sell hair care products at your salon and make sure you have everything you'll need on hand if that is an option you want to explore.
As you can see, opening a kids' salon can be a lot of work, but it is also a fun, creative process. Just remember to keep your target audience and their parents in mind at all times from your earliest planning stages up to your opening day, and you will be thrilled with the results!
Related Questions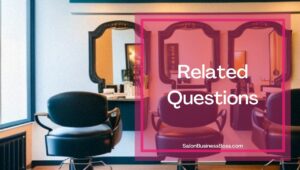 Where can I buy kid-style salon chairs?
There are a lot of places online where you can find different styles of salon chairs, both new and gently used. For example, you can find some fun options here or here 
What are some other fun decorations or theme ideas that I can use for my kid salon?
Use your imagination, but keep your target clients in mind so they'll be excited to visit your salon. Dinosaurs are always a popular gender-neutral option, as are farms and zoos, or you could do a red-carpet runway themed salon that the girls will love.
Looking to start your own Salon? Get the documents you need to get organized and funded here.
Please note: This blog post is for educational purposes only and does not constitute legal advice. Please consult a legal expert to address your specific needs.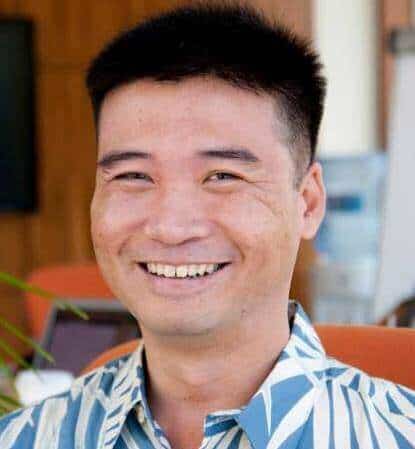 About the author. Entrepreneur and Salon Business Fan.
Hi! I am Shawn and I am a happy individual who happens to be an entrepreneur. I have owned several types of businesses in my life from a coffee shop to an import and export business to an online review business plus a few more and now I create online salon business resources for those interested in starting new ventures. It's demanding work but I love it. I do it for those passionate about their business and their goals. That's why when I meet a salon business owner, I see myself. I know how hard the struggle is to retain clients, find good employees and keep the business growing all while trying to stay competitive.
That's why I created Salon Business Boss: I want to help salon business owners like you build a thriving business that brings you endless joy and supports your ideal lifestyle.