In most cases, when you start your own beauty salon, you're going to need a number of licenses or classes to make sure you are in compliance with your local laws. But what jobs can you do within the beauty industry that do not require you to get some sort of cosmetology license?
Beauty services that do not require a license are shampooing, ethnic hair braiding, hair extensions retail sales, beauty salon receptionists, salon managers, fashion stylist, beauty consultant, apprentice workers, and beauty copywriters.
Before you consider working in a salon or starting your own, you need to determine what you want to provide and whether you need a license to provide that service. Read on to find out more about the industry and how to stay compliant, along with more information how to receive your cosmetology license and what you can do with it before you even get licensed.
What jobs require a cosmetology license?
For most positions, you will be required to have a cosmetology license. This encompasses the majority of the jobs in the field, including hair stylists, hair coloring stylists, barbers, makeup artists, nail technicians, and estheticians.
If you're looking to provide a service that means you're working with chemicals or need special education, you're going to need that license.
That doesn't mean you have to go to the 1,500-hour cosmetology course to work in the beauty industry. Many specialized services require less time, like working as a nail technician or starting your own lash extension business. While you will still have to get some sort of licensure to complete this work, it is much less extensive than the entire cosmetology license.
What jobs do not require a cosmetology license?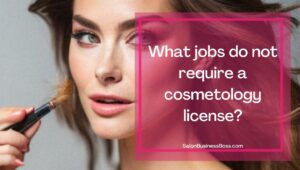 In many cases, there are less specialized positions that require less education and do not require you to have licensure. Shampooers typically do not need a license—as long as they are not treating hair with chemicals. For some states, natural hair braiders that specialize in more ethnic styles do not need a license and are actually exempt.
When it comes to selling hair, you also don't need a license—hair extension retailers do not need a cosmetology license to sell their hair to customers. While you do need your own business license and employee identification number to run your business, these can be obtained through the federal government and cost minimal fees—and no further education.
Another position that does not technically require you to have your license is an apprenticeship. This is a position you can take on while you're in cosmetology school and working towards your license, but at this stage in your education, that license is not yet required.
Other positions that are more advisory than hands-on also do not require a license, like when you're working as a fashion stylist or even a beauty consultant. If you are not actively providing a physical service on another person, in most cases, you do not need that cosmetology license.
If you're interested in working in a salon without going to cosmetology school, you can also consider that there are jobs within the salon that don't need them, like a receptionist. They are vital to the business without having to have the education to work on a customer.
In some cases, the salon manager does not need a cosmetology license if they are not performing in the business. Another position is beauty copywriter—while you're working in the beauty industry, you do not need to have any sort of license to create content about beauty services.
For many states, the licensure varies. Depending on where you live, the requirements and even names of the licenses needed may be different. Beauty School Programs has a comprehensive, updated list of requirements from state to state, including the number of hours you need to be considered for licensure.
How do I get my cosmetology license?
If you want to work in a field that requires it, you can go to cosmetology school to receive that license. While the requirements vary from state to state, in most cases, you need a high school diploma or a GED and attend a school for cosmetology training.
You may have to choose your own program when you pursue this option as well—there are so many opportunities when you seek your cosmetology license, including not just barbering but esthetics or skin care, fashion design, nail technology, massage therapy, and permanent makeup. You can even continue your education or learn how to teach in the field through the licensure program.
Providing certain services like those discussed previously without a license can result in fines or jail time if you are a not compliant. Make sure you follow the laws and reference the American Association of Cosmetology Schools website for more information about the requirements for your state and specific schools in which you can attend. For many programs, you will have about 1,500 hours of education before you can take the final exam, which usually have a practical and written section. Beauty school can take between eight months to two years, depending on what school you attend and whether you attend full time or part time.
When it comes to the beauty industry, there are requirements to work on a customer that involve many hours of education. But there are ways you can break through into both the beauty industry and beauty services that do not require all that additional education, like writing for the beauty industry or even managing your own salon. These positions aren't just helpful to those with licenses in the industry, but they are vital for the management of the business.
If you decide you want to go into a position that requires a license, you can get into the field before you do with that apprenticeship. Consider creating relationships with local stylists and cosmetologists before you even step foot in a classroom to give yourself a leg up. Whichever direction you decide, do what's best for you—and make sure that wherever you end up, you are in compliance with your state and local governments.
Related Questions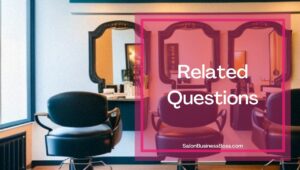 If I receive my cosmetology license in one state, can I work in another?
Most states have some sort of reciprocity license. If you would like to use your cosmetology license in another state, you may have to renew your license or take an additional exam in the state you wish to practice in. Regardless, you should not have to go through the educational process again. Check with the licensing board in your state and the state you wish to practice in to find out whether that reciprocity exists.
If I own my own salon and do not style hair myself, how do I make income?
You do not have to style hair yourself if you own your own salon. For most salon owners, the four main ways you can make an income include booth rental or employee commissions, retail, and endorsements. Booth rental means you are renting out your space to independent contractors. Similarly, an employee commission comes from stylists that you have hired yourself to be your employees. Both ways bring in income to you. Retail items can be sold in your business, and in many cases, you can seek endorsements from particular product lines to increase your retail sales as well.
Do I need a physical space to practice under my cosmetology license?
No, you do not need to have a physical space to provide cosmetology services. If you do have a physical space such as a storefront, you will be required to have a certificate of occupancy and all the licenses required by your local government. You can provide a mobile service, as long as you have all the proper insurance on both you and your vehicle before you provide those services.
Looking to start your own Salon? Get the documents you need to get organized and funded here.
Please note: This blog post is for educational purposes only and does not constitute legal advice. Please consult a legal expert to address your specific needs.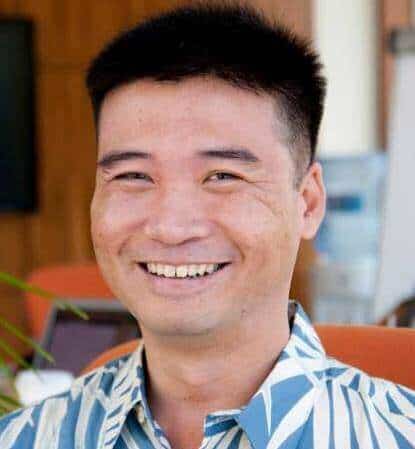 About the author. Entrepreneur and Salon Business Fan.
Hi! I am Shawn and I am a happy individual who happens to be an entrepreneur. I have owned several types of businesses in my life from a coffee shop to an import and export business to an online review business plus a few more and now I create online salon business resources for those interested in starting new ventures. It's demanding work but I love it. I do it for those passionate about their business and their goals. That's why when I meet a salon business owner, I see myself. I know how hard the struggle is to retain clients, find good employees and keep the business growing all while trying to stay competitive.
That's why I created Salon Business Boss: I want to help salon business owners like you build a thriving business that brings you endless joy and supports your ideal lifestyle.