Promotional events are a tried-and-true way to attract customers to any business, especially a hair salon. This applies to a new salon and ones that are established. Events allow new customers to hear about the salon and nudge them to try it out. While it pushes returning and loyal customers to book their next appointment sooner rather than later.
There are two types of events we will cover which are in-person or at the salon and digital. In-person will refer to any running promotions or discounts being given. While digital will refer to any social media or internet-based ads or content being run.
4 Hair Salon Event Ideas to Consider
Run salon promotions, for the first x customers who show up on a certain day
Offer a rewards system to your customers, such as spending $100 to get a free serum sample
Utilize Google Ads to promote your events
Set up a special promotional code on your social media account
Hopefully, one of these four event ideas sounds appealing to you and makes sense for your hair salon. Each one should be able to bring in new and loyal customers to your salon in no time. These techniques are marketing strategies used by many companies tailored to fit hair salon's services and clients.
1. Run Salon Based Promotions
Now the key to promotional events is to ensure that they are spread out to ensure that customers are drawn to them. If you run them too often, then the novelty of them will disappear and people will respond less to them. So, finding the sweet spot with timing is key to them being successful since many people tend to associate long-running events with poor quality or service.
There are several different ways in which this type of promotion can be conducted. One way is to set up a few different reoccurring deals, that only happens once a month or once every two months.
This will allow customers to learn about your business and anticipate the event. It will also entice those who have been thinking of getting say a haircut or their hair colored to schedule their appointment now instead of next month because they know the event is occurring.
Examples of these events include five or ten percent off haircuts on a specific day or two. This can also help slower business days since you can set it up to fall on your slowest days of the week. So, if Mondays and Wednesdays tend to be slow for your hair salon you can decide that every second Monday and Wednesday of the month are when the promotion occurs.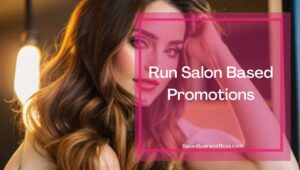 Or you could do a free child's haircut for every adult haircut done on the last Saturday of the month. This encourages families to get out and visit the salon. While free kid's haircuts may seem like a loss, they do tend to be a cheaper service while adults' cuts, colors, etc. are more costly.
Plus, families with multiple kids will still be paying for a kid's cut or two if they have more than two kids or only one parent can take them. So, it will not be a huge loss profit-wise allowing the event to be a worthy idea.
These are just a few examples of in-store promotional events that can take place. Some encourage parents to come in on slower days to increase revenue for the business, while others encourage families to make appointments for everyone at once.
Each offers an incentive to get people through the doors and should have them keeping an eye out for the next deal. It's important to switch up the ideas and frequency of each one to ensure that people are checking up on your salon regularly for updates.
2. Rewards Build Loyalty
A rewards system is another trick of the trade that has kept customers returning to stores and businesses for decades now. Everyone has created an account for a store, say Michael's, for a 15% off coupon. Or grab a punch card from a coffee shop or froyo place because they offer a buy ten get one free deal.
This is set up similarly to that except on a larger scale as hair salons tend to offer more premium services to their customers. For example, this rewards system would have a value amount to it rather than a visit amount. Such as, for every $100 you spend at the salon you can pick out a travel-sized product like a serum, hairspray, split end mender, etc.
This encourages people to return to your salon or even spend more money on their current visit if they are close to the $100 mark. This may seem crazy to some since a travel-sized product is usually only worth a few dollars, but the mindset that they are getting something for free will drive customers to return and spend more money.
Another aspect of a rewards program could be offering a free birthday gift if they come to an appointment during the month of their birthday. Again, it encourages them to make an appointment and since people have birthdays daily it can cause the schedule to book up a bit.
The gift can only be a travel-sized item or a free hair mask sample. Either would entice people to book an appointment and enjoy their free birthday gift.
3. Utilize Google Ads
A few days before an event or promotion is meant to occur, you can set up Google Ads to run. This means that anyone searching for a haircut, salon, highlight service, etc. will see an ad for your salon pop up. This enables you to target your ideal clients and demographic online without needing to have hundreds or thousands of followers on social media.
It can also lead people to your website, where they can see what services, you offer and book an appointment. This is also why your website must be linked to your social media accounts, your business is listed on Google, and you are easily accessible, Google will take away a lot of the guesswork, allowing you to focus on the clients in your chair rather than scouring for new ones.
4. Social Media Secrets
A fun way to keep customers on their toes is to sneak little discount codes or information about promotional events into your social media posts. This can entice them to turn on their notifications so that they know when you post an update about your business. Resulting in higher engagement on your posts and a better likelihood that people will follow you.
It could be something small like the first five people to like a specific post will receive five percent off their next visit if it's within sixty days of the post. Or a secret word to use between a specific time frame to receive a little surprise. This could lead to a fun wheel with a variety of options from a free brow waxing to a ten percent off coupon, or even a free sample.
Ensuring that you offer a variety of options will keep customers on their toes and interested in your business.
These are our top four tricks to try when promoting your hair salon. Make sure you are running promotions specific to your business, ensure that your business can be found on Google, utilize Google Ads, offer a rewards program, or hide little Easter eggs on your social media accounts. Remember, one or two of these ideas are more than enough, we just wanted to give you a few different tips and tricks to choose from.
Related Questions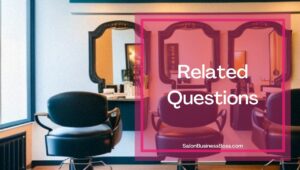 1. Are events and promotions necessary for a salon to be successful?
The short answer to this question is yes, they are necessary. They allow your salon to gain the attention of others without needing to do extensive advertising, paying a lot to have campaigns created, or at an extreme loss for your business. They offer just enough to customers to entice them into trying your salon out and then hopefully becoming a returning customer.
2. How can I execute these promotions and events if I do not understand marketing?
A common theme between owners, especially small business owners, is that they need to wear every hat themselves. However, this is not the case. You can find a marketing intern from a local college to help create ideas and concepts. Or you can bring on a marketing consultant for a few hours a week to manage your social media accounts and help create content for your business.
3. Should my business be registered and showing up on Google?
Yes, it absolutely should be registered and hopefully showing up on the first page of Google results. This allows people to find your contact information easily as well as see your salon as an option while searching for one. There is no way for your business to be seen online if you do not register it with Google first.
Looking to start your own Salon? Get the documents you need to get organized and funded here.
Please note: This blog post is for educational purposes only and does not constitute legal advice. Please consult a legal expert to address your specific needs.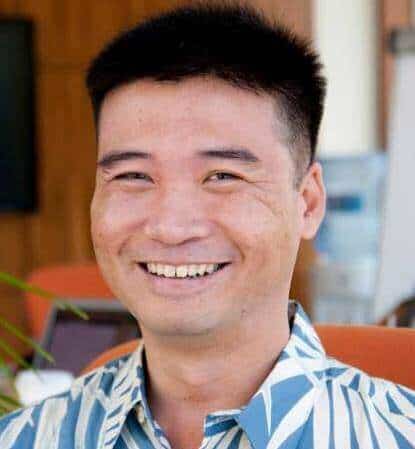 About the author. Entrepreneur and Salon Business Fan.
Hi! I am Shawn and I am a happy individual who happens to be an entrepreneur. I have owned several types of businesses in my life from a coffee shop to an import and export business to an online review business plus a few more and now I create online salon business resources for those interested in starting new ventures. It's demanding work but I love it. I do it for those passionate about their business and their goals. That's why when I meet a salon business owner, I see myself. I know how hard the struggle is to retain clients, find good employees and keep the business growing all while trying to stay competitive.
That's why I created Salon Business Boss: I want to help salon business owners like you build a thriving business that brings you endless joy and supports your ideal lifestyle.