Being any type of manager is exhausting work. You have rules to follow, sales goals to meet, and a full plate of responsibilities to maintain every day. If you are new to the management world or hire a manager, you may be interested in what role a salon manager plays. It is a critical role in the team and an important position to hold.
The roles and responsibilities of a salon manager are to be a team leader who motivates everyone, analyzes daily operations, and ensures that services are delivered smoothly. As a salon manager, you will need to be a quick thinker and understand how to make changes for efficiency. 
This is a role that is important to fill in a business. A manager should have several skills to help them understand their team and motivate each individual. Suppose you are a business owner looking to hire a manager. In that case, you may want to look for specific skills that will help you determine if the person could fit the role you are looking for. 
What Roles Does A Salon Manager Play?
There are five massive roles you will play as a salon manager and all of these you should keep in mind every day. These roles will help you be an effective manager for any business, including a salon. 
Manager
There is a lot that goes into managing a salon. You have to schedule all employees and ensure they all clock into their shifts. On top of that, you have to analyze daily and monthly sales goals to meet the owner's expectations. Part of running the salon is keeping a healthy environment and promoting positivity throughout the workplace.
Being A Leader
You not only have to play the role of manager, but you also have to play the role of being a leader. You will need to evaluate every team member and set specific goals for them to reach. Your job is to motivate your team and help them better themselves. 
Service Provider
Another critical role you will play is being a service provider. You ensure that every customer walks out happy and in a good mood wanting to always return to you. This is how you retain customers and create a loyal customer base. 
Recruiter
You are encouraged to have a fully staffed salon, and that means you need to recruit them. You will analyze each person and choose the best candidate for your team. 
Marketer
As a manager, you will also be responsible for some of the branding. You are the face of the salon, and frequently the person customers go to with complaints and how you react is a big part of keeping clients. You will track and review customer retention and understand how to keep building customer relationships. As a manager, you will often create promotions to entice customers in. 
What Responsibilities Does A Salon Manager Have?
Though it seems like a lot of work to be a salon manager, it will become easier the more you do it. You play several different key roles as a salon manager, and with those roles come several different responsibilities. Here are some things you will be responsible for as a salon manager. 
Daily Responsibilities

 
There will be daily responsibilities and monthly responsibilities. Here is what you can expect to do and keep an eye on every day. 
Supervising Operations- This means you will manage employees' efficiency and help keep the salon running smoothly.

 

Promoting Services- You will want to ensure you are promoting more services and ensure your staff does the same to hit all end-of-month goals.

 

Cleaning- You will have to make sure you clean all equipment every day, and your staff does as well.

 

Track Daily Transactions- You will need to keep every receipt or have a way to report all transactions at the end of the day.

 
Monthly Responsibilities
Every month there may be slight differences in what you have to do as a salon manager. However, you can keep these things in mind at the beginning and end of every month. 
Hiring- If you are understaffed, it could be affecting team morale and also sales goals. You will want to take a look at your team and schedule. You may notice days you need to hire more people.

 

Schedules- You will need to look at everyone's schedule every month and figure out when they can work and any planned events.

 

Monthly Ads- Part of your monthly job will be coming up with promotions for your customers.

 

Ordering- Weekly or monthly, you will need to take stock of inventory and order anything you need so you don't run out.

 
There will be many more things you may be responsible for. Still, these are just a quick overview of the responsibilities you may have. 
What Qualities Make A Good Manager?
If you are hiring a salon manager for your business, you will want to hire someone who has had some form of experience. They may have managed a different location or had some sort of management training. There are some other qualities that you may want to look for when hiring a manager. 
Patience
As a manager or hiring a manager, you will be looking for patience. Why? A manager has the role of being a teacher and training others. Everyone has a different learning style, and speed and a manager needs to be patient. There will be clients who are challenging, and it is important to keep a level head and always be patient with them. 
Thick Skin
Having thick skin does not mean being mean. Working in customer service means that not everyone will be happy, and someone will have a complaint. It is essential as a manager not to let it get to you and not take it personally. This can help your team stay strong and focused. 
Diplomacy
Another aspect of working in customer service is being diplomatic and respectful. You will need to handle disputes with other people as well as clients in a professional manner. A manager will often have to be the in-between person for staff and owner. 
Honesty
This does not mean a manager has to be blunt and tactless. It means that a manager needs to know when to be soft-spoken about an issue or a touch more abrasive. A manager will need to assess each problem carefully and understand how to approach it honestly. 
What Should Be In The Job Description For Hiring A Salon Manager?
As an owner, here are some things you may write in a job description. If you are a manager seeking employment, you can add some of these exact objectives to your resume. 
Salon Upkeep
Every day you will be responsible for the maintenance of the salon and how it looks. When a place is too messy, it will drive customers away. 
Opening and Closing The Salon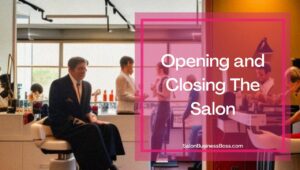 There will be a few key holders, and it will be your responsibility to either open and close or schedule someone who has a key to do the job. On your days off, you will want to ensure that you schedule someone capable of this task. 
Client Satisfaction
You will not just focus on the storefront and daily operations, but you will also be responsible for improving customer satisfaction and providing excellent customer service. 
Hiring Staff and Supervising Staff
As a manager, you will be required to hire staff and train them according to the way the salon is run. If you have a certain process, you will want to be sure to train the staff. 
Inventory Management
It's important to understand what materials you use and how much of them you use. You will need to keep accurate inventory records, which may mean counting every week to understand how much and when you need to order. 
Running Daily Reports
Every day you will need to make sure the daily reports of transactions are printed. Then you will be responsible for putting it in a secure location for the owner. 
Check out our article on finding the best employees HERE.
Final Thoughts
Running a salon is hard work, but it can be a rewarding job. You will need to play specific roles to help drive your team to success, and you will have daily responsibilities to maintain. Some of the best qualities to have as a manager are things like honesty and diplomacy. You will be responsible for your team and finding new staff. 
Related Articles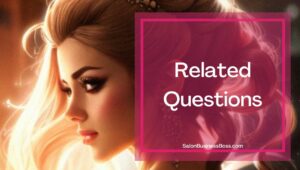 How do you become a salon manager?
A salon manager is expected to have a certificate and license in whatever service they are providing. Owners may also expect them to have a bachelor's or equivalent inexperience. Many will also want a manager with previous management experience. 
How much does a salon manager get paid?
Many managers will be paid between $18 and $23 an hour. This may also depend on where you live and what the average is in the area. 
Is being a salon manager worth it?
Becoming a salon manager can be a rewarding career and give you a great experience that other jobs will not give you. This can be a career that is worth learning and pursuing. 
Looking to start your own Salon? Get the documents you need to get organized and funded here.
Please note: This blog post is for educational purposes only and does not constitute legal advice. Please consult a legal expert to address your specific needs.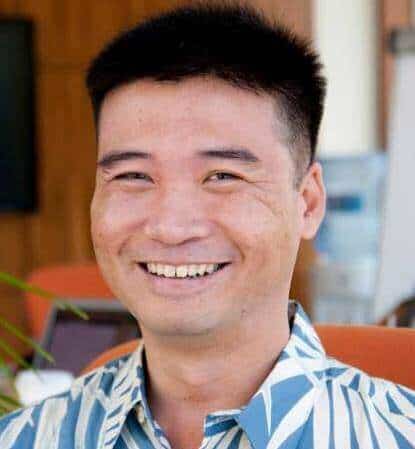 About the author. Entrepreneur and Salon Business Fan.
Hi! I am Shawn and I am a happy individual who happens to be an entrepreneur. I have owned several types of businesses in my life from a coffee shop to an import and export business to an online review business plus a few more and now I create online salon business resources for those interested in starting new ventures. It's demanding work but I love it. I do it for those passionate about their business and their goals. That's why when I meet a salon business owner, I see myself. I know how hard the struggle is to retain clients, find good employees and keep the business growing all while trying to stay competitive.
That's why I created Salon Business Boss: I want to help salon business owners like you build a thriving business that brings you endless joy and supports your ideal lifestyle.