The name you choose for your new salon will frequently be the first thing a potential new client will see when interested in your services. Before they call to make an appointment or visit your salon, your clients will see your salon name first. Therefore, it is vital to pick the right name for your salon! We have provided guidelines on how to name your new salon, along with some of our favorite ideas for salon names.
Picking the right name for your salon includes describing your services or specialty, picking a name that your potential clients will easily remember, and making sure that your potential names are not already used in your area. Ideally, you also want to pick a name that will be able to stay with you throughout the life of your salon.
Describing Your Services or Specialty
The first factor you need to consider when picking the right name for your salon is describing your services or your specialty. Clients should be able to get a clear understanding of what you offer when they hear your salon name. When they see your name on social media or drive by your salon, they should already know what you do only by your name.
If your name is confusing or doesn't have any words in the name that describe your services, your potential client will be more likely to pass by your business when they are looking for salons. For example: If a potential client is looking for a new haircut and your business name doesn't mention anything related to hair services, the potential client would be more likely to skip past your salon.
The name for your salon does not have to specifically mention the word hair in order to describe your services. You can use a phrase that still clearly shows what services you provide. An example of a phrase like this would be Strands of Love. It doesn't include the word hair, but a potential client would still recognize you as a hair salon with the word strands.
We recommend being as specific as possible when describing your services. This will increase your chances of your salon name, helping you as a form of marketing. For example: If you have a hair salon and you specialize in coloring hair, you could use coloring in your name (to show that you specialize in coloring hair).
For this example, you could use a name like The Colorist. This paints a clear picture of your potential clients in what you are known for. Your potential clients will then know that they can get an excellent coloring job if they visit your salon.
Another example of a hair salon would be extensions. If you specialize in hair extensions, you could use the word extensions somewhere in your name. An example of a name you could use for extensions would be Shear Extensions.
This recommendation does not only apply for hair salons! If your salon specializes in nails, eyelash extensions, hair removal, massages, or facials, we still recommend describing your services in your salon name. This is a simple way to increase your chances of getting new potential clients to book your services!
If you own a day spa and your salon doesn't specialize in one service, we recommend using the word day spa in your name. This gives your potential clients a clear understanding that your salon is a luxurious salon that provides multiple rejuvenating services.
If you want to use your name in your salon name, you can still use your name and still describe your services in the name as well. For example: If you have a hair salon and your name is Sherry, you could pick a name like Sherry's Hair Studio or Sherry's Dazzling Strands.
Picking a Name Potential Clients Will Remember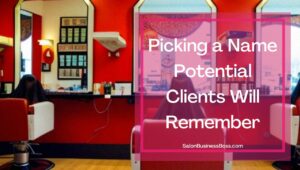 Along with describing your services, it is also essential that the name for your salon is something your clients will easily remember. Your salon name should be easy to pronounce and not too long. If potential clients have a hard time pronouncing your name, they will be more likely to forget about your salon and not book your services.
 The ideal salon name has a catchy phrase or something that is more likely to get stuck in your potential client's head. Names that rhyme are also more likely to be remembered. When a potential client remembers your name, they are much more likely to book your services when they are looking for a new salon.
The length of your salon name can also make a difference in how easy it is for your potential clients to remember. If your name is longer than most business names, potential clients will be less likely to remember your name. We recommend keeping your salon name as close to 3 words as possible and not longer than four words.
Another benefit of your name is easy to remember is it will increase your word of mouth marketing down the road. If your salon name is easy to remember, clients or potential clients will be more likely to tell their friends about your salon. If your name is hard to pronounce, they will be much less likely to share your salon with others.
To help you find out how likely others are to remember your salon name, we recommend asking various trusted friends and family members what they think of your top 3 salon names. You want to ask them if they think the name is easy to remember and if it clearly defines your services. This feedback will be extremely beneficial!
Ensuring Your Name isn't Already Taken
The most important factor in your salon name is that it is not already being used by another salon in your state. If another salon is already using the name you like, you will not be able to successfully register your business through your local government. When you are applying for your business license, your state will check to ensure that the name isn't already registered by someone else.
After you have narrowed your top salon names down to your favorite 3, we recommend searching to see if any of the three names are already being used in your area. Some states will have a tool on their website where you can search your business name to see if it's available. If your state doesn't have this tool, you can reach out to your local courthouse to see if your names are available.
If any of your top 3 names are already taken in your state, it is essential for you to choose another name that is not taken yet. As mentioned, you will not be able to register your business, but you will also have a harder time standing out. 
If your name is similar to another salon near you, potential clients may get confused and go to the other salon. You will have a harder time being unique compared to your competition. For the success of your business, it is essential for you to find ways to be different from other competitive salons. Your salon name is a great way for you to be different.
Along with ensuring the name isn't used by another salon in your state, we also recommend checking to see if a website URL is available for your top 3 names. A website is a very beneficial tool you may want to get for your salon down the road. By checking to see if a URL is available when you name your salon, you'll save yourself trouble down the road.
You can search to see if your favorite names have a URL available by searching through any of the major website host sites, like GoDaddy. For example: If you love the name Shear Cuts, you would want to check to see if shearcuts.com is available. 
If your URL is already taken and you are confident you want this specific salon name, you can consider adding your state or abbreviation to your URL to make it different. For example: You could use shearcutsarizona.com or shearcutsaz.com.
If your URL is available when you are naming your salon, we recommend purchasing the URL at the same time. By securing your URL right after you have decided on the name for your salon, you will avoid someone else taking your URL months later and then having to find another way to pick the URL for your salon.
Ideas for Salon Names
If you are having trouble coming up with a name for your new salon business, we have included a list below of our favorite salon names. We have included name ideas for salons that specialize in hair, nails, lashes, massages, and day spas.
Hair Salon Name Ideas
 The Scissor's Edge
 Chic Color Hair
 Strands of Love
 Cutting Crew
 Highlights Salon
 The Colorist Salon
 Fringe Love
 Designer Shears
 Everything Hair Salon
 Shear Extensions
Nail Salon Name Ideas
 Outstanding Nails
 Nail Wizard
 House of Nails
 The Nail Palace
 Creative Nail Art
Day Spa Salon Name Ideas
 Serenity Day Spa
 Rejuvenate Day Spa
 Deluxe Day Spa
 Luxurious Day Spa and Salon
 Exclusive Relaxation Day Spa
Massage Salon Name Ideas
 Heavenly Massage
 Head to Toe Massage 
 Renewed Massage Salon
 Massage Relief
Lash Salon Name Ideas
 Flutter Lashes
 Lashed Out
 Eyes Wide Open Lashes
 FabuLashes
Facial Salon Name Ideas
 Edge Esthetics
 Clear Skin Studio
 Rejuvenated Skin Salon
 Fabulous Facials
 Picking the right name for your new salon should be a fun process! However, we recommend taking your time when deciding on the name for your salon. You want to feel confident that you picked the right name! 
You want to pick a name that you will love and stick with for years. Ideally, your business name should be something that stays with you throughout the life of your business. Picking the best name for your specific salon will start your salon off on the right path!
Related Questions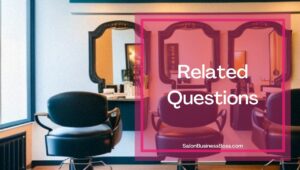 How should I determine the pricing and rates for my new salon?
The pricing for your new salon is an essential factor that determines the success of your business. If your pricing is too low, it can hurt the finances of your business. However, if your pricing is too high, you can experience a more difficult time finding new clients.
To determine the pricing for your salon, we recommend calling around to similar salons in your area to see what their pricing is for certain services. Is there a common price range in your area? You also want to consider how much experience you and the other stylists in your salon have. If you have a large amount of experience, you can often charge more.
Should my new hair salon also sell retail items?
Selling retail hair items is an excellent way to bring in more income for your new hair salon. You should purchase your items at a wholesale cost and then sell the items to your clients at a retail cost. Therefore, you would be earning money off selling the items in your salon.
When selling retail items in your hair salon, we recommend selling items that you love yourself and would encourage your clients to use. When you love the products you sell, you will have an easier time selling them. You will ensure that your clients are using high-quality products for their hair that will improve their hair health.
Do I need to purchase business insurance for my new salon?
Yes, all salons should have business insurance. Some states may require you to purchase business insurance before you can successfully register your business. However, we strongly encourage you to invest in business insurance even if your state doesn't require it.
Business insurance acts as a form of protection for you and your business. Without insurance, you would be financially responsible if a client ever gets injured at your salon or for any damages that happen to your building. When you have insurance, you can file a claim and your insurance company would cover certain costs.
Looking to start your own Salon? Get the documents you need to get organized and funded here.
Please note: This blog post is for educational purposes only and does not constitute legal advice. Please consult a legal expert to address your specific needs.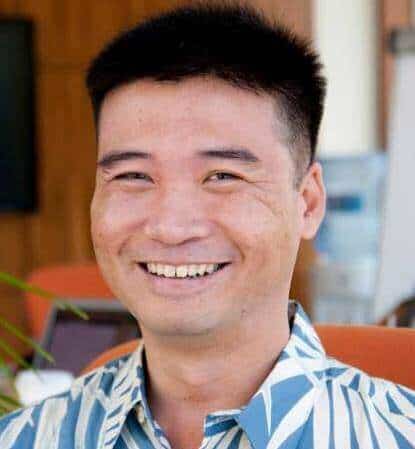 About the author. Entrepreneur and Salon Business Fan.
Hi! I am Shawn and I am a happy individual who happens to be an entrepreneur. I have owned several types of businesses in my life from a coffee shop to an import and export business to an online review business plus a few more and now I create online salon business resources for those interested in starting new ventures. It's demanding work but I love it. I do it for those passionate about their business and their goals. That's why when I meet a salon business owner, I see myself. I know how hard the struggle is to retain clients, find good employees and keep the business growing all while trying to stay competitive.
That's why I created Salon Business Boss: I want to help salon business owners like you build a thriving business that brings you endless joy and supports your ideal lifestyle.