When you start a salon, you wish for success—but what defines that success? Whether you're looking for a higher profit margin or looking to elevate your clients' experience, bringing your salon into the category of "luxury" doesn't have to be hard or expensive. So how do you attract those high-end clients?
What makes a salon high end?
Hire stylists with exceptional talent—and make sure they are charging appropriately.
Create a quiet, private space.
Decorate your salon in a modern, fashionable way.
Use state of the art equipment and keep it updated.
Provide amenities and retail items fit for a luxury location.
Use social media to promote your brand.
What makes a salon high end? This is a question that can be answered by many salons—with as many different answers. The definition of "high end" really depends on your community and your location—a high-end salon in a small town in Ohio is very different from a high-end salon in New York City.
But there are ways to make your salon a luxury salon, and you can use those things to attract the high-end customers your salon deserves.
1. Hire stylists with exceptional talent—and make sure they are charging appropriately.
If there is one thing that marks a luxury salon, it is talent. When it comes to customer service, luxury salons do not make mistakes, so making sure you have the highest quality talent will bring in the highest quality clients—and highest paying.
Because of their experience, you should also be making sure that your stylists are charging appropriately. Many stylists don't charge enough for the services, so remind them of their experience and their worth when they work in your salon. While many luxury salons charge higher prices for their cuts and colors, make sure your customers are getting the highest quality of work for that price.
You should also be offering services to make your luxury status. High end salons aren't just about cutting hair—they're about the relaxing, quiet experience of self-care. Consider additional services that they can only get with you, like a one-stop shop of aromatherapy, a masseuse, nail care, and hair styling all in one.
Learn what clients want in a hair salon!
2. Create a quiet, private space.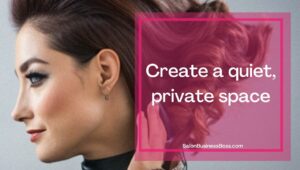 If you're bringing in clients who expect luxury, they are also going to expect privacy as well. Whether they are famous or not, they will want a place that they can go and detach from the outside world, and you can do that in your salon. Make sure to use colors, décor, and music that promote wellness and calmness, along with choosing furniture that is comfortable for all. Your reception area should be welcoming and calming to promote that idea that your customers can find true serenity in your salon.
In creating that experience of wellness, you can easily put together playlists on Pandora or Spotify for different times of the day or even tailored to the clients you bring in.
3. Decorate your salon in a modern, fashionable way.
To create an elevated experience in your salon, it should be decorated in a way that evokes luxury and aesthetics. Not only should your furniture be comfortable, but it should also look upscale—don't fret, though, because you don't have to break the bank on expensive looking furniture. Look at popular places like Ikea or Wayfair for options that don't exceed your budget but can look modern and luxurious.
Make sure you create a consistent look for your salon. Bringing certain colors, themes, and textures through your décor and equipment—and even in what your stylists wear—can help create a cohesive brand that really makes your salon memorable.
4. Use state of the art equipment and keep it updated.
If you're hiring the best stylists, they're also going to want to use the best equipment. Most luxury salons use the best equipment, whether it's their shears or their shampoo stations. Your luxury-seeking clientele is going to want that best equipment along with your best stylists. You should also make sure your equipment all matches—creating a mismatched look not only makes your salon look less luxurious, but if your clients notice one client receiving better care on a better piece of equipment, it could create customer service issues.
Your state-of-the-art equipment also includes your products. The better the product, the better the work and style, so make sure you invest in those better hair sprays, colors, and shampoos.
5. Provide amenities and retail items fit for a luxury location.
People remember when they receive things outside of the norm, so provide an elevated experience by passing out amenities to your clients. They won't soon forget receiving a glass of champagne when they walk in the door. You could even step it up to including a barista in your business—although expensive to start out, it could bring in more of those luxury clients you seek.
Salons also sell retail items, and here's where you can also improve your luxury status. Make sure you sell the best items you can—you can also create better demand by selling items that only your salon sells in the immediate vicinity. If no one else has them, they must come to you. Exclusive items not only make your business stand out, but you can bring in more money through the sale of those items.
6. Use social media to promote your brand.
Making sure people know about your luxury salon is also key in bringing in those high-end customers. Show off your stylists' skills, promote your services, and make sure you are consistent in your posting. Whether you're hopping aboard the social media trends or sticking to your traditional postings, if you want to make the biggest splash, you simply need to be consistent—post on a schedule and maintain your salon's message as you do. Before and after photos are a great start, along with aesthetic photos of your salon, your services, and even features on your stylists.
While keeping your salon decorations modern and updated and making sure your equipment is the newest it can be can cost a pretty penny, you don't have to spend a lot of money to make your salon a luxury salon. Providing those amenities like champagne or snacks doesn't have to break the budget but can still elevate your clients' experiences. The most important takeaway about creating your luxury salon is creating an experience—if you do your job right, and do it well, it will bring in more of those high-end clients you desire.
Related Questions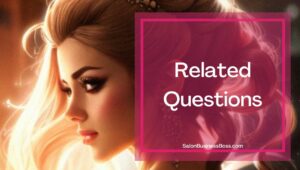 How can I become a wealthy hair stylist?
Creating a successful hair salon is every stylist's goal, so focusing on pricing your services accordingly is key. You must build relationships in your community—not just with your clients, but local business owners as well. Create a brand and stick with that brand, including promoting it with your stylists' appearance. Know your customer base and make sure you provide the services your customer base desires.
Where do hair stylists make the most income?
According to Zippia, Michigan, Arizona, Idaho, Pennsylvania, and Utah have the best rates for hair stylists in the United States.
Looking to start your own Salon? Get the documents you need to get organized and funded here.
Please note: This blog post is for educational purposes only and does not constitute legal advice. Please consult a legal expert to address your specific needs.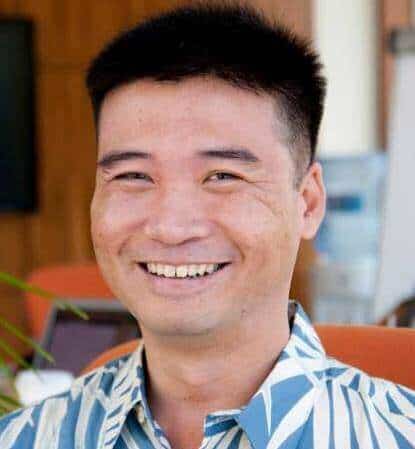 About the author. Entrepreneur and Salon Business Fan.
Hi! I am Shawn and I am a happy individual who happens to be an entrepreneur. I have owned several types of businesses in my life from a coffee shop to an import and export business to an online review business plus a few more and now I create online salon business resources for those interested in starting new ventures. It's demanding work but I love it. I do it for those passionate about their business and their goals. That's why when I meet a salon business owner, I see myself. I know how hard the struggle is to retain clients, find good employees and keep the business growing all while trying to stay competitive.
That's why I created Salon Business Boss: I want to help salon business owners like you build a thriving business that brings you endless joy and supports your ideal lifestyle.