Starting your salon includes purchasing the necessary items to help your salon function properly. Since having the right supplies and equipment can affect the success of your salon, knowing what items to buy can be a stressful task! To help you start your new business with a solid foundation, we have put together the essential checklist for starting a salon. 
The checklist for starting a salon includes: 
Salon Station Wall Mounts

Salon Chairs

Supply Carts

Hooded Dryers

Shampoo Bowls

Floor Covering

Blow Dryers

Hair Straighteners

Curling Irons

Hair Shears

Hair Clippers

Hair Brushes

Combs

Spray Bottles

Hair Cutting Capes

Hand Mirrors

Towels

Hair Coloring Kit

Shampoo and Conditioner

Heat Protectant Spray

Styling Gel

Broom & Dustpan

Glass Cleaner

Disinfecting Cleaner

Hand Sanitizer
The foundation of every salon is the work stations where the stylists provide their services. We recommend having at least four work stations in your salon to serve more clients at once (unless you want your salon to be private and intimate). The main part of the work station for a salon is the table or wall mount where the supplies are held.
BarberPub has excellent salon station wall mount options in various colors. They also offer both a left shelf and a right shelf. Their wall mounts also provide a great amount of storage space for supplies. Each station has a mirror to help the client be able to see their hair while the stylist is providing their services.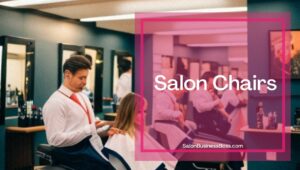 Along with a wall mount, each salon's station will need a salon chair where the client will sit while getting their hair done. To serve all of your clients, it is essential that the height of the chair can be adjusted. Like the wall mount, you will need one chair for each station.
 Our favorite salon chair is from FlagBeauty. We love this chair because it can easily be adjusted for height, has armrests for the client, and provides the right amount of comfort for the client while they're getting their services done.
A supply cart is essential, while stylists are providing any sort of deep hair treatments or providing coloring services. The stylist can use the cart to hold the coloring products and move the cart around as they work through their client's hair. 
We love this Yaheetech cart with the accessory caddy that gives you a place to store hair straighteners or curling irons. More storage space is always a great benefit! This supply cart is also easy for stylists to move around while they are helping their clients.
Hood dryers provide extreme convenience when you are completing coloring jobs, certain deep treatments, and aiming for specific hairstyles. Since you won't need a hood dryer for every client, you don't need to purchase multiple hood dryers. We recommend starting with one and seeing how that works for your salon.
Gold 'N Hot Elite has an excellent hood dryer at a reasonable price. Our favorite part of this hood dryer is it can easily be moved around the salon. You would not need to find a permanent place for your hood dryer, which will be convenient.
Every salon will need shampoo bowls to wash hair, rinse out the color, and rinse out any deep treatments that the salon may provide. When looking for shampoo bowls, you want to get a set up that has a comfortable way for your clients to lay back. We recommend purchasing one shampoo bowl for every 2-3 stylists in your salon. If you purchase only the shampoo bowl, you'll also need to purchase a shampoo chair too.
 We love the Ainfox Shampoo Barber Backwash Chair because you get both the shampoo bowl and the chair, all in one piece and one price. This chair also has a comfortable gel neck rest for your clients, along with armrests. The chair is adjustable and reclines, which will also provide your clients with more comfort as well.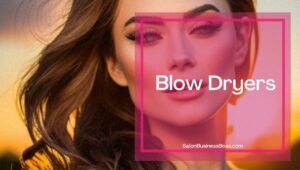 Every salon needs the essential styling tools, which starts with blow dryers. We recommend having one blow dryer available for each of your salon stations. If stylists have to share blow dryers, it can add waiting time and be an inconvenience to your clients.
 You want to look for professional quality blow dryers that will dry hair quickly and efficiently. If your blow dryers are lower quality, you will spend more time blow-drying hair, which adds to the time of your appointments and cost you money. Our favorite professional blow dryer is by Trezoro. It comes with three heat and two-speed settings, along with a 2200W motor.
Similar to blow dryers, we recommend having a hair straightener available at the majority of your stations. Since straighteners can help you achieve a variety of styles, this is a styling tool that you will frequently use throughout every day.
By investing in professional straighteners, you will achieve styles in less time, and you will also be providing your clients with a higher quality style and protection for their hair. Our favorite professional hair straightener is the Paul Mitchell Pro Tools Express Ion Smooth + Flat Iron.
Although there are other styling tools you can invest in as your salon grows, the last essential styling tool to purchase before you open your salon is a curling iron. As always, we recommend investing in a professional brand that has a high quality. Purchasing low quality may be cheaper, but you will be purchasing new tools in less time.
Our favorite curling iron is the NITION Professional Curling Iron Set. We love this product because of the high quality, along with the other tools it comes with. You also get a heat protectant glove, two clips, a comb, and a case to store the curling iron in. Since you will definitely need clips and combs in your salon, it saves you money on supplies.
Each salon station will need a professional set of hair shears to provide high-quality haircuts. Along with a good portion of your supplies, this is an item you will buy more than once as your current shears become unusable (after a large amount of use).
We love the Kinsaro 6″ Professional Hair Scissors. The price is lower than some high-end shears, but you're still getting great quality. We recommend having back up hair shears on hand in your salon, too, in case a pair goes missing or gets damaged.
 For the men who will be visiting your salon for haircuts, you will need professional-quality hair clippers. For this tool, we also recommend having one available at each station. You want to ensure that your hair clippers come with detachments for various lengths.
Our favorite hair clippers are Wahl Professional 5-Star Cord/Cordless Magic Clip. We love that these hair clippers can run cordless for up to 90 minutes without being charged. This will save you time throughout the day in your salon. We also love that you have the option to use it with the cord or without (like if you're in a bind and need to charge it while using it).
Every salon will need a variety of hairbrushes. This is an essential tool to have at every salon station. We recommend having multiple brush backups in case any get damaged or go missing. A salon station will not work properly throughout the day without a hairbrush.
One of our favorite hair brushes that we recommend having at each station is the VASLON Professional Round Barrel Brush. We love this brush because it makes blow-drying or straightening hair much easier. The larger size will also come in handy for longer hair lengths.
Combs is an item that you will be purchasing more frequently than other tools due to the fact a comb will get damaged more easily than a brush or straightener. Once a comb is missing a bristle or is bent in any way, we highly recommend throwing it out to prevent it from messing up any haircuts. Therefore, you always want to have plenty of extra combs on hand.
We love the SMITH CHU Professional Durable Space Aluminum Barber Combs for Hairdressing. When searching for combs for your salon, it is important to only purchase combs that are durable, to prevent them from breaking quickly.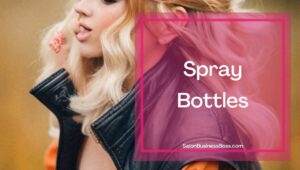 We recommend purchasing empty spray bottles for your salon. If you are providing a client with a haircut who does not want their hair washed, it can be helpful to get their hair slightly wet using a spray bottle. This isn't a tool you need to spend much money on since the majority of the empty spray bottles you find will work fine.
However, we do love purchasing spray bottles that come in packs with multiple bottles, like the link we have included. This can save you money, especially since you will need at least three spray bottles on hand in your salon.
Another item that every salon station will need is a haircutting cape. This protects your client from getting hair on them while getting their haircut or hair color on their clothes. Similar to the spray bottles, this is an item that you don't need to spend a large amount of money on. We do recommend having backup capes for when you may need to wash one.
We love the Salon Sundry Professional Hair Salon Nylon Cape because of the snap closures that make it easy to put on and comfortable for the client. 
To help clients see the back of their haircut, a hand mirror will always come in handy! When you are searching for hand mirrors for your salon, you want to pay attention to the size. If you purchase a larger hand mirror, your client will have an easier time seeing their haircut. This is why we love the Mirrorvana Large & Comfy Hand Held Mirror.
Towels are an item that you will need a large quantity of in your salon. You will be using a towel at least every time a client gets their hair washed. If your salon is busy, a staff member may not have time throughout the day to continually wash the towels. Therefore, we recommend having enough towels available for the number of clients you see each day. Then you can wash all the towels at night after the salon is closed.
 We recommend the Utopia Bleach Proof Salon Towels. We love that these towels come in a pack of 24 or 144. Since the towels are black, they will also hold up better against hair coloring that would show up on a lighter color.
To help you apply color evenly and easily, every salon should have a few hair coloring kits available for stylists to use. When looking for a hair coloring kit for your salon, you want to look for a kit that comes with both mixing bowls and brushes to apply the color. 
We love the SIQUK 24 Piece Kit because it comes with three types of brushes, mixing bowls and ear caps. Since this kit comes with 4 of each piece, this is a great kit to get you started as your salon is opening.
Every salon owner will have a preference for their favorite shampoo and conditioner brands. No matter what high-quality shampoo and conditioner brand you prefer, we recommend buying your shampoo and conditioner in the largest sizes possible, which is usually a liter. By buying larger bottles, each bottle will last you longer, and you'll have to shop for them less. This will ultimately save you money.
You may also save money by purchasing your shampoo, and the conditioner is set as well, depending on where you purchase your supplies. We love the Nexxus Promend System because it helps protect your client's hair, while also being color safe as well.
Every salon will need various styling products. What styling products you carry will largely be determined by your own preference. One of the styling products that every salon needs is a heat protectant spray to protect hair before using styling tools.
Our favorite heat spray is the BIOLAGE Styling Thermal Active Spray. By using this spray before you style hair for your clients, their hair will turn out sleeker, along with also getting more body and volume.
Another essential styling product is a styling gel. Every salon should have two styling gels available. Styling gel can be used in a variety of ways and is a commonly requested product, depending on what your salon specializes in.
We love the Tea Tree Styling Gel. This styling gel has a flexible hold, so you can continue to re-work a style after you've applied the gel. In our opinion, the flexible hold allows this gel to work great for a variety of clients (since all clients may not want an extreme hold).
A broom and dustpan will be used after every haircut in your salon. A broom is essential to remove all of the leftover hair after a haircut. This will keep your salon looking clean and will create an inviting environment.
Our favorite broom and dustpan set is by TreeLen. We love this set because the dustpan has a built-in scraper. This allows you to remove the excess hair from the broom much quicker by using the scraper in the dustpan.
Another cleaning item you will use frequently is glass cleaner. Glass cleaner will keep both your salon station mirrors and hand mirrors looking great all the time. This will give your clients a better impression when they're using the mirrors to see their new hair.
Since this is an item you will use frequently, we recommend buying in bulk or in packs whenever you can. This will help you save money down the road. We love purchasing the Windex brand because it removes anything stuck to your mirror and doesn't leave streaks.
In any business that serves large amounts of clients daily like a salon, germs can spread easily. Therefore, we recommend having a disinfecting cleaner available to use on all of your surfaces. You should regularly be wiping down your salon chairs, mirror handles, doorknobs, and any other surfaces that clients are regularly using.
Similar to glass cleaner, we recommend buying your disinfecting cleaner in bulk or packs when available. A great disinfecting cleaner that is easy to use when you're in a hurry is the Lysol Disinfectant Spray. This brand has also been proven to kill a large number of germs.
Hairstylists should be washing their hands regularly throughout the day. However, we still recommend having a bottle of hand sanitizer available at each salon station. This will help your stylists prevent the spread of germs as they are busy throughout the day.
We recommend looking for a hand sanitizer that is moisturizing since stylists will be using it frequently. Without a moisturizing component, it can cause hands to get dried out quickly. This is why we love the Germ-X Sanitizer with Aloe.
Related Questions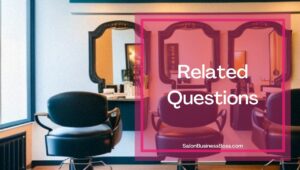 Are cleaning supplies required to start a salon?
Yes, there are standard cleaning supplies every salon will need to purchase. Since your salon is seeing multiple clients throughout the day, this can cause germs to spread quickly, especially during the months when sickness is more common. By having cleaning supplies available, you can prevent the spread of sickness.
Along with keeping your clients safe, cleaning supplies help your salon continue to shine and be an inviting environment for your clients. By having a salon that looks dirty, clients will be less likely to return again.
What are the startup costs of opening a salon?
The startup costs for a new salon will largely be determined by your location, what services you will be providing, and the overall environment of your salon. If your commercial building requires a lot of work, this will increase your startup costs.
However, the startup costs for a salon can start around $15,000 and can go upwards of over $100,000, all determined by your building and your budget. There are ways you can save on startup costs by shopping around for equipment, getting a building that requires less work, and buying in bulk when possible.
Looking to start your own Salon? Get the documents you need to get organized and funded here.
Please note: This blog post is for educational purposes only and does not constitute legal advice. Please consult a legal expert to address your specific needs.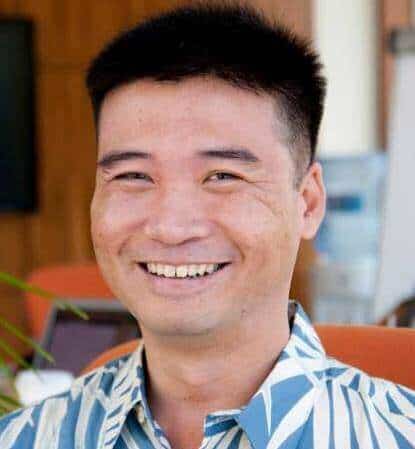 About the author. Entrepreneur and Salon Business Fan.
Hi! I am Shawn and I am a happy individual who happens to be an entrepreneur. I have owned several types of businesses in my life from a coffee shop to an import and export business to an online review business plus a few more and now I create online salon business resources for those interested in starting new ventures. It's demanding work but I love it. I do it for those passionate about their business and their goals. That's why when I meet a salon business owner, I see myself. I know how hard the struggle is to retain clients, find good employees and keep the business growing all while trying to stay competitive.
That's why I created Salon Business Boss: I want to help salon business owners like you build a thriving business that brings you endless joy and supports your ideal lifestyle.