When you are thinking of starting your beauty salon, one of your first thoughts is often related to how much it costs to start a salon. This is a common question for new business owners! When you are starting any type of business, you want to make sure that you have enough finances to cover all of your startup costs. We have outlined all of the cost details for opening a beauty salon.
The cost of starting a beauty salon begins around $15,000 and can go upwards of over $100,000. Your startup costs will include your building, salon equipment, supplies, business insurance, licenses, and permits. Your specific startup cost will depend on your location, your equipment, and the type of services you will be providing.
Price Variations for Buildings
The cost for your salon building will vary depending on your location, if you are renting or buying and how much work you need to put into your building. The cost of the salon building will often be one of your highest expenses while starting your business.
Both the city and the specific location within your city will make a difference in the cost. Certain areas in most cities will have a higher cost, like downtown areas and areas that will get more traffic from potential clients. Although you want to pay close attention to the price when looking for a building, you also need to look at the location.
In most situations, it is worth it to pay more for a location that is easy for your clients to find and has visibility. You may pay more for the building, but you will also end up earning more in the long run since you'll get clients easier. If your location is hidden, you may spend less on rent or purchasing the location, but you'll also have a harder time growing your business.
Another variation in the cost of your building is whether you rent your building or buy it. For the most part, you will have less start-up costs if you rent the space. However, if you purchase the space, the price you pay for the building will be an investment. When you are adding up costs for your building, you need to include any deposits or fees that may come along with your rent or loan for the building.
The last variation regarding the cost of your building is how prepared your building is to hold a salon. If your space requires a lot of work with plumbing, flooring, and the overall look of the commercial space, you will ultimately be paying more for your building. However, if you open your salon in a space that is already set up for sinks and in good condition, then you won't have to pay as much to prepare your building.
When you are looking at different commercial buildings to pick which one would be right for your business, you want to keep in mind the shape that the building is in. If a building is in bad shape, it may be cheaper to rent, but it will take more time and money to get the space ready to hold your salon.
When it comes to the cost of your building, you also want to keep in mind how much you are looking to spend on décor. Even if your budget isn't large, you will need to put at least a small amount of funds towards getting your salon ready for business. When new clients are visiting your salon, they are paying for an overall experience. Adding the right décor can help provide your salon with the atmosphere you're looking for.
Costs for Salon Equipment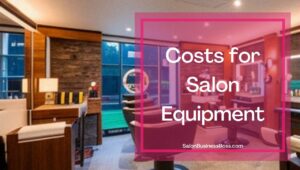 The second substantial part of your salon cost will be purchasing your salon equipment. Along with your building, equipment will also take up a large portion of your startup budget. The cost of your equipment will depend largely on the type of salon you are operating and what services you plan on providing for your clients. For the most part, equipment will only be purchased a handful of times (once when you open your business and if any equipment breaks).
If you are opening a hair salon, you will need to set up multiple stations that include a mirror, table to hold supplies and a salon chair that is adjustable for your clients. We also recommend purchasing floor coverings for each station. You will need multiple sinks where you can wash and rinse hair, along with a sink where you can clean supplies. Costs for equipment for a hair salon can start at $5,000 and go upwards of $20,000.
For nail services, you will still need multiple stations set up for clients to get their nails done. You will need a desk, two chairs (one for the client and one for the nail professional), lighting, and gel equipment for each station. Similar to a hair salon, you'll also need a sink where clients can wash their hands, and you can clean out your supplies in between appointments. Nail salons generally have lower startup costs than hair salons. Costs for nail equipment can be around $2,000 to $6,000, depending on your building.
For salons based on massage therapy and esthetics, equipment costs will be similar to a nail salon. However, you will most likely spend more on your building, preparing multiple separate rooms to provide privacy for your clients. For equipment, you will need massage tables and chairs. You will also need sinks set up in a space for employees to clean supplies. Equipment for these type of salons range from $1,500 to $5,000.
Throughout the life of your business, we recommend including the cost of repairing or replacing equipment in your financial budget. By being prepared to replace equipment in case anything breaks, it will be less of a financial stretch if it happens. When it comes to your business budget, it is always better to be prepared for surprises to happen.
Costs for Salon Supplies
Unlike salon equipment, supplies will be an expense that you will be regularly purchasing as you run out and need to restock. Since you will be starting from scratch in the beginning, your cost for supplies will be the highest in the beginning. Like equipment, the cost for your supplies will vary depending on the services you are providing. It'll also vary depending on the quality of your supplies (higher quality supplies will be more).
For hair salons, your supplies will include scissors, razors, clippers, shampoo, conditioner, styling products, flat irons, curling irons, blow dryers, towels, and hair coloring supplies. A large number of hair salons also prefer to offer hair removal services. If you want to offer this service, you will also need to purchase wax, strips to remove the wax and tweezers. Supplies for a hair salon will generally start around $1,000 and can go upwards of $5,000.
We have included hair tools like flat irons, curling irons, and blow dryers undersupplies instead of equipment because these tools will often not last as long as other equipment items like chairs or tables. You should be prepared to replace these tools more often than you would expect to replace your equipment.
If you are providing nail services, you will need to purchase a great color selection of nail polish (both regular and gel shades), acrylic supplies, brushes, hard gel supplies, nail buffers, towels, etc. Similar to hair salons. Many nail salons will also provide hair removal services as well (mainly waxing). If you want to provide hair removal services, you will need to purchase supplies. Costs for nail supplies will start around $500 and can go upwards of $2,000.
For massage therapy, your cost for supplies will generally be lower. Your supplies will mostly consist of any oils used, massage rocks, lotions, and towels. Your supplies to start a massage salon can start around $400 and can go upwards of $1,000. The specific price will vary depending on the specific services you want to provide (some services will have a higher cost for your supplies).
For both your equipment and your supplies, a large factor in your costs will be how many stations you have set up. If your space is very large and you plan on setting up multiple stations with multiple beauty professionals, you will need a larger amount of supplies, and your costs will be higher. However, you will be able to schedule more clients at one time as well.
Purchasing Business Insurance
Business insurance is an essential expense that will be a part of your startup costs, but will also continue to be an expense throughout the life of your business. Purchasing business insurance is a vital resource to protect both you and your business, in case any emergency or situation arises where you need to file a claim.
The cost of your business insurance will vary depending on your policy and how much coverage your business has. For the most part, your cost will be higher if you have a higher level of coverage. The cost can also vary depending on if you pay your premium upfront or if you choose to pay monthly (if your insurance company offers monthly payments).
For most small business owners, business insurance is not on the high end when it comes to the cost of your expenses. Since you will likely start with a lower amount of coverage, your premium won't be as high as you'd think. Most small business owners pay around $1,000 to $1,400 for one-year worth of business insurance.
Price Variations for Licenses and Permits
The cost for your licenses and permits will vary depending on the state that you will be providing services in. Each state will have different costs for their business licenses and permits that may be required to operate a salon.
For most states, most licenses and permits will be within $300 to $500 to acquire in the beginning. You also need to keep in mind that you will need to annually renew your business license. Some permits may also need to be renewed, which will come with additional fees. However, the renewal fees are often much cheaper than the original fees.
Overall, the costs of starting your own beauty salon can widely vary depending on the services you will provide and your location. There are options available to help you keep your costs down and to help you finance your new business. Starting your own salon is an exciting venture that will not only serve as an excellent investment over time, but will also be a fulfilling career choice! There is no career that is quite like helping people feel and look their best!
Related Questions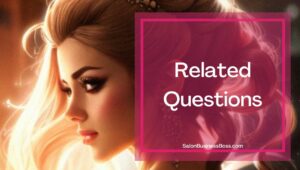 Will be the startup cost be lower if I start a new salon in my home or if I rent a commercial space?
The cost of starting a salon will generally be lower if you use space in your own home. This is due to not paying the cost of a commercial space. If you choose to get a commercial space, you will either need to pay rent for the space or purchase a space of your own. This will likely add over a $1,000 a month to your business expenses.
However, the benefit of renting a commercial space for your salon is your business will be much more visible and will have an easier time getting new clients. When a potential client is looking for a new salon, they will often feel more comfortable visiting a commercial space than they will someone's home (if they don't know you previously).
Is business insurance necessary for a new salon?
Yes, business insurance is an essential resource for new salons. Some states will require new salon owners to show proof of business insurance before they can successfully get a business license. However, even if it's not required in your area, business insurance is a resource you don't want to skimp on.
Business insurance is essential because it acts as protection for both you and your business. If an emergency arises, you can submit an insurance claim to cover any costs. Without insurance, you would be financially responsible for covering any costs needed. By not investing in insurance, you can put your business in jeopardy.
Looking to start your own Salon? Get the documents you need to get organized and funded here.
Please note: This blog post is for educational purposes only and does not constitute legal advice. Please consult a legal expert to address your specific needs.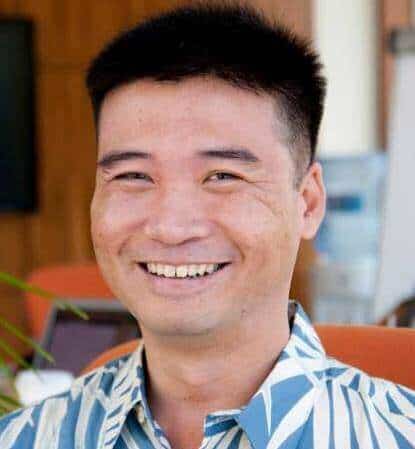 About the author. Entrepreneur and Salon Business Fan.
Hi! I am Shawn and I am a happy individual who happens to be an entrepreneur. I have owned several types of businesses in my life from a coffee shop to an import and export business to an online review business plus a few more and now I create online salon business resources for those interested in starting new ventures. It's demanding work but I love it. I do it for those passionate about their business and their goals. That's why when I meet a salon business owner, I see myself. I know how hard the struggle is to retain clients, find good employees and keep the business growing all while trying to stay competitive.
That's why I created Salon Business Boss: I want to help salon business owners like you build a thriving business that brings you endless joy and supports your ideal lifestyle.