As a salon owner, you will have to make many important decisions to ensure what is best for your business. Hiring the right business manager is one of those major decisions. As you know, this position comes with great power and responsibilities. Therefore, you need to be able to attract and retain only the most qualified candidates.
To write your salon's business manager job description, you need to consider three essential elements:
Duties & Responsibilities (e.g., fulfilling goals, supervising staff, budgeting)
Requirements (e.g., years of experience, personal traits, available hours)
Benefits & Advantages (e.g., salary, vacation days, growth opportunities)
Below we will go over each of these elements for a better understanding:
Step 1 – Duties & Responsibilities
A salon's Business Manager job includes a series of specific duties that ensure its overall success. The positions' responsibilities center on salon operations, employee supervision, and business planning.
However, most salon business managers' duties also include:
Establishing clear objectives to fulfill goals
Performing periodical staff evaluations
Developing a thorough salon budget
Performing recurrent budget analysis
Keeping a detailed product inventory
Ensuring all company activities adhere to legal guidelines and policies
Hiring new staff members when needed
Organizing employees' shifts and schedules
Keeping financial records
Sourcing trending & high-quality products/services
Promoting the business by helping develop innovative marketing programs
Handling negative reviews, client criticism, and complaints
Ensuring precise cleaning of beauty salon equipment and tools
As a result, when writing your salon's Business Manager job description, you would need to include all the duties and responsibilities that apply from the list mentioned above, as well as any other particular responsibilities or tasks inherent to the position.
Keep in mind that your salon might require additional responsibilities from your Business Manager. Thus, make sure you have a clear grasp of what weaknesses you are looking to minimize and what areas require more attention to craft a list of requirements that explicitly matches your salon's needs.
Step 2 – Requirements
When looking to hire a Business Manager for your salon, you need to make sure he/she fulfills general or basic requirements, including:
Excellent interpersonal skills
Great organizational skills
Good time-management abilities
Problem-solving capabilities
Detailed-oriented
Team player
General bookkeeping and business finance skills
Knowledge of beauty treatments, services, and products
High stamina
Experience in management or administration
Basic knowledge of salon managing software
Beauty salons are very demanding and rely heavily on image and strong client relationships. And thus, your business manager needs to be someone who rounds up most of the general traits mentioned before.
But, the right candidate will also have a set of more intangible qualities that are equally important. Hence to make your job easier, try to paint a clear profile of the person you are looking to hire by writing down a list ofmust-haves.' Below a few of the most important to get you started:
"My ideal business manager is someone who…"
Relates well with clients
Can motivate and supervise staff (without making them feel threaten or inferior)
Is goal-driven and loyal
Has a passion for beauty and cosmetics
Works well under pressure
Is not easily frustrated
Looks and acts professionally
Lastly, do not forget to write down other requirements, including years of experience, availability, education, and licensing. Usually, the best person for the job will:
– Have at least 3-5 years of proven experience in a similar position (or at least in a managerial position.
– Be able to work full-time and on weekends if need be.
– Have at least a GED or equivalent diploma, although a BSc degree in Business Administration or relevant field is highly encouraged.
– Have additional certification in Cosmetology (optional)
Step 3 – Benefits & Advantages
Ultimately, make sure you include the benefits associated with the position on your job description; this will help you reach a wider pool of potential candidates and turn away individuals who might be expecting something different.
The best way to go about it is by developing an 'Employee Value Proposition' (EVP) that outlines the advantages of working for your salon. Hence, take the time to draft an appealing EVP. Think about what sets you apart from the competition, what you have that others lack, what opportunities you can provide for your staff, and so on.
Nevertheless, be honest and genuine. Employees will leave if they feel misled or are not receiving what you promised. If you have trouble crafting an EVP or do not know where to start, consider talking to your existing team. They can give you valuable insight and answer questions from a less biased perspective.
Placing Job Ads for Your Salon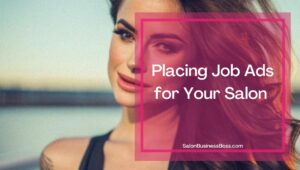 Where you post your employee-seeking ad is as important as developing an accurate job description. It is standard to start the recruitment process from the inside, meaning that if you have a position open for a Business Manager or Salon Coordinator that could fit or interest your existing employees, you should consider giving it a thought.
Current employees already understand the workflow, know the clients, have most likely proven their skills and gained your trust — making the process simpler and quicker. Plus, you would be giving one of your teammates a chance to advance their career and grow with the brand. 
Once you have exhausted this possibility, you can move on to post your employee-seeking ad on your website and social media profiles. By doing so, you will be reaching out to an audience that is already familiar with your brand, services, and style.
Likewise, consider taping on your professional network. In many instances, you already know lots of skilled staff within the industry looking for new opportunities. Hence, call or email ex-coworkers and other connections to see if they are interested in coming to work with you.
Finally, research specialized websites that could potentially reach a wider pool of candidates. As a result, your ad will have more exposure, and the odds of finding qualified candidates might increase. Websites such as Glassdoor, Indeed, and LinkedIn are an excellent place to start.
If you are looking for level-entry candidates, contemplate going to beauty schools and colleges to recruit students or recent grads — they might not have much experience, but they sure will be eager to please.
Check out our tips for finding the best employees HERE.
Importance of Hiring the Right Staff for Your Salon
Hiring the right people can make or break your business — especially in the service industry. According to recent statistics, one of the most common reasons why startups and starting businesses fail is having a weak or inefficient team. Thus, the specialists you choose to hire should have the skills, personality traits, and experience to help your salon succeed. Having the skills and knowledge but the wrong traits or having the right qualities but not enough skills will not cut it.
Why? Simple. Salon employees are responsible for dreadful or good customer experiences. Therefore, if you hire a great colorist with years of experience, but she continually misses appointments, clients will eventually stop coming to the salon. Or suppose you hire someone who is very responsible and polite but doesn't have enough knowledge who constantly messes up. In that case, clients can leave bad reviews online or spread the word about their experience, tanking your salon's reputation.
So, as a salon owner, you have to be very careful when selecting your team. Look for candidates who have the right mix of skills, experience, and personal traits.
Related Questions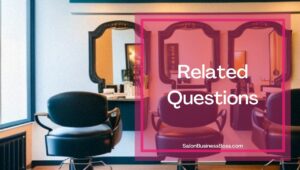 1. How do you know when a candidate is a good fit for your salon?
Sometimes, deciding who not to hire is even more important than finding the right applicants. Thus, when recruiting personnel, you need to trust your instincts. Always choose what is right instead of what comes easier.
Also, you must always ask for references. Remember, interviews and resumes can be deceiving. So, recommendations will help you determine if a person has the right qualities to work by your side while also allowing you to have additional insight from an outsider's perspective.
Another great thing to do is to run a "trial day" or "trial period" to see how the applicant reacts to different situations, how she/he interacts with customers and other staff members, and ultimately if he/she has the skills needed for the job at hand.
2. How to reduce employee recruitment costs?
One of the greatest setbacks when hiring personnel is how expensive the process can turn out to be. Ads can be costly, particularly if you are seeking to attract only the most qualified candidates.
Therefore, the best way to reduce recruitment costs is by crafting campaigns based on word of mouth. If your brand is a well-established and respected business, people will come to you! And if you are starting, creating buzz around "the new place in town" can play to your advantage.
More so, you can even recommend a 'referral' scheme for new employees; this will make your job much more manageable and promote a feeling of belonging while also reducing costs.
Looking to start your own Salon? Get the documents you need to get organized and funded here.
Please note: This blog post is for educational purposes only and does not constitute legal advice. Please consult a legal expert to address your specific needs.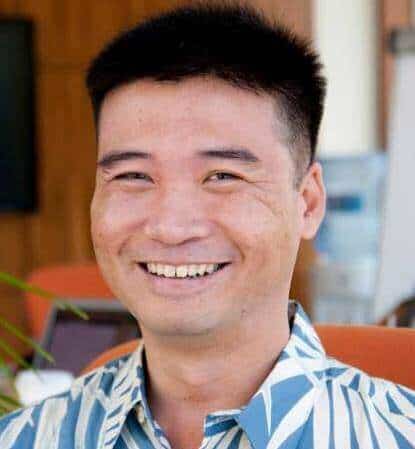 About the author. Entrepreneur and Salon Business Fan.
Hi! I am Shawn and I am a happy individual who happens to be an entrepreneur. I have owned several types of businesses in my life from a coffee shop to an import and export business to an online review business plus a few more and now I create online salon business resources for those interested in starting new ventures. It's demanding work but I love it. I do it for those passionate about their business and their goals. That's why when I meet a salon business owner, I see myself. I know how hard the struggle is to retain clients, find good employees and keep the business growing all while trying to stay competitive.
That's why I created Salon Business Boss: I want to help salon business owners like you build a thriving business that brings you endless joy and supports your ideal lifestyle.