Starting a hair extension salon is an intriguing opportunity for those with interest in hair care and smart investors looking to get in on a growing industry. As hair extensions become increasingly popular and the demand becomes higher, the potential for profiting from your very own hair extension salon has never been higher. So if you're passionate about hairstyling and need to know how to go about starting your own salon, here's the road map.
Create a business plan 

Determine the location of the salon 

Obtain necessary licenses and permits 

Sign a lease and move in 

Acquire inventory

Hire Staff

Have a grand opening
The initial steps to starting your own salon are very much like starting any type of business. You should research and create a plan. It isn't until a little deeper into the preparation phase that it starts becoming specific to your salon. Nevertheless, before any of this, you should have a good understanding of the business you're getting into. Maybe you're passionate about hair extensions, and you already know much about the products, but little about the business OR MAYBE you don't know the first thing about hair extensions other than they're profitable. Whether you have some knowledge already or if you're just getting started, we've got you covered. Let's break it down and add a little more detail to get you familiar with the process of starting your own hair extension salon.
Research First
Before you can cross anything off of your list, you need to know what to expect. Research other salons specializing in hair extensions. Find out where they're located, what their prices are, and as much about how they run their business as you can. That doesn't mean that you're going to charge your customers the same amount or run your salon the same way they do, it just helps to give you a better understanding of what you're up against. If you come across a salon that is successful, try to figure out what they are doing that is helping them excel. On the other hand, look at some salons that aren't doing as well and try to pinpoint the flaws that are keeping them down. All the information you can get will be ammo for you when you start planning how to run your own hair extension salon.
Create A Business Plan
Creating a business plan is where you start putting plans into place about how your salon will be run. You should include financial information such as what your expenses will be and your expected income. How the salon will be operated should also be covered here. Every detail regarding daily operations, how you will develop a clientele, and market research should be included. Creating a business plan should take a fair amount of time; it's not to be pencil whipped. Your business plan will be your own path to success that you will follow.
Determine Location
You likely have a general idea of where you want to open your hair extension salon. Now it's time to drill down a bit and be a little more specific. Put some of that research you did to good use. Find an area that isn't already saturated with your competition. The ideal area should be densely populated and where your services will be in high demand. If other types of salons are thriving in an area, your salon will likely do well also. That's an indication that people in the area care about their appearance and will spend their hard-earned dollars on it.
Obtain Necessary Permits
Now that you know where you're going to be opening up shop, you can find out what permits that municipality requires you to obtain. Reach out to the department that handles business permits and licenses in your area and find out exactly what's needed and what you need to do to obtain it. Once obtained, file them somewhere safe and keep up on the expiration date. Some permits and business licenses expire and need renewing annually. Stay organized and current with your permits.
Get the Keys!
Here's where it gets a little more exciting. Find yourself a place to open the salon. Malls and strip malls are often good choices due to the foot traffic you are exposed to from the stores around you. Once you've found a place and signed a lease – get those keys and start moving in. Design the interior the way you'd like it and in a way that sets your salon up for success. Depending on the location you selected, remodeling or renovations may be necessary to fit your needs. Once you're all set up and the paint's dry, you can move on to buying supplies and inventory.
Buy Some Inventory
So close, you can taste it! Now you have a real-life salon on your hands. Do your best to develop relationships with vendors you will be purchasing from. Look for the best deals from the highest quality of products. Purchase the inventory that you're going to need to get started. Find out which products are the most popular and make sure you order some extra. The last thing you want to do is make a customer unhappy because you aren't equipped to do the service you're supposed to be providing. This is the time to think about other things you'll need for your salon as well. Once this phase is complete, you should have a fully stocked hair extension salon that is capable of opening and running – that is, with the exception of your staff.
Hire Your Staff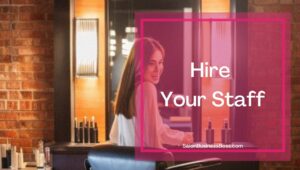 If your salon is going to be too much for just yourself to run, you will need to hire staff. Seek professionals that already have experience and will bring some knowledge to the table with them when they join you. Remember, these people will be the face of your company to the customers and will either be the reason your customers keep coming back, or decide to get extensions elsewhere next time. Hold multiple interviews and look at the candidate's previous work history. Your staff will play an important role in how successful your hair extension salon is, make sure you take the time to hire the best candidates that you think will give you the best quality for your money.
Have a Grand Opening!
Time to let the community know you exist and open the doors for the first time. Do plenty of advertising for your grand opening. Hand out flyers, post signs, and spread the word the best you can. If you have the budget, local TV and radio commercials are effective if you're targeting the right stations at the right time. Once the day has come to cut the ribbon – it's time to impress. Your salon should look as close to your vision as possible, and customers should be impressed with their experience. Make sure you do whatever it takes to please your customers in the beginning. If they don't like what they see, they won't be back. On the other hand, if they have a terrific experience, you've likely landed a long term customer. 
Congratulations on Opening Your Own Hair Extension Salon
One thing's for certain, when the grand opening is finished, and you've taken your last customer – you will be exhausted. You've done a lot to get to this point. You've created a business plan, determined your location, obtained the necessary permits, set up your location, hired staff, and probably sold your soul while advertising for your first day. It's time to give yourself a big pat on the back for your hard work. Take a moment to be proud of yourself. Keep the same focus and determination for your salon as you have had to get to this point, and your salon will thrive.
Related Questions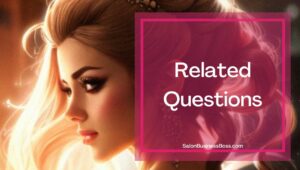 How much do hair extension salon's profit?
The answer depends on how much business your salon does and how effective you are at controlling your income and expenses. The lowest a hair extension salon reported to make in 2018 was just over $10,000. It's probable that salons that have profits that low are a small operation being run on a part-time basis. The higher end of the spectrum reported profiting $112,000. Due to there being so many hair extension salons that are different sizes and run differently, there is a wide range of profits these salons report.
How much money does it take to start your own hair extension salon?
This is dependent on the size and scale of the salon you'd like to open. If you're opening a salon that will run out of your house instead of in a stand-along building, you will save some money initially. When opening a hair extension salon outside of your home, owners of existing salons recommend having $7,000-$10,000 as an initial investment. That covers start-up costs like inventory, supplies, and of course, rent.  
Looking to start your own Salon? Get the documents you need to get organized and funded here.
Please note: This blog post is for educational purposes only and does not constitute legal advice. Please consult a legal expert to address your specific needs.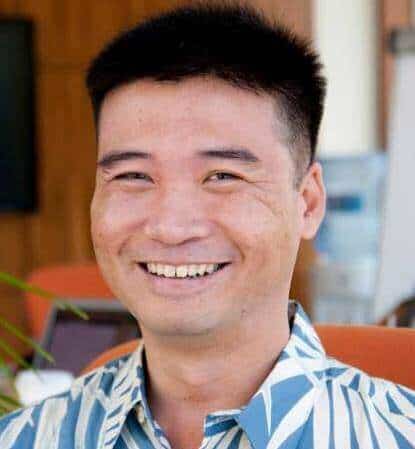 About the author. Entrepreneur and Salon Business Fan.
Hi! I am Shawn and I am a happy individual who happens to be an entrepreneur. I have owned several types of businesses in my life from a coffee shop to an import and export business to an online review business plus a few more and now I create online salon business resources for those interested in starting new ventures. It's demanding work but I love it. I do it for those passionate about their business and their goals. That's why when I meet a salon business owner, I see myself. I know how hard the struggle is to retain clients, find good employees and keep the business growing all while trying to stay competitive.
That's why I created Salon Business Boss: I want to help salon business owners like you build a thriving business that brings you endless joy and supports your ideal lifestyle.