One great way to pull in customers for a salon is to distinguish your business from your competitors. There are many ways to do so, below are some of those methods listed.
To make your salon stand out focus on:
Customer Service
Social Media
Work on your Salon's Aesthetic
Be environmentally Friendly
Focus on a Website
Make Appointments Easy to Book
Pay Attention to your Waiting Area
Some ways your salon can stand out is: provide excellent customer service, focus on your social media accounts, have a great looking salon, be green, have a website, make appointment booking easy, and pay attention to the waiting area. If you take these basics and build off them you will find your business continually growing. Great customer service will always be in style and adapting to the culture of social media is essential to become and stay relevant.
Staying relevant means keeping your accounts up-to-date, like Facebook and Twitter to name a few. Another way to keep your salon relevant and modern is to have a great website on which clients can make appointments. Making appointments online lends itself to convenience, in today's culture convenience is king. The easier it is to book an appointment the more client's you will attract to your salon.
1. Customer Service
Emphasize customer service, it's a great way to keep repeat customers and gain new clients. Customers don't frequent a salon to only get their hair done. They go to a salon for the experience too. If they receive a bad customer service experience they probably won't be coming back another time.
If a client is faced with grumpy employees why would they seek out your salon again? Customers want to feel welcome in your business. Offer a special service, like drinks while they get their hair done or as they wait. Who doesn't want to enjoy a drink after a long day? Also, consider keeping a record of client's birthdays and offer them discounts/coupons to get them to spoil themselves.
2. Social Media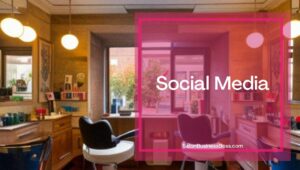 Social Media is another great way to stand out with potential clients. Some modern consumers use social media as a deciding factor for which businesses they give their money to. So the more effort you put into your Instagram, Facebook, Twitter, the more you set yourself apart from other salons. To help promote your social media standing encourage your stylists to generate posts for you. I'm sure they will probably not only embrace the challenged, they also aprrecitate a chance to showcase their work.
Also make sure you provide a link to your other accounts on each social media source you use. Your Twitter can be used to promote your Facebook account, you can use Facebook to promote Instagram, and so forth. With these platforms the bigger following you have the more people will see your page and thus the more clients you will bring in.
3. Work on the Aesthetic of your Salon
Spend some time to make your salon look nice. Make the salon reflective of your personality.  If your salon looks appealing that alone will attract customers to your salon. You can focus on a theme if that helps you come up with a look/feel for the salon
Do you want your salon to be about relaxation? Then focus on making it appear spa-like, stick to comfortable items and even consider adding additional services like massages. Would you prefer your salon to focus on a feeling of glam? In that case you would want to give the salon a high-class feel.
Take a peek at these salon theme ideas!
4. Environmentally Friendly
If you find a way to be environmentally conscious in your business practice, this is one great way to stand out. Modern customers are concerned with their carbon-footprint. Becoming green is also a great way to save on costs in the long run.
5. Focus on a Website
Having a website is a great way stand out. A website will make your business automatically appear more professional. Use it as another form of advertising. You can get started building your website online through websites like wix, squarespace, and Google even offers a website building service. Create your website then be sure to buy a domain name.
On your website you can tell your story of how you started. Give customers a run down of what services you provide. Also, make sure to focus on creating a professional website. Because the way a website looks shows the customers so much about your business, if you have to hire someone to design your website. Having an appointment making section on the website does wonders.
6. Make Appointments Easy to Book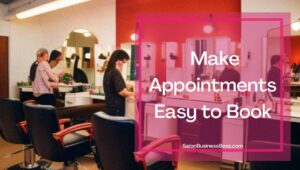 If you make creating appointments easy you will find a higher flow of client's. You can create a button to "book an appointment" on your website. It's how I personally go about making most of my hair appointments. Also, make sure to put your contact information everywhere possible just in case they prefer to call to book an appointment.
Also, if you personalize the reminder for the appointments the client will feel important to your business.  Create a text message system which includes the client's name. This extra touch will make client's feel excited for their appointment with you.
7. Pay Attention to your Waiting Area
Make your waiting area a pleasant experience. Of course include magazines that offer looks that may interest your clients. You can also draw their attention to additional services you provide while they wait, they may find that they want their hair colored along with the cut they scheduled. You can also use this place for additional advertisement if you feature bundled deals, like featuring a discounted "spa day" and putting a sign up you may spark a waiting client's interest.
There are so many ways to make your salon stand out from the one down the street from yours. Focusing on your online presence is a great one. Modern society embraces social media and convenience, and will continue to grow in that direction. To appear professional as possible with a modern salon is a great way to draw the eye of client's.
Also, providing great customer service is how to bring customer's into your salon. Sometimes a genuine smile is enough to change someone's day. Standing out by making someone's day and making your salon as convenient as possible will bring client's in. Make your salon modern and approachable and your business will stand out.
Related Questions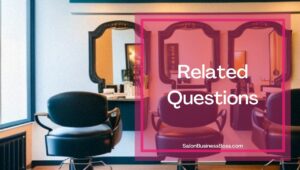 What are some of the most desired services which salons provide?
For women the most popular services are manicures/pedicures, haircuts, and hair color. Waxing is another popular service for women. Men are bit more simple, haircuts are the most popular, getting a straight razor is in close second.
What will help make your salon a success?
Prioritize your team and their needs first. Because a happy staff makes them capable of better customer service and a happy salon environment. This includes you taking care of yourself. Make sure to also use all the tech to make your day-to-day as easy and streamline as possible.
What are some ways to advertise your salon?
Consider hiring a stylist who has a large following on social media. You can also buy out ad space on Facebook, Google, or even somewhere popular and local. This all depends of course on your target audience.
Looking to start your own Salon? Get the documents you need to get organized and funded here.
Please note: This blog post is for educational purposes only and does not constitute legal advice. Please consult a legal expert to address your specific needs.
Sources:
https://elitebeautysociety.com/how-to-make-your-salon-stand-out/
https://dayspaassociation.com/15-unique-salon-marketing-ideas-to-keep-customers-coming-back/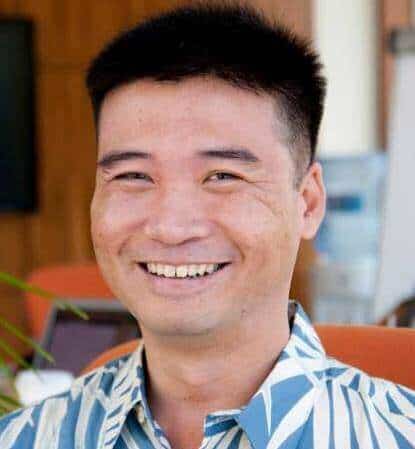 About the author. Entrepreneur and Salon Business Fan.
Hi! I am Shawn and I am a happy individual who happens to be an entrepreneur. I have owned several types of businesses in my life from a coffee shop to an import and export business to an online review business plus a few more and now I create online salon business resources for those interested in starting new ventures. It's demanding work but I love it. I do it for those passionate about their business and their goals. That's why when I meet a salon business owner, I see myself. I know how hard the struggle is to retain clients, find good employees and keep the business growing all while trying to stay competitive.
That's why I created Salon Business Boss: I want to help salon business owners like you build a thriving business that brings you endless joy and supports your ideal lifestyle.