In the bustling world of beauty salons, building a loyal and thriving clientele is a key factor for achievement. With the right strategies and a touch of finesse, you can transform your salon into a hotspot that attracts clients like bees to honey.
To rapidly build beauty salon clients, offer irresistible promotions, ace customer service, dominate social media with engaging content, and form local partnerships. Your salon's triumph story begins here.
Whether you're a seasoned salon owner or just starting out, this article will guide you through the art of building a robust client base swiftly and effectively.
Crafting an Irresistible Brand Identity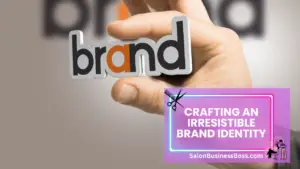 Crafting an alluring brand identity lays the foundation for your salon's unique character. Begin by selecting an engaging name, fashioning a logo that sticks in memory, and maintaining a uniform visual style across your promotional materials, social media platforms, and physical surroundings. Instead of merely offering beauty services, envision your salon as an immersive encounter that clients are drawn to.
This approach fosters a sense of connection and intrigue, prompting clients to feel compelled to engage with your salon experience. By meticulously curating every aspect of your brand identity, you not only captivate potential clients but also establish a lasting impression that resonates with them.
Read more about: Hair Salon Set Up: The Art of Creating Beauty Spaces
Stellar Customer Service
Effective customer service forms the core of a thriving beauty salon. It hinges on training your team to deliver extraordinary experiences that extend beyond the treatments. Beginning with a friendly welcome and carrying through to attentive follow-up care, it's about treating your clients with the utmost care. This approach creates a memorable impact that transforms them into devoted enthusiasts eager to advocate for your salon.
By prioritizing each client's comfort and satisfaction, you not only foster loyalty but also generate positive word-of-mouth endorsements. This organic promotion, driven by the exceptional treatment your clients receive, can significantly contribute to your salon's growth. Remember, outstanding customer service isn't just a nicety; it's a strategic pillar that ensures your salon thrives in a competitive market.
Leverage the Power of Social Media
Social media emerges as a valuable resource for acquiring new clients. Forge relatable and easy-to-share content that spotlights your salon's proficiency and distinct character. Social platforms such as Instagram, Facebook, and Pinterest offer an avenue to exhibit metamorphic before-and-after visuals, insightful tutorials, and sneak peeks into your salon's daily routines. By establishing a dialogue with your followers through comment responses, conducting contests, and even partnering with influencers, you expand your online influence.
These interactions help not only to bolster engagement but also to broaden your salon's reach. Seizing the potential of social media, you position your salon at the forefront of digital discovery, enabling potential clients to gain insight into your offerings, ethos, and the impressive transformations your salon brings to life.
Offer Irresistible Promotions
Providing enticing deals is universally appealing. Present promotions that captivate newcomers to experience your salon's offerings. Whether it involves a welcoming discount for first-time visitors, an exclusive bundled package, or an incentive-rich loyalty program, these offers cultivate a feeling of immediacy and enthusiasm. This approach instills a motivational push, urging potential clients to embrace the opportunity.
By creating alluring incentives, you inspire them to explore the range of services your salon provides, while also appreciating the added value they receive. This combination of affordability and extra perks often kindles their curiosity and entices them to experience what your salon has to offer. Through strategic promotions, you convert interest into action, fostering a stream of new clients intrigued by the value and experiences that your salon promises.
Engage in Local Partnerships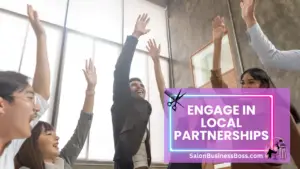 Establish meaningful alliances with neighboring enterprises that align with your salon's services. Join forces with fashion boutiques, fitness centers, and well-being establishments to mutually showcase each other's offerings. This collaborative approach widens your visibility beyond the confines of your salon. Furthermore, it solidifies your salon's significance as a vital contributor to the local community. By venturing into these partnerships, you augment your reach, tapping into the networks and clienteles of these allied businesses.
This interconnected approach reinforces a sense of community and shared values, positioning your salon as an integral part of the neighborhood's fabric. As clients witness your collaborative spirit, they perceive your salon as more than just a service provider – it becomes an engaged participant that fosters local growth and connectivity.
Read more about: Hair Salon Social Media Tips: Scissors and Screens, A Winning Duo
Nail Your Online Presence
Ensuring a polished online presence is crucial. A user-friendly website is an absolute requirement, serving as a digital gateway to your salon. This virtual space must offer vital details such as available services, pricing, booking avenues, and reliable contact information. An elegantly designed website builds trust among potential clients, establishing a professional aura that resonates. Moreover, it simplifies the process of booking appointments, enhancing convenience and efficiency for both clients and your team.
Your website, acting as an extension of your physical salon, encapsulates your brand essence and ethos, giving visitors a taste of what to expect. With a well-structured and informative online hub, you equip potential clients with the resources they need to make informed decisions, leading to increased comfort and engagement. This cohesive blend of information and user-friendliness contributes to a seamless and positive digital experience that mirrors the exceptional service clients can anticipate in person.
Harness the Power of Reviews and Testimonials
Leveraging the influence of reviews and testimonials is impactful. Positive feedback from satisfied clients serves as robust validations for your salon's offerings. Motivate content clients to share their experiences on prominent platforms like Google, Yelp, and Facebook. These authentic insights offer a glimpse into the caliber of service your salon provides. Amplify these commendations by showcasing them on your website and across your promotional materials. Doing so substantiates your salon's reputation, fostering credibility and cultivating trust among potential clients.
These voices from previous patrons affirm the quality and reliability of your services. As individuals peruse these accounts of positive encounters, they garner a sense of assurance that their own experiences will mirror the praise shared by others. In the digital landscape, where trust is paramount, these reviews and testimonials serve as testimonials of your salon's dedication to delivering exceptional experiences.
Host Events and Workshops
Organizing events and workshops can be a magnet for prospective clients seeking insights into your services. Hosting occasions focused on beauty and wellness intrigues those interested in exploring your offerings. Ideas like makeup tutorials, skincare workshops, and hairstyle masterclasses can be captivating. These engagements not only showcase your proficiency but also present a chance for attendees to engage with both you and your team on a more intimate level.
These events essentially become platforms for personal interactions that go beyond the typical salon experience. Participants gain firsthand exposure to your skills and knowledge, forming a tangible connection with the expertise your salon offers. As curiosity-driven individuals experience your guidance and techniques, they gain a deeper appreciation for the services your salon delivers. Ultimately, these events serve as vehicles to establish your salon as a knowledgeable and approachable authority in the beauty and wellness arena, attracting clients who value expertise and personalized engagement.
Invest in Employee Training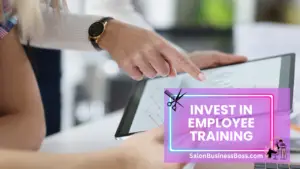 Allocating resources to employee training can greatly impact your salon's reputation. An adept and well-informed team plays a pivotal role in shaping how your salon is perceived. It's vital to ensure your staff receives regular training to remain abreast of the newest trends and techniques prevalent in the dynamic beauty industry. Consistently refining their skills and knowledge equips them to provide top-tier service to your clients.
When clients sense that they are being tended to by capable hands, they develop a heightened level of trust and satisfaction. This, in turn, encourages repeat business and solidifies their loyalty to your salon. By keeping your team finely attuned to industry innovations, you affirm your salon's commitment to delivering current and quality services. This emphasis on continuous learning underscores your dedication to excellence and mirrors the superior experiences clients can anticipate when they choose your salon.
Read more about: Hair Stylist Business Plan: Unlocking Beauty Biz
Utilize Email Marketing
Harnessing the potential of email marketing holds considerable value. Constructing a roster of engaged clients who are interested in your offerings is an invaluable resource. Employ the practice of sending out periodic newsletters containing exclusive deals, insightful beauty advice, and pertinent updates about your salon's offerings. These emails establish a direct line of communication with your client base.
Moreover, crafting personalized emails for each client fosters a sense of recognition and value, strengthening their connection with your brand. This tailored approach ensures that your clients remain engaged and informed about the latest happenings in your salon. As they perceive these emails as thoughtful gestures, it enhances their loyalty and reinforces their identification with your brand. By integrating email marketing into your strategy, you cultivate a consistent presence in your clients' lives, positioning your salon as a dependable and attentive source of beauty and wellness insights.
Conclusion
Growing your beauty salon clientele doesn't have to be a daunting task. By combining effective marketing strategies with exceptional customer service, you can create a salon that not only attracts clients but keeps them coming back for more. Remember, building a loyal client base takes time, effort, and a sprinkle of creativity, but the rewards are well worth it. So, go ahead and embark on the journey to transforming your salon into a hub of beauty, style, and pure satisfaction
Frequently Asked Questions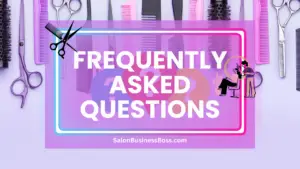 Q: What strategies attract more clients to a beauty salon?
A: Effective methods include offering enticing promotions, prioritizing customer service, utilizing social media for visibility, and forming partnerships with local businesses.
Q: How can a beauty salon differentiate itself in a competitive market?
A: Creating a memorable brand identity, providing exceptional customer experiences, and hosting engaging events are key. Leveraging online platforms to showcase skills and foster a sense of community also helps.
Q: Are there proven ways to cultivate client loyalty?
A: Absolutely, maintaining consistent high-quality services, employing personalized email marketing, and establishing loyalty programs showcase appreciation for clients and encourage repeat business.
The information provided by SalonBusinessBoss.com ("The Site") is for general informational purposes only. All information on the Site is provided in good faith, however, we make no representation or warranty of any kind, express or implied, regarding the accuracy, adequacy, validity, reliability, availability or completeness of any information on the Site. Under no circumstance shall we have any liability to you for any loss or damage of any kind incurred as a result of the use of the Site or Reliance on any information provided on the Site. Your use of the Site and your reliance on any information on the Site is solely at your own risk. This blog post is for educational purposes only and does not constitute legal advice. Please consult a legal expert to address your specific needs. Terms and Conditions. (https://salonbusinessboss.com/terms-conditions/)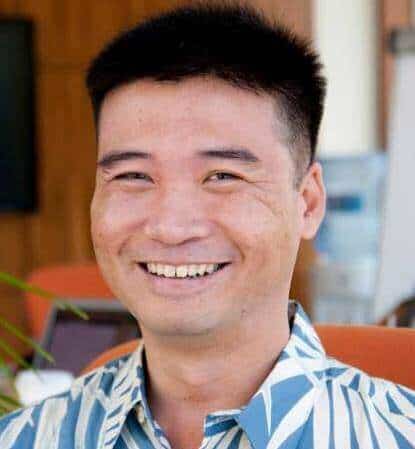 About the author. Entrepreneur and Salon Business Fan.
Hi! I am Shawn and I am a happy individual who happens to be an entrepreneur. I have owned several types of businesses in my life from a coffee shop to an import and export business to an online review business plus a few more and now I create online salon business resources for those interested in starting new ventures. It's demanding work but I love it. I do it for those passionate about their business and their goals. That's why when I meet a salon business owner, I see myself. I know how hard the struggle is to retain clients, find good employees and keep the business growing all while trying to stay competitive.
That's why I created Salon Business Boss: I want to help salon business owners like you build a thriving business that brings you endless joy and supports your ideal lifestyle.