Every successful business owner will tell you that creating a company culture founded on a core set of values is quintessential to the success and longevity of any business. Your salon will be no different and along with creating a clear mission statement, these core values will propel your salon forward.
Detailed below are six core values to establish a strong foundation for your salon business to build upon.
Brand Vision
Professionalism
Team Mentality
Raving Fan Service
Work Should Be Fun
Foster Passion For The Profession
Before we dig into the meat and potatoes of these core values, let's work through creating your mission statement. Creating a mission statement will help organize your broader vision for what your brand stands for, identify what you are trying to achieve by starting your salon business, and help you establish your company culture.
There are two parts to creating a successful mission statement. First, you must answer the following questions about the identity of your business.
Who are we?
Why are we in business?
What do we want to be?
What is our role as a company?
What is our common goal?
What do we pledge to accomplish?
By no means are these easy questions to answer as a new business owner, but by asking yourself these questions you'll begin to discover what is important to you and the philosophy behind how your salon will go about operating on a day-to-day basis.
Next, let's discuss some tips to help you along the way in creating a vetting your mission statement. 
Short and Sweet – Keep your mission statement concise. No need to write an essay here.

 

Open-Ended – Allow for some wiggle room down the road as both your business and your goals grow and evolve.
Solicit Feedback – Get your employees involved in this project. Not only will their feedback be invaluable in determining the viability of your mission statement but they will more readily buy into a culture that they helped create.
Don't Fear Change – If your business outgrows your mission statement or it no longer accurately represents your values, then it may be time for a rewrite. There's nothing wrong with that!
Now that you have asked yourself these important questions and worked through the process of creating your salon's identity through a mission statement, it's time to talk about core values.
| Brand Vision |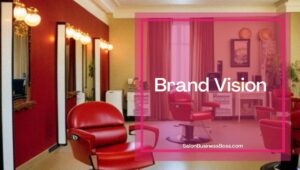 This is the perfect segway when finishing up your mission statement and moving into creating your core values. 
Your brand vision stems directly from the identity of your salon and what you hope to accomplish by opening. There is no clear-cut answer when it comes to what your brand vision will be and, much like your mission statement, may change through the evolution of your brand. 
For example, when you first start, it may sound something like "We aim to create a standard of quality and consistency through our expert stylist services and impeccable hospitality." And as time goes by it may grow into "For the past 10 years we have been the gold standard in-salon services and will continue to be such for the next 10 through our tradition of excellence."
When creating the model for your brand vision there are six key components to consider.
Define Your Brand – Most brands need several elements to clearly define themselves. Break these into core and extended elements that clearly define your business.
Extended Vision Elements – These are items that may not fit directly into the core of your vision plans but also assist in identifying aspects of your brand identity.
Dimensions – Create the boundaries within which your brand will operate. Being a salon, your realm will primarily deal with customer service parameters.

 

Keeping It Aspirational – Allow for your brand vision to change over time to maintain your salon's competitiveness and flexibility to adapt to change.
Represent A Central Theme – The overall theme of what your business aims to do. Think of it as your slogan.
Reaching Your Target Audience – The verbiage and ideas held within your brand vision should be tailored to communicate directly with those individuals that are in your target audience and should appeal directly to their emotions.
| Professionalism |
Professionalism goes well above the competency of your stylists. At its core, professionalism is something that sets your team apart from all other salons. Not only do you provide the best quality services, but also have the cleanest facilities and warmest hospitality. 
As the NBAA states "establishing and maintaining a personal professional reputation is crucial to success. Becoming a professional is not a destination; it is a way of life." Below are their tips for maintaining a professional attitude.
Character – Maintaining an honest, diligent, and responsible workplace.
Attitude – Always showing that service mentality and fostering teamwork.
Engagement – Consistent performance daily while also striving for improvement.
Competency – Exceeding the minimum requirements and training and inspiring others to do so as well.
Image – Showing maturity, etiquette, and respect in all day-to-day interactions
Continuous Improvement – Striving to be better tomorrow than you were today.
| Team Mentality |
Just as in most other professions, salon work is a team sport. From completing daily chores and stocking to ensuring a guest has an amazing experience from start to finish, it takes everyone in the salon to make the magic happen. 
Fostering teamwork at your salon will be a multi-faceted task as a business owner. To start, you will need to assign clear roles and responsibilities to all of your associates. Next, set clear goals. Whether it's getting a few small tasks done in the day or tackling a new promo campaign over several weeks, articulate what you'd like to achieve and utilize your associates in their strongest roles to achieve this goal. Lastly, encourage open and honest feedback, cultivate team-based brainstorming and allow each other to hold yourselves accountable. At its base, all of this relies heavily on strong communication and the aforementioned professionalism to implement effectively.
Check out the five goals we recommending setting for your salon HERE! 
| Raving Fan Service |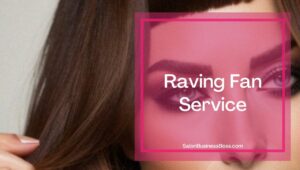 Simply, this is the idea that everyone that comes into your salon receives such great service from beginning to end that they become a "raving fan" of your business. Making raving fans out of all of your guests relies heavily on your associate's ability to provide genuine hospitality and make "yes" the answer regarding any requests. Be friendly. Listen and get to know your guests to tailor their individual experiences each time they patronize your salon. Reward their loyalty to your brand. And finally, go above and beyond in answering their requests as well as solving their problems by simply making "yes" the answer.
| Work Should Be Fun |
All work and no play make Johnny a dull boy. Well, work in itself should be fun! Having fun at work is proven to improve productivity, creativity, and influence a business's bottom line. By following through on your commitment to the prior core values, as the leader, you can create a relaxed atmosphere that allows for this free-flowing energy to simply have fun while getting the job done. In turn, creating this atmosphere will help you retain both top talents in staffing your salon and keep guests coming back time and time again because of the enjoyment conveyed by your stylists. 
| Foster Passion for the Profession |
We've all been there. Multiple years at the same job doing the same thing day-in and day-out. Everyone loses their passion from time to time. But how do you keep it as a salon owner and pass that passion on to your staff? Here are a few ways that you can use to continue to instill passion within yourself and the staff at your salon.
Make It A Priority – As simple as that. Make an effort to make passion a priority in every aspect of the job.
Connect Emotionally – The more that your staff interacts and sees how their work makes a difference, their passion will continue to flourish.
Break Down Barriers – Don't allow any of your associates to feel confined to one job. Encourage them to take on new roles within the salon to keep things fresh.
Training – Offer the ability for further training in new or existing proficiencies. Helping your stylists grow and improve will not only make them buy-in to your culture but will pay dividends in the long run for your salon as well.
Surround Each Other With Passion – Hire passionate employees and promote passionate people to management.
Related Questions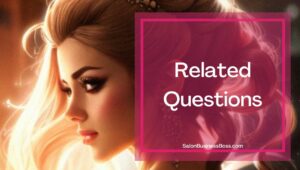 How do you deal with a negative associate in your salon?
First, as the boss, don't feed into negativity. Put yourself in their shoes and look at the issue outside of the behavior. Have a one-on-one with the employee to further understand the root of the issue and let their voice be heard. Finally, check-in with them regularly to ensure that things have been resolved.
Can making "yes" the answer backfire?
Absolutely! But that shouldn't stop you from taking the high road and making anything and everything happens for your patron as possible.
Please note: This blog post is for educational purposes only and does not constitute legal advice. Please consult a legal expert to address your specific needs.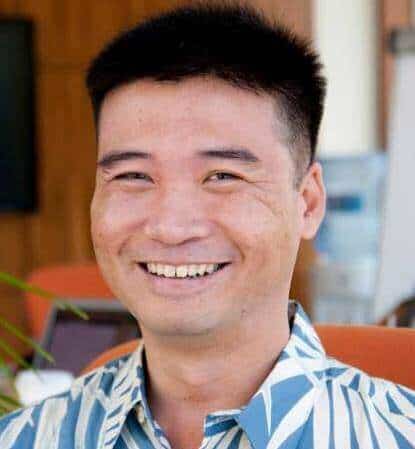 About the author. Entrepreneur and Salon Business Fan.
Hi! I am Shawn and I am a happy individual who happens to be an entrepreneur. I have owned several types of businesses in my life from a coffee shop to an import and export business to an online review business plus a few more and now I create online salon business resources for those interested in starting new ventures. It's demanding work but I love it. I do it for those passionate about their business and their goals. That's why when I meet a salon business owner, I see myself. I know how hard the struggle is to retain clients, find good employees and keep the business growing all while trying to stay competitive.
That's why I created Salon Business Boss: I want to help salon business owners like you build a thriving business that brings you endless joy and supports your ideal lifestyle.