Once you have finished training and decide to open your own hair salon, one of the very first things to think about. Some people choose to use their own name to open up a place, but sometimes that works against you. Finding something marketable will be crucial to how well customers remember the name of your salon.
Here are 8 Hair Names You Can Choose for Your Salon
Hair Queens
Cutting Elegance
A New Do A New You
Hair Craze
Hair Siren
Refined Cutting
Boho Cuts
Cutting Brilliance
How to choose the best business name? You will need to follow state guidelines and keep in mind a few other things like staying away from competitors' names. Then you can have the freedom to create names like "A New Do, A New You," or "Boho Cuts."
You can find one that suits your wanted clientele and start marketing right away with your new name. Finding a business name will help attract customers and allow them to spread the word with your business name. Having a unique name will help you stand out from your competitors and allow you to be known for one thing.
If you need a place to start, this list may help you choose something that matches your salon vibe. Every salon needs to be known for something. Maybe you love the trend of adding feather extensions in hair and want to be known for a boho vibe; that's great! However, you need to find a salon name that matches that. Here are 8 names you can choose from, but feel free to make up your own.
Why do these names work? They are good for marketing purposes. Each name can be marketed towards a specific clientele and focused on one niche. Of course, many salons will offer haircutting services, but others can also offer their own hair care products that match the salon's name. With these names, you can quickly grow your business and be known for something. You don't have to use these names, but you can use these as a starting place to name your business.
How can you make your salon stand out?
5 Tips for Choosing a Salon Name
Naming your company entails far more than simply coming up with a catchy name. A good name reflects your company's identity and goals. It will assist you in marketing yourself, and it will prevent legal trouble.
Because your business name will be with you for a long time, it's critical to carefully consider your options before establishing a legal entity. Your name can help create a website and create signs and other promotional materials to spread awareness of your business. Here are a few pointers to get you started.
Use The State Guidelines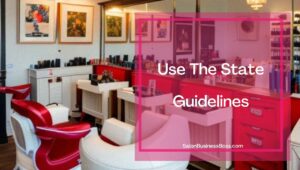 If you intend to form a business entity such as a limited liability company, your state's laws will prohibit using a name that is already in use by another business. You will want to avoid using the same name even if the other business is in a different niche. It can be too confusing for clients. In some states, you are also prohibited from using a similar name to the name of another business entity.
The naming guidelines for your state can be found on the website of the state agency that handles business filings. Most states allow you to search online for registered business names to see if the name you want is available.
Choose Something Clients Will Remember
Picking a word that is too hard to spell will confuse your clients. They may turn to something they know how to pronounce because it is easier to remember. When you choose a name that most people in the local area can say easily, it allows for them to talk about your business easier. This means you get free word of mouth marketing done. When your business name is too hard to say people won't repeat it as often. Stick to something simple that is unique enough to be eye catching.
Make It Website Friendly
Part of making your business name easy for clients to say also has to do with how well they can type it out. A hard to pronounce name is not user friendly either. It will make your website hard to find. You'll almost certainly have a website and a Facebook page for your company. Your company may also be present on other social media platforms.
Do your homework and see if you can get a domain name that matches your company name. After that, you will want a social media name that is also closely related. Simple and memorable domain names are the best. An unusual spelling or a long name may sound appealing to you, but it can make it challenging for customers to find you online or correctly type your name in an email.
Create a Consistent Name
When you want to be known for your niche or something specific, that is your brand. Every name you come up with for clients to know you by should be consistent with your brand or identity. Your business name should reflect the quality of services you provide to your customers. Your name will invoke different feelings in customers and help them understand your business better. For every blog, social media account, and website that you own, the name and tone should be consistent with your business.
Don't Limit Your Identity
Sometimes business owners think too small; they limit their name or brand to one specific location. This can be great unless you are trying to expand to multiple areas. This can work against you if you are going to expand your business to the next town over. Don't become too specific; keep it open. This tactic will allow more clients to find your salon in the future. If you want to expand your business in different directions like a hair line, this tip will help you do that.
3 Things to Avoid When Choosing a Name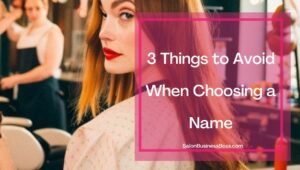 A poorly chosen name can turn heads, or worse, can turn away heads. Some clients may look for something easy to identify that promotes feelings of trust. There are three main mistakes new business owners make when naming their business.
Mistake #1: Throwing in Letters to Make it Unique
Your name should be unique but not too unique. When you start throwing in letters, it can hinder online performance and make it too challenging to find out your business information. Being unique is important; being too unique can be deadly for a business.
Mistake #2: Not Doing Research
When you choose a name, you should test it online. If you see that it is connected to another business, it's best to avoid it. Sometimes new business owners get tunnel vision when choosing a name and forget to do their research.
Mistake #3: Not Getting Feedback
So, you've narrowed down ideas to 15 names, but you're not sure which to choose. This is the time to get feedback from friends and family. Which one do they like the most and why do they like it? Use this feedback to make a final decision because these are answers from potential real-life customers.
Summing It Up
Choosing a business name can seem like a scary task because you want it to be perfect and memorable. It is a massive part of the business and will be the first thing people see and hear. Start coming up with a list of names that you love, and from there, do your research. Be sure to ask your friends and family for advice and opinions from real people. This advice will help you narrow down options.
Related Questions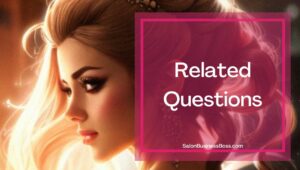 Can you start a business without a name picked out?
It is hard to choose a business name, and you may need time to think about a company name. That is understandable. You can legally open a business and use your name. Later on, you can go back, pick a name, register it, and set up all of your accounts under that name. When you pick out a business name, take your time. You can go back and rebrand later on.
What should you do before naming your business?
Before anything, you need to think about what you want to be known for and how you want to convey that to your customers. Do your research before naming your business and ask for feedback before registering the name. Once you have done these steps, it will be time for you to register your business name. This process should not be rushed and you should choose carefully.
Do you need a logo to go with your business name?
Although a logo is not your brand, it is something that can help clients identify your business. It is something that will help communicate what you own, your values, and the products you sell. Having a logo can help tie all of your social media and websites together with one image. This might be one of the last things you want to do as a business owner, but it can be helpful.
ents you need to get organized and funded here.
Please note: This blog post is for educational purposes only and does not constitute legal advice. Please consult a legal expert to address your specific needs.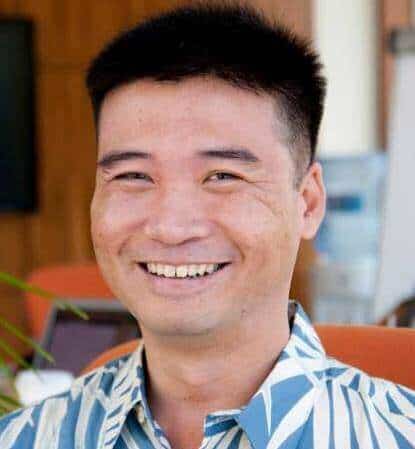 About the author. Entrepreneur and Salon Business Fan.
Hi! I am Shawn and I am a happy individual who happens to be an entrepreneur. I have owned several types of businesses in my life from a coffee shop to an import and export business to an online review business plus a few more and now I create online salon business resources for those interested in starting new ventures. It's demanding work but I love it. I do it for those passionate about their business and their goals. That's why when I meet a salon business owner, I see myself. I know how hard the struggle is to retain clients, find good employees and keep the business growing all while trying to stay competitive.
That's why I created Salon Business Boss: I want to help salon business owners like you build a thriving business that brings you endless joy and supports your ideal lifestyle.