The cosmetology marketplace is a multi-billion dollar industry that produces upwards of $90 billion a year. Hair salons, alone, account for about half of that money. So, if you're considering opening your hair salon, it's likely a very good idea. But, only if you take the time to learn what you need to know about zoning and the licenses and permits you will need to be allowed to legally operate your business.
Once you know what type of hair salon you want to open and what kind of services you want to offer, it's time to look for the answer to—what type of zoning do I need for my hair salon? Here are the things you need to look at when you're learning about zoning.
Commercial Hair Salon vs. In-Home Hair Salon
Services Offered
State Board of Cosmetology License
Inspections & Other Certifications
Permits & Taxes
What Is Zoning?
Let's start by talking about zoning and what it is. Land that is zoned for something means that it's been classified as space for specific activities. For instance, there is zoning for residential land, commercial land, retail space, or restaurants, and more. 
Zoning laws are based on many things. The governing agencies may be wanting to keep traffic low in the area, or they may want to keep certain smells and pollution out of specific locations. Whatever the reasons are, the purpose is so that members of society know what type of land use is allowed there.
Zoning laws can also stipulate how big your business building can be or place other conditions for that location you have to meet, like the need for and the number of fire escapes you'll have to have.
Commercial Hair Salon vs. In-Home Hair Salon
Since some land is zoned as commercial space and some is zoned as residential space, you need to decide if you're going to be opening a separated hair salon business or one that you run out of your home. Many neighborhoods have zoning considerations for in-home businesses run by residents. If you're going to be opening an in-home salon, you need to make sure that's allowed, and if so, what regulations there are for you to abide by. They may only allow for so many vehicles to come through or there could be rules for signage and gatherings. You may only be allowed to use a certain percentage of your home for your business, as well as only sell products or provide services between specified hours. 
A separate hair salon business will have to be opened in a retail space zoned for salons of that type. No restaurant or bar owner is going to want a hair salon next door that may have the smells of hair dye and perm solution wafting over while their customers are eating or drinking. That's why zoning laws are so important and must be adhered to.
Services Offered
Make sure before you choose a location for your business that you decide on all of the services you'll be offering. Even if space is zoned for commercial retail use that would be ok for providing hair services, it may not be zoned for doing other types of cosmetology services, such as nails, waxing, or makeup. You may run into a problem with trying to sell cosmetology products, also. Your menu of offered services needs to be decided upon before you pick a business location.
State Board of Cosmetology License
You'll have to make sure you obtain your State Board of Cosmetology License before the date you are planning on opening. You'll do this by applying for your salon license through the State Board of Cosmetology. Be sure to allow for enough time to get your license, as each state has a different timeline for how long it takes to get your license. Once you get it, you'll need to have it on display in your hair salon for customers and governing officials to see.
Inspections & Other Certifications
Space, where you'll be opening your business, is going to have to be inspected before you will be allowed to operate legally in that location. The inspector will be looking for any safety concerns, as well as for the proper displaying of your license to operate and any other certifications you may be required to get. You'll need to have procedures on display for how customers can complain if they need to and what to expect once they do. You also need to have information up about the commission laws. Finally, you have to have your hours of operation posted somewhere within the property that is easy to see.
The certifications you'll need for opening and running your hair salon depend on the state you're in, as states set their requirements, as well as what services you plan on offering. Rules that exist in almost all states are the owner must be at least 16 years old. He or she needs to have a high school diploma or GED. And they must complete a specified number of training hours with an accredited cosmetology school to obtain a professional license. It will be something around 1,500 hours for a cosmetology license for doing hair. You'll need additional hours for adding on an esthetician license. The esthetician certification will allow you to provide more services, such as makeup and skincare procedures. 
If you wish to sell cosmetics in your salon, you're going to have to get a special license allowing you to do that. Cosmetics products are regulated by another sector of the government, therefore selling them requires a whole separate license for certification.
Permits & Taxes
You will need to apply for an Employer Identification Number, or EIN, which will be your tax ID used with the IRS for reporting and paying your business taxes. You also need to acquire a sales and use permit for your hair salon business, as well as a tax ID from the state comptroller in your state. 
Questions about what licenses you need? Check out our article HERE to learn more.
How to Investigate Your Zoning Laws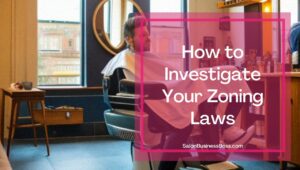 When you are ready to look into your local zoning laws, you can start by doing some research online. Check out your city's chamber of commerce website. You can also look into what the state government site has for business zoning information. 
Be aware that zoning for neighborhood businesses can vary greatly from one area to another. Should you be found in violation of home occupation ordinances, there could be some pretty stiff consequences. You could have to shut down, you could be fined, or you can even lose your business license, altogether. 
Zoning Is Important
Zoning laws were developed for good reason. Most of us benefit from the existence of these kinds of regulations. We enjoy quieter streets, less traffic, no odorous or polluted air where we live, and more peace of mind that comes from not having people who would frequent certain types of businesses coming into our neighborhoods. 
The hair salon you decide to open needs to be located in an area zoned for retail beauty businesses. Or, should you be opening your salon in your home, you need to make sure no ordinances are preventing you from doing so. Also, keep in mind, just because you are allowed to operate your business in that space doesn't mean you can do it without the proper licenses and permits and without following all guidelines for signage, traffic, hours, and more. Always operate legally where you're permitted to, so you can have a successful, thriving business that contributes to your community, as well.
Related Questions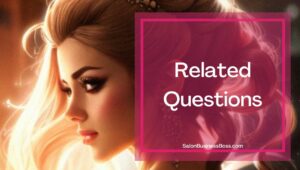 What type of ownership is a hair salon?
You can choose from five different business entity structures for your hair salon. The way you decide to structure the business will dictate things like taxes, regulating agencies you'll be governed by, and reporting. Your options are:
Sole proprietorship
Partnership
Limited liability company (LLC)
S corporation
C corporation
How much capital is needed for a salon?
The amount of money you'll need to start your salon can vary a lot. If you're going to operate out of your home, you'll need less than what you'd need to start a separate, freestanding hair salon. You already have the building to house the business in. 
But even just the services you'll be providing will require differing amounts of capital to get your business off the ground. You'll need various types of equipment to provide other beauty services, like manicures and pedicures, waxing, or makeup. You may also need more space. 
Basic salons can cost you a little more than $60,000 to get started. More complex salons that offer a larger menu of services can cost up to half a million dollars to open. It all depends on your set up.
What supplies do you need for a hair salon?
Even the list of supplies for a basic hair salon can be pretty extensive. Some of the things you'll need to have are driers, razors, scissors, curling irons, combs, brushes, sanitizing fluids, chairs, hair spray, shampoo, conditioner, finishers, sinks, towels, mirrors, dyes, and more.
Looking to start your own Salon? Get the documents you need to get organized and funded here.
Please note: This blog post is for educational purposes only and does not constitute legal advice. Please consult a legal expert to address your specific needs.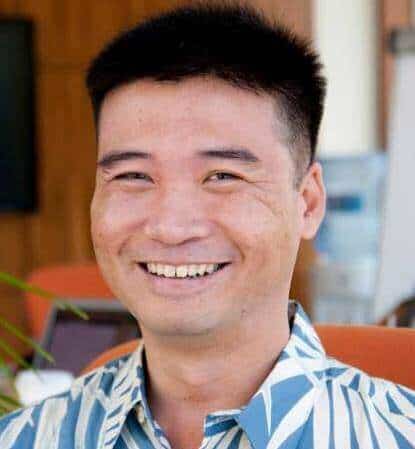 About the author. Entrepreneur and Salon Business Fan.
Hi! I am Shawn and I am a happy individual who happens to be an entrepreneur. I have owned several types of businesses in my life from a coffee shop to an import and export business to an online review business plus a few more and now I create online salon business resources for those interested in starting new ventures. It's demanding work but I love it. I do it for those passionate about their business and their goals. That's why when I meet a salon business owner, I see myself. I know how hard the struggle is to retain clients, find good employees and keep the business growing all while trying to stay competitive.
That's why I created Salon Business Boss: I want to help salon business owners like you build a thriving business that brings you endless joy and supports your ideal lifestyle.