Do you enjoy working with hair?  Are you planning to be a hairdresser?  To be a hairdresser there are a few essential items you will need for your business.
Whether you are a seasoned pro or just starting, these are the top ten essential tools you will need to be a hairdresser.
Shampoo, conditioner, and styling products
Scissors
Clippers
Brushes
Combs
Hair Dryers
Straighteners
Rollers and heated curlers
Towels
Gowns

 
As a hairdresser, you will need to be able to work with all different types of hair.  
Shampoo, Conditioner, and Styling Products
Styling products are some of the most essential things you need to be a hairdresser.  There are many different types of shampoos, conditioners, and hair styling products.  These products can vary according to hair type, texture, and even hair color.
 A good stylist will be able to pair the appropriate shampoo and conditioner with the right customer.  However, to do so, they must have a wide range of products from which to choose.  You should also keep several types of shampoos and conditioners in stock for your customers to purchase.  Purchasing these products will help your clients to get that same luxurious, salon-quality hair at home.
Scissors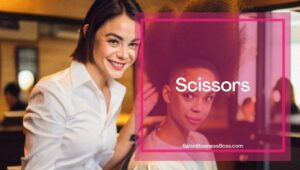 As a hairdresser, you will be styling hair for everyone of different styles and types.  The scissors need to do so.  There are scissors to fit all types of stylists on any budget.  Per national beauty supply chain Sally, these tools of the trade can range in price from approximately ten dollars to one hundred dollars per pair. 
A good stylist will need several different pairs of scissors, as there are different lengths and angles which are designed to cut differently.  One of your top priorities regarding scissor care should be keeping them clean and sharp, which means you will also have to purchase a cleaning solution as well.
Clippers
Clippers have many different uses in a salon.  They can be used for anything from cleaning up a customer's neckline to fading and blending hair, depending on the style or look the client wants. 
They are available in a plethora of styles, sizes, and colors.  There are clippers designed specifically for trimming, as well as those designed for cutting.  Prices range from fifty-nine dollars for a salon-grade trimmer to one hundred sixty-nine dollars for a pair of professional-grade clippers at Sally.  Like scissors, clippers also have to have basic maintenance, which means you will have to buy clipper oil and replacement blades as the blades will gradually become dull over time.  Some clippers come with several guards included in a set, while others require the guards to be purchased separately.
Brushes
Hairbrushes of all types, sizes, and materials can be spotted in any salon.  They are necessary for both the styling and cutting aspects of the business.  Brushes can be found in several different sizes, colors, and bristle count.
Different types of brushes include detangling, conditioning, and polishing paddles.  They are usually made from ceramic, wood, or plastic and can be purchased in a wide variety of colors.  Clients from all walks of life with all types of hair will visit your salon.  Different types of hair will require different types of brushes, and you must be adequately prepared. 
Combs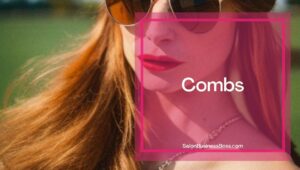 Combs will be needed for cutting and styling hair.  They come in many different lengths and are made from different materials such as basic plastic, silicone, aluminum, carbon, or even wood.  Combs also have many different styles of teeth and designs, including the wide-tooth pick, the styling comb, the teasing comb, the pintail comb, and the rattail comb. 
They are also available in a wide array of colors, depending on your style or preference.  While combs are a necessity in any salon, they are also an affordable one with the majority of them in the five-dollar price range.  However, some of them can be rather expensive, with a few of them costing upwards of fifty dollars or more.
Hair Dryer
Hairdryers are an absolute necessity for any salon.  Hairdryers can either be stationary or portable.  Stationary hair dryers require the client to sit in a chair while an attachment is lowered over their head.  This is usually one of the final steps in styling the client's hair. 
Also known as blow dryers, portable hair dryers are needed to dry and style hair after you have given your client the haircut they are looking for.  As their name indicates, portable hair dryers allow the stylist to move freely around the customer while they are still in the stylist's chair. 
Portable hairdryers are available in plastic, porcelain, ceramic, ionic, titanium, and tourmaline.  While some hair dryers can initially be an expensive investment, a high-grade hair dryer will last for a long time.  Per Salon Pro, a stationary hairdryer can cost as much as eight hundred ninety-seven dollars.  Portable hair dryers are much more affordable, with prices ranging from fifteen dollars to over seventy-five dollars on the Sally website.
Straighteners
Some of your salon's clients will want their hair straightened.  This where hair straighteners come into play.  There are straighteners for thick hair or curly hair.  There are also straighteners for different types of ethnicities, so it will be necessary for you to keep all different types of hair straighteners on hand in your salon. 
They come in a few different styles, including the flat curling iron and the brush style, which is known as the straightening brush.  Hair straighteners are also made from many different materials like ionic, ceramic, titanium, and platinum.  Prices for professional-grade flat irons and straightening brushes range from fifteen dollars to two hundred fifty dollars on Ulta Beauty.
Rollers and Heated Curlers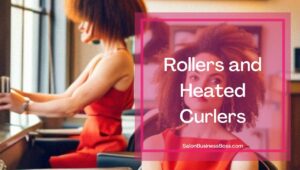 Rollers and heated curlers have been an institution and a mainstay in salons since their inception, and they continue to be utilized in salons across the world today.  They come in many different sizes, colors, and functions. 
Rollers are categorized into either volumizing, curling, or waving rollers.  Depending on your preference and your client's hair, you can also purchase rollers that snap on, velcro rollers, or if you prefer, you can purchase magnetic rollers.  You can also purchase self-grip or needle-hair rollers.
Hair rollers are generally made of plastic, but they can also be made of ceramic.  Heated curlers are usually made of ceramic.  Hair rollers are usually inexpensive and can be purchased from any retail beauty shop for four dollars to sixteen dollars per set. A professional set of heated curlers is priced starting around forty-five dollars at Sally.
Check out our list of other essentials HERE.
Towels
In any salon, there are bound to be quite a few customers getting their hair washed along with their new haircuts.  With all of this hair washing, your salon should have plenty of bleach-proof towels on hand.  While there are many colors from which to choose, salon towels are usually made from the same material, cotton terry cloth. 
The standard dimensions for a salon towel are 16×26 inches.  You can purchase them with or without Bleach Guard technology, although it is advisable to always purchase the bleach-proof variety.  Salon towels also come in a wide array of colors.  They can be purchased for starting around twenty-two dollars a dozen from websites like Towel Hub.
Gowns
While styling, cutting, washing, and drying your client's hair, it is very important to keep them clean and dry.  Gowns help to keep those clients from getting wet when washing their hair and keep them from getting hair on their clothes while you are cutting and styling.  Also known as caps, they are available in microfiber for cutting and styling, and chemical-proof nylon for tasks such as washing and drying.  
There are almost an indefinite amount of colors and styles, ranging from the basic cape to the wrap.  Gowns, capes, and wraps can be purchased in all sizes, starting at children's sizes and going up to plus sizes.  They can be as inexpensive as five dollars and as expensive as twenty-six dollars each and can be found on websites such as Boss Supply.
Related Questions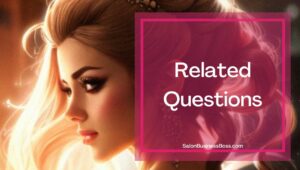 Do I need a point of sale (POS) system to be a hairdresser?
If you are a hairdresser in a salon, there may already be a POS system for you to use in the facility.  If you are opening your shop or working out of your home, it would be advisable that you get a POS system to keep track of all your sales for your business. You can even get a POS that will help you keep track of your appointments that are scheduled. 
What appliances would be considered necessary to be a hairdresser?
A washer and dryer would be the necessary equipment needed to wash your towels and gowns.  If you are working in a salon, you may already have access to one in the facility.  However, if you have your salon, you will want to have a washer and dryer for your business.​
Looking to start your own Salon? Get the documents you need to get organized and funded here.
Please note: This blog post is for educational purposes only and does not constitute legal advice. Please consult a legal expert to address your specific needs.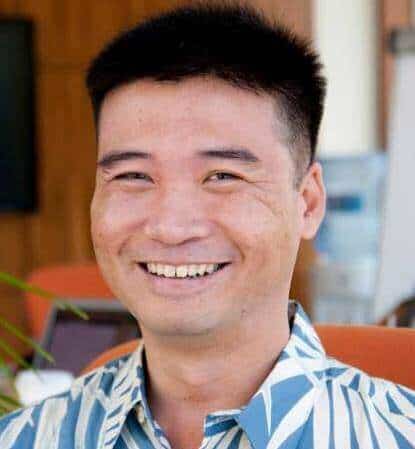 About the author. Entrepreneur and Salon Business Fan.
Hi! I am Shawn and I am a happy individual who happens to be an entrepreneur. I have owned several types of businesses in my life from a coffee shop to an import and export business to an online review business plus a few more and now I create online salon business resources for those interested in starting new ventures. It's demanding work but I love it. I do it for those passionate about their business and their goals. That's why when I meet a salon business owner, I see myself. I know how hard the struggle is to retain clients, find good employees and keep the business growing all while trying to stay competitive.
That's why I created Salon Business Boss: I want to help salon business owners like you build a thriving business that brings you endless joy and supports your ideal lifestyle.