Opening a salon is a rewarding venture for individuals passionate about beauty, hairstyling, and personal care. However, before diving into this exciting endeavor, there are several crucial aspects to consider. In this guide, we will walk you through the key elements needed to successfully launch and operate a salon.
To open a salon, you need a solid business plan, legal permits, and licenses. Choose a strategic location, furnish it with quality equipment, and stock up on salon supplies. Develop a professional website and build a strong online presence. Hire skilled staff and invest in marketing efforts to attract and retain clients. With dedication and attention to detail, your salon can thrive in the competitive beauty industry.
1. Business Plan and Legal Requirements:
A well-crafted business plan lays the groundwork for a thriving salon venture. Start by defining your salon's mission and values, outlining its unique selling points, and identifying your target market. Understanding your target audience will help you tailor your services to meet their needs effectively. Clearly list the services your salon will offer, from haircuts and styling to spa treatments and beauty services.
Your pricing strategy should strike a balance between affordability and profitability. Research the pricing models of competitors in your area and set competitive rates. Projected financials, including startup costs, operational expenses, and revenue projections, provide crucial insights into the salon's financial viability.
On the legal front, registering your business is essential to ensure its legitimacy. Obtain a tax identification number (TIN) from the appropriate tax authority to manage tax obligations. Choose a suitable legal structure for your salon, such as a sole proprietorship for full control or an LLC for added liability protection. Consult with a business attorney or advisor to make an informed decision.
Lastly, comply with local zoning laws to ensure your salon location is appropriately zoned for commercial use. This step avoids potential legal issues and ensures you can conduct business smoothly and legally in your chosen location.
2. Salon Permits and Licenses:
Operating a salon legally requires obtaining the necessary permits and licenses, ensuring compliance with industry regulations. One of the primary licenses you'll need is a cosmetology or beauty practitioner's license. This license is crucial for anyone performing salon services and signifies their competence and training in the field.
You'll need a salon establishment license, which permits you to run a beauty salon at a specific location. This license verifies that your salon complies with safety and sanitation standards, protecting both clients and employees.
If your salon plans to sell beauty products, you'll require a retail sales license. This license allows you to legally sell hair care products, cosmetics, and other related items.
To ensure you meet all the requirements, reach out to your local government or regulatory authority. They will provide information on the necessary permits, application procedures, and any specific requirements for your area. Taking these steps ensures that your salon operates within the bounds of the law, establishing trust with customers and avoiding potential legal issues down the line.
3. Salon Location and Lease:
The location of your salon can make or break your business. Look for areas with high foot traffic and visibility, such as shopping malls, busy streets, or commercial complexes. Visibility ensures that potential clients can easily notice your salon, attracting more walk-ins. Consider the convenience of parking availability, as customers prefer hassle-free access to your salon. Proximity to public transportation is also advantageous, as it expands your potential customer base.
Once you find a suitable location, negotiating a favorable lease agreement is essential. The lease terms and duration should align with your business goals and growth plans. Review the rent cost and understand any additional expenses or maintenance fees associated with the property. Engage with a commercial real estate agent or attorney to ensure you fully comprehend the lease terms and to protect your interests as a tenant. Ensure that the lease agreement is fair, clear, and supports your salon's long-term success.
4. Salon Interior and Equipment: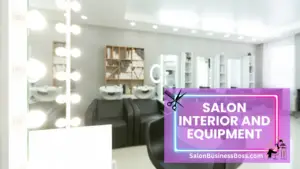 A welcoming and well-designed salon interior is vital to creating a positive impression on clients. Invest in high-quality salon equipment that aligns with the services you offer. Styling chairs should be comfortable and functional, while shampoo stations should provide a relaxing experience for clients during hair washes. Hair dryers and manicure tables should be of good quality to ensure efficient service delivery.
Consider the overall theme and design of your salon to match your target audience. Whether it's modern, minimalist, or luxurious, the salon's ambiance should reflect the type of experience you aim to offer. Elegant and comfortable furniture, combined with appealing decor and proper lighting, can create a warm and inviting atmosphere.
Investing in proper lighting is essential for both functional and aesthetic purposes. Ample lighting at each station helps stylists perform their tasks with precision, while ambient lighting sets the mood and creates a pleasant environment for clients. A well-designed and equipped salon space can enhance customer satisfaction and encourage repeat visits, ultimately contributing to the success and growth of your salon.
Read more about: Eight Short Steps to Open a Hair Salon
5. Salon Supplies and Products:
Stocking up on essential salon supplies and high-quality products is essential for providing top-notch services to your clients. Ensure you have a wide range of hair care products, including shampoos, conditioners, hair masks, and styling products suitable for different hair types. Invest in professional-grade hair styling tools, such as hairdryers, straighteners, curling irons, and brushes, to achieve desired hairstyles.
For nail care services, have a variety of nail polishes, gels, acrylics, nail files, and other essential manicure and pedicure tools. Additionally, don't forget to equip your salon with hygiene items like disposable towels, capes, and sterilization equipment to maintain a clean and sanitary environment.
To ensure the quality and authenticity of the products you offer, partner with reputable suppliers or distributors. Established suppliers can provide you with genuine products and reliable customer support, which is crucial for your salon's reputation.
In line with growing environmental consciousness, consider offering eco-friendly or organic options for clients who prefer sustainable beauty practices. Eco-friendly haircare and beauty products not only appeal to eco-conscious customers but also contribute to your salon's efforts in promoting sustainability.
6. Salon Website and Online Presence:
A compelling online presence is a powerful tool to attract and engage potential clients. Start by creating a professional and user-friendly salon website. Showcase your services, provide information about your skilled staff, and include contact details for easy communication. Ensure that your website is mobile-friendly, as many people access the internet through their smartphones.
Invest in search engine optimization (SEO) strategies to improve your website's ranking on search engines like Google. This will increase your salon's visibility and make it easier for potential clients to find you when they search for beauty services in your area.
Embrace social media to engage with your audience. Utilize platforms like Facebook, Instagram, and Twitter to share updates about promotions, special offers, and the latest trends in the beauty industry. Post photos of your salon's work, happy clients, and behind-the-scenes content to build a sense of community and trust with your followers.
Regularly monitor and respond to reviews and feedback from clients on platforms like Google My Business, Yelp, and social media. Positive reviews can build your salon's reputation, while addressing negative feedback professionally demonstrates your commitment to customer satisfaction.
A strong online presence not only attracts new clients but also fosters loyalty among existing ones, making it an invaluable aspect of your salon's marketing strategy.
7. Salon Staffing and Training:
The expertise and professionalism of your salon staff play a critical role in shaping your salon's reputation and success. When hiring, prioritize licensed and experienced professionals who have a proven track record in the beauty industry. Look for individuals whose values align with your salon's commitment to excellence and outstanding customer service.
Once you assemble your team, invest in their ongoing training and professional development. Offer workshops, seminars, and training sessions to keep them updated on the latest trends, techniques, and advancements in the beauty industry. Regularly review their performance and provide constructive feedback to help them continuously improve their skills.
Encourage your staff to build rapport with clients, understand their preferences, and offer personalized recommendations. A well-trained and motivated team will not only ensure client satisfaction but also contribute to positive word-of-mouth referrals and repeat business.
Fostering a positive and supportive work environment is equally important. Recognize and reward outstanding performance, celebrate team achievements, and promote a sense of camaraderie among your staff. A happy and harmonious team will create a welcoming atmosphere in your salon that resonates with clients, making them more likely to return for future services.
8. Salon Marketing and Advertising:
Effectively marketing your salon is crucial to attract new clients and retain existing ones. Start by developing a comprehensive marketing plan that outlines your target audience, key messaging, and marketing channels. Incorporate both online and offline strategies to reach a broader audience.
Online marketing should include a well-optimized website, active social media presence, and email marketing campaigns. Utilize search engine optimization (SEO) techniques to improve your salon's visibility on search engines, making it easier for potential clients to find you. Engage with your audience on social media platforms to share updates, showcase your work, and run promotional campaigns.
Offering introductory discounts for first-time clients can entice potential customers to give your salon a try. Implement loyalty programs to reward returning clients and incentivize repeat visits. Referral incentives can also be effective in encouraging your satisfied clients to refer their friends and family to your salon.
Collaborate with local businesses to cross-promote each other's services and increase brand visibility within the community. Participate in beauty expos, trade shows, and community events to showcase your salon's expertise and build relationships with potential clients.
By combining these marketing strategies, you can create a strong and consistent presence for your salon, ultimately driving more foot traffic and establishing your salon as a trusted and preferred beauty destination.
Read more about: Unraveling the Numbers: Salon Monthly Expenses Explained
 Conclusion
Opening a salon requires careful planning, dedication, and attention to detail. By obtaining the necessary permits and licenses, creating an inviting salon space, building a strong online presence, and investing in a skilled and motivated staff, you can set your salon up for success. Embrace your passion for beauty and personal care, and with the right approach, your salon can become a thriving and beloved part of the community.
Frequently Asked Questions
1. What salon supplies should I stock up on?
Stock up on hair care products, nail care supplies, salon-specific hygiene items, and other products your salon offers.
2. How can I create an inviting salon space?
Invest in comfortable and aesthetically pleasing furniture, consider the overall salon theme, and ensure proper lighting to create a welcoming ambiance.
3. How important is having a salon website?
A professional website is crucial in today's digital age. It showcases your services, staff, and contact information, helping attract and engage potential clients.
To learn more on how to start you own salon checkout my startup documents here.
Please note that the contents of this blog are for informational and entertainment purposes only and should not be construed as legal advice. Any action taken based on the information provided in this blog is solely at your own risk. Additionally, all images used in this blog are generated under the CC0 license of Creative Commons, which means they are free to use for any purpose without attribution.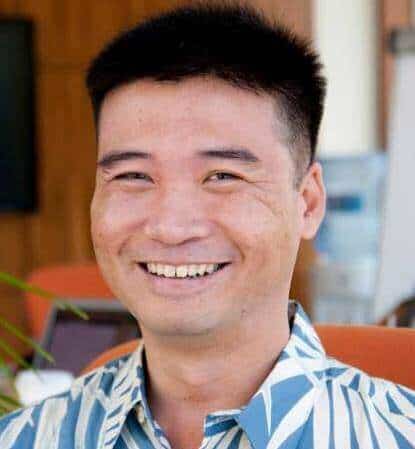 About the author. Entrepreneur and Salon Business Fan.
Hi! I am Shawn and I am a happy individual who happens to be an entrepreneur. I have owned several types of businesses in my life from a coffee shop to an import and export business to an online review business plus a few more and now I create online salon business resources for those interested in starting new ventures. It's demanding work but I love it. I do it for those passionate about their business and their goals. That's why when I meet a salon business owner, I see myself. I know how hard the struggle is to retain clients, find good employees and keep the business growing all while trying to stay competitive.
That's why I created Salon Business Boss: I want to help salon business owners like you build a thriving business that brings you endless joy and supports your ideal lifestyle.