Running a hair salon is not an easy task, and most schools that provide instruction on hairdressing do not cover business basics. While salons are some of the riskiest business ventures, it is possible to guarantee that your salon will be a success by avoiding these common pitfalls.
The top reasons why hair salons fail are usually due to customers missing their appointments, not retaining customers, terrible customer service, not understanding who you're servicing, not enacting a comprehensive marketing program, not keeping up with current trends and having no business plan.
To ensure you're in business for the long term, take these common pitfalls into consideration. If you can avoid these common traps, your business will thrive in the long run because you've avoided some of the most common mistakes that salon owners make.
Customers Missing Their Appointments
Every customer-based business deals with this, and having a customer cancel at the last minute or simply not show up for their appointment can be devastating. You may have staffed heavily that day, yet it turns out to be slow, or you may have turned away other customers or walk-ins in anticipation of the business you weren't able to provide.
Enacting an online booking system can help guarantee that your customers will show up on time. These systems will send reminders to customers 24-48 hours in advance about their upcoming appointment, either prompting them to call and cancel or reminding them of their commitment. A customer that cancels a few days in advance is much better than a no-show because you'll be better equipped to accept walk-ins or last-minute bookings.
Allowing customers the opportunity to book online also provides them with a convenience that will guarantee they make appointments that revolve around their schedule. They'll be able to choose appropriate time slots and reschedule appointments as soon as something comes up. Affording customers the opportunity to control their own appointments will help ensure that they don't call out at the last minute.
Not Retaining Customers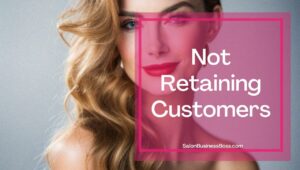 You'll want to ensure that the customers you get through the door want to come back. Providing an excellent customer experience and incentive programs for repeat businesses is one way to guarantee that your clientele comes back time and time again.
It's a common pitfall to focus too much on scoring new customers and often this focus comes at a detriment to customer retention. Keeping current customers is much less expensive and time consuming than finding new customers, so you'll want to make sure that the people who have already made the leap to receive your services will keep coming back for more.
Offering exclusive incentives to current clients is a great way to keep them coming back. An example of this is a punch card they can keep in their wallet. After their tenth punch, they receive a free service. This will make them want to rack up the punches so they can save money in the long run.
Learn how you can provide the the best customer service to your clients!
Terrible Customer Service
Making a customer feel welcome and appreciated is one of the biggest factors needed in order to gain and keep clientele. Making the customer feel important is key from the initial booking all the way through the final payment
One of the best ways to provide excellent customer service is to keep tabs on the services and conversations you've had with a customer in the past. It doesn't take long to jot down a few notes about a client when they come in. Knowing what services, they received or what they talked about during their last appointment makes them feel heard. Providing a tailored and personalized experience is one of the best ways to keep them coming back for more.
Even one terrible interaction can keep a customer from coming back to a salon, so make sure that this never happens. Word of mouth is one of the best marketing programs, and on the flip side, it can be one of the most damaging. It also takes a lot of effort to turn a bad experience into a good one, so avoid a bad experience altogether by catering to the client and making them feel wanted.
You may want to enact a customer service training program among your staff before your doors open. Having a morale boosting huddle every morning will also keep your employees engaged and their head in the game regarding the customer service experience. You'll want to cover how you want clients to be greeted, how to handle a dissatisfied client, how to provide a one-of-a-kind consultation at the beginning of an appointment and how to accept payment in a gracious manner at the end of a visit.
Not Understanding Who You're Servicing
If your business exists in a working-class neighborhood, offering high end services with a hefty price tag will be a bad move. Conversely, if your salon exists in an upper middle-class neighborhood, not offering a luxurious experience will also kill your ability to gain and retain clients. Make sure that your particular market needs the services you offer by paying close attention to where your salon is located.
Make sure your pricing matches your particular market. If your services are unaffordable to the people who live around your business, you won't have many people willing to book appointments. If you're offering quick bargain haircuts in an area where people expect some pampering, you'll also come off as cheap and lose customers. While it's important to take into account your overhead costs when making up your menu, make sure that what you're asking of your clients is in agreement with the kind of lifestyles they lead.
Ineffective Marketing for your Salon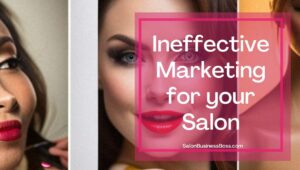 It's tempting to think that having a storefront with good signage is enough exposure to keep your business afloat, but that isn't true. You must have a comprehensive marketing program in place for your business to flourish.
Most people begin their search for a new salon on Google. If you don't have a proper website, you'll miss a lot of this independent traffic. Make sure your website is up to date and easy to use, and make sure that the domain name you choose includes your business name so that it comes up as soon as a customer searches for your salon.
A successful marketing campaign will bring in new clients, keep your current clients happy, and will put your brand out there to the general public in a way that driving past a sign will not. Creating and maintaining active social media accounts is the best way to reach the widest audience possible because customers can tag your business, leave reviews, and you can post about the services offered so people can easily see your salon menu.
Offering specials you can post online is a great way to improve your online marketing. For example, if homecoming season is right around the corner, start offering free up-dos with a cut and color to bring in the younger crowd.
The best way to find out what type of marketing is working is by asking your new clients where they heard about your business. If most of them cite Facebook over Twitter, focus on creating inspiring Facebook posts or consider taking out a paid advertisement on that platform. That doesn't mean that you should quit using Twitter, it just means that you should focus your attention on the platform that's providing you the best results.
Not Keeping Up with Current Trends
It's easy to find a niche and want to stick with it, but popular hair styles and colors change often. You'll want to make sure you're staying on top of current trends so you can offer fresh services to customers seeking a fashionable hair style.
If you find yourself constantly telling clients that you don't offer a particular service, it's time to invest in making sure that service makes it onto your salon's menu. One of the best ways to do this is to offer continuing education to your staff in the form of tutorials or classes that will give them the tools they need to offer the trendiest hair styles. Investing in your employees is one of the best things you can do to keep your customers and staff happy in the long run.
 No Business Plan Is in Place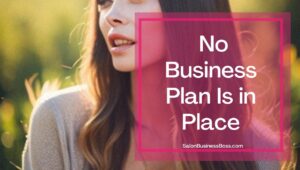 Most businesses do not see profits for the first six months after opening, and you need to be financially prepared for this reality. Make sure you have enough money to cover overhead expenses, employee salaries and products for customers for at least this time period before you consider opening your doors to the general public.
Even if your business is booming as soon as you open, it's easy to bankrupt yourself if you have one bad week or unexpected costs arise, like a busted pipe in your salon. You need to be prepared for worst case scenarios financially so that your business stays afloat when the unexpected happens.
Conclusion
While it's inevitable that some salons will fail, yours doesn't have to be one of them. The salon market is saturated with options, so you want to make sure that your salon rises among the rest. By taking heed of the warnings in this article, you can guarantee that your salon will stay in business for years to come.
Related Questions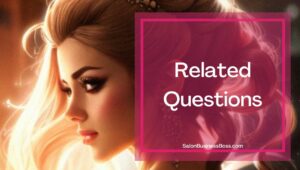 Should I Ask for Employee References?
Yes! It's easy to lie on a resume or fall for a charming personality in a face-to-face interview, only to find out later that the employee is a bad mannered and an inexperienced hairdresser. Hearing objective opinions from a third party about the employee is a great way to weed out the bad apples.
What Profit Margin Should I Want?
You'll want to make sure that you're bringing in 10-20% more than your overhead, employee costs and other expenses. The way to do this is to have a list of your expenses hammered out with a comprehensive breakdown of where your money is going. Then, once that is handled, you can begin working on adjusting your pricing for services to maintain the profit margin you need to stay in business.
Looking to start your own Salon? Get the documents you need to get organized and funded here.
Please note: This blog post is for educational purposes only and does not constitute legal advice. Please consult a legal expert to address your specific needs.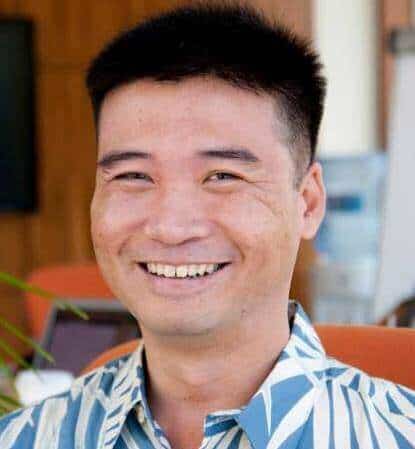 About the author. Entrepreneur and Salon Business Fan.
Hi! I am Shawn and I am a happy individual who happens to be an entrepreneur. I have owned several types of businesses in my life from a coffee shop to an import and export business to an online review business plus a few more and now I create online salon business resources for those interested in starting new ventures. It's demanding work but I love it. I do it for those passionate about their business and their goals. That's why when I meet a salon business owner, I see myself. I know how hard the struggle is to retain clients, find good employees and keep the business growing all while trying to stay competitive.
That's why I created Salon Business Boss: I want to help salon business owners like you build a thriving business that brings you endless joy and supports your ideal lifestyle.