A salon's name is more than just a sign on a building. The name you give your salon business is its identity. It's what gives it character to help it stand out in the salon industry.
Salon business name ideas come from sessions of brainstorming and research. It involves finding your inner creativity and testing out ideas. Naming your salon will also require researching the availability of the name in your locale through the Department of State where your business is located.
Choosing the name for your salon is an essential step in starting your business. Taking the time to discover the perfect moniker for your salon business will breathe life into your endeavor. Verification that the name is available ensures you don't accidentally steal the identity of another salon or business.
What's in a Name?
Coming up with the right name for your salon business begins with thinking about what makes your salon different from all the others. Your salon's name should reflect the uniqueness of your business. It should give potential customer's a glimpse of the salon's personality and style.
A salon owner in Missouri put a twist on the infamous name of an unknown London serial killer. Her nickname of Jackie combined with her passion for snipping hair led to the business name of Jack the Snipper. She created a salon name that stood out from the multitude of Great Clips, Sports Clips, and other local hair cut shops.
Figuring out what your salon's name should be, takes a touch of creativity paired with keeping it simple. Your salon's business name needs to be easy for customers to remember. Plus, it needs to be simple enough to fit on signs, business cards, and advertisements.
How to Find the Perfect Salon Name
Brainstorming is the term creatives use for thinking up new ideas. There are several methods of finding new ideas that can help name your salon. Each method of brainstorming can be done alone or with the help of your team of employees.
Mind-Mapping
One of the most common forms of brainstorming is called mind mapping. This method uses a map to connect related words of a shared idea. Mind-mapping is a form of word association to help create a group of words with a common theme.
The salon naming process begins with the central idea of a hair salon. Then it branches out to name the different services offered by the salon. This will spark ideas for words associated with each service that can stir the creative juices of the mind.
Once you have a set of words related to your salon, you can then begin to play with word combinations and ideas. This step should be about coming up with as many ideas as possible without discrimination. In other words, no idea is a bad idea at this stage of the game so write down every idea that pops into your mind.
Look at the mind map you have created and think about what specialty you want your salon to be known for. What service do you provide that is a step above the competition? Is your salon geared towards a specific demographic or level of clientele? What will people remember most about the service provided by your salon?
Playing around with the word group created with the mindmap while answering those questions can lead to name ideas like:
Weave Got Style Salon
Shades of Beauty Salon
Snips, Clips, & Colors Salon
Updos & Textures Hair Salon
Starbursting
Another popular brainstorming technique used for generating ideas is called starbursting. It is so named because of its six-pointed star format. Each point of the star represents an important aspect of the business when problem-solving. 
Defining the who, what, when, where, why, and how of your salon will help find the solution to naming your business. Similar to the mind-mapping method, the starburst design sparks new ideas through word association. By thinking about these six aspects in combination with your salon's goals, a name for your salon will shine through.
In this example, defining aspects such as the salon's location in a large metropolitan area can be a key to naming your salon. Other ideas may come from what your salon offers or when it's open. Even taking a closer look at who your salon will serve can inspire the perfect name like:
Big City Style Salon
Refreshed Beauty Salon
Day-2-Night Hair Salon
Style for Life Salon
Word Association List
The method of word association used in both mind-mapping and starbursting can also be done in a simple list form. Start by writing down the first thing that comes to mind when you think about your salon business. Then add the first word that comes to mind related to the word you wrote down.
Continue adding related words to the list until you run out of ideas or fill up the page. This method of brainstorming works exceptionally well in a group. Each person will have a different perspective and together a bigger list is likely to be produced. 
Tips While Brainstorming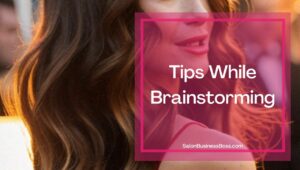 Set a time limit

Research shows that putting a timeframe on how long you brainstorm increases the level of productivity. Knowing there is a limited amount of time to think causes the mind to work harder and faster on the task at hand.

Idea generators

When trying to think of words relating to your salon business, consider what values you hold close. Think about the feelings and emotions you want to evoke from your clients. Focus on the strengths your salon has over the competition.

Try alternate spellings

When creating name ideas try swapping out similar sounding letters like 'k' in place of a hard 'c'. Other popular swaps are 'z' for 's' or the number 2 for the word to as seen above.

Consider foreign words

Some words just sound better in another language so don't be afraid to explore outside your native tongue. Be sure to verify the accuracy of the translation before committing to a name. A mistake in word choice could spell disaster for your salon's prosperity.

Devise several name ideas

Don't get attached to a single name at this stage of the process. Unless you already know the name of every salon where you live, your next step will be checking the availability of the salon name you like most. Creating a list of your top 10 name ideas will come in handy in this next phase
Check out our list of the best name generators HERE!
Research Name Availability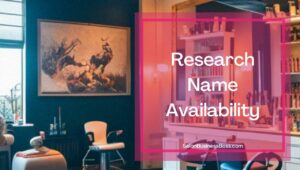 Once you have a list of salon names you like it's time to see if someone else thought of them first. In most cases, this can be done by visiting your state's Department of State website to search online. Another way to check name availability would be to call your local Secretary of State office.
In Florida, for example, the Department of State website will direct you to the Division of Corporations. On that page, you click on the link for search records. Once there you will enter your name idea and check to see that another business entity of that name doesn't already exist. 
For those who prefer calling on the phone, contacting your local Secretary of State office is fast and free. Sending an email is another way to get in touch with the local office to check name availability. With an email, you can save time by sending the list of names you created to all be checked for availability.
Your salon's name must be distinct from any other business name in existence, especially within the same industry. A salon's name is part of its identity and therefore must be unique to do business. Otherwise, your salon runs the risk of lawsuits from the entity whose name you took and could cost you everything.
Researching business name availability includes checking registered domain names as well. In some instances, a business website domain name may differ slightly from the business entity name. You will also need to check trademark names to ensure your salon is truly a new and unregistered name where your business is located.
Registering Salon Name
After securing an unambiguous salon name, the next step is to register the name of the business with your state.  Registering your salon's name gives your business a legally recognized identity. This is handled by the same state agency through which you researched the salon's name availability.
Once your salon name is registered with the Department of State, you need to register your business with the Department of Business and Professional Regulations. In some states, you may also be required to register your salon's name at the county level. Any requisite county licenses can be obtained through the local county office.
The final step of salon name registration is the securing of your business's website domain name. A domain name is an easy-to-remember address for your website. Rather than having to remember the Internet Protocol or IP address made up of a series of numbers, a domain name is used.
Related Questions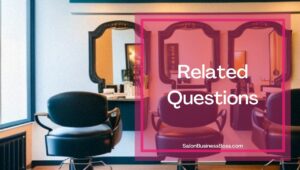 How much does it cost to register your salon name with the Department of State?
The fee for registering your salon's name will depend upon the state in which your business is located. In the state of Florida, the cost for filing an LLC name is $100 for the Articles of Organization and $25 for the Registered Agent Designation fee. The purchase of a certified copy and a certificate of status are not required but can be done at a rate of $30 and $5 respectively.
Do I have to get a website domain name for my salon business?
Whether or not your salon needs a business website depends on a few circumstances. The first thing to consider is the size of the city your salon is located in. The smaller the town, the less likely a website is necessary. Business websites can get pricey and would be a cumbersome expense for a small town venture. Social media platforms offer inexpensive and often free means of an online presence for your salon.
Looking to start your own Salon? Get the documents you need to get organized and funded here.
Please note: This blog post is for educational purposes only and does not constitute legal advice. Please consult a legal expert to address your specific needs.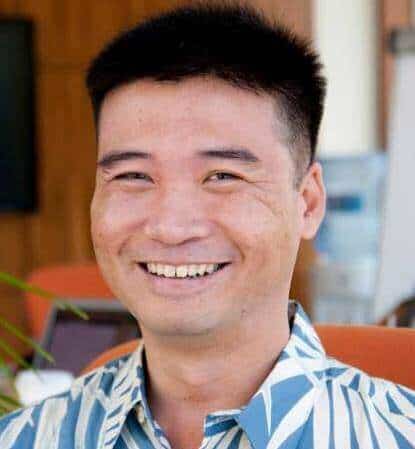 About the author. Entrepreneur and Salon Business Fan.
Hi! I am Shawn and I am a happy individual who happens to be an entrepreneur. I have owned several types of businesses in my life from a coffee shop to an import and export business to an online review business plus a few more and now I create online salon business resources for those interested in starting new ventures. It's demanding work but I love it. I do it for those passionate about their business and their goals. That's why when I meet a salon business owner, I see myself. I know how hard the struggle is to retain clients, find good employees and keep the business growing all while trying to stay competitive.
That's why I created Salon Business Boss: I want to help salon business owners like you build a thriving business that brings you endless joy and supports your ideal lifestyle.