Whether you've been a stylist for several years and want to put that experience to use in your own salon, or simply want to create a space for other stylists to get their start, opening a hair salon is no small feat. But what is required when you open your hair salon? What do you need to do before you cut that ribbon and open your doors?
Requirements to Opening a Hair Salon:
Set up your business plan and business bank account.
Get your appropriate licenses.
Pick your location.
Buy your equipment.
Hire your stylists.
Start marketing.
No matter where you decide to open your doors, it's important to follow these steps before you start. The following are the requirements you must meet before you open your hair salon.
1. Set up your business plan and business bank account.
As soon as you decide seriously to start your business, you should start creating your business plan. A business plan outlines all the broad strokes and fine lines of your business, including how you intend to operate, who manages it, information about your finances, staffing, branding and marketing, and your business name.
Here, you should also be considering your budget. While you do not want to include your business funds in your personal account, this is a great time to open your own business banking account to keep those funds separate.
Make your goals, whether they're long term or short term. If you need assistance, check out the U.S. Small Business Administration guide on starting your business and creating your business plan.  
2. Get your appropriate licenses
There are several licenses that you will need to get when opening your hair salon, and you should know what they are following the creation of your business plan. Most should be acquired early in your planning process so you don't have to struggle to get them later—and some steps on this list require you to have those licenses before you move on.
The first is your state cosmetology or beautician's license if you are planning on doing the styling yourself, or a salon manager license if you intend to hire someone else. If you or one of your employees does not have their cosmetology license, you could be subject to fines and even jail time for not being compliant. To receive this license, you or your employee will have to attend cosmetology skill to receive the proper education for licensure. The American Association of Cosmetology Schools website has more information on where you can attend to receive this license.
To sell retail items in your business, you will need a seller permit or a vendor license. You must also have a business operation license before you do any business, as it both legalizes your business and protects you from issues that may arise through your clients. Find out what the requirements are for your location by visiting the U.S. Small Business Administration's website.
You must also have your federal employer identification number. Like the business license, this is required so the government can collect sales tax. You can find more information about it at the Internal Revenue Service website. On top of your EIN number, you will need a certificate of occupancy for your physical space—you can usually find this license through your local government.
3. Pick your location.
Finding your physical location can both be incredibly rewarding and incredibly exhausting. In this step, you need to find your competition and make sure you're close—but not too close. Consider your community's demographic while looking for your location, and even consider foot traffic. You may be surprised the amount of people who may see your business and stop in.
Remember that occupancy license? You should be getting it when you pick your location. If you're making changes to your building, make sure you also understand local health, zoning, and building regulations.
4. Buy your equipment.
You don't just need décor for your salon—you need your equipment. Make sure you have your sinks installed, your chairs, and set up booths, regardless of whether you intend to do booth rentals or have your employees work on commission.
If you intend to cut hair yourself, the follow are the most essential pieces of equipment you will need:
All Purpose Shears
Blending or Thinning Shears
Salon Hairdressing Cape
Paddle Brush
Comb Set
Round Brush
Sectioning Clips
Blow Dryer
Curling Iron
Hair Straightener
Don't forget the necessary towels for your stylists, along with any amenities you'd like to provide, like snacks, magazines, or even a social media photo booth to help with your marketing.
What are the equipment essentials for your salon business?
5. Hire your stylists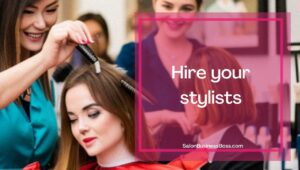 Even if you wish to go it alone at the beginning, there will come a time that you will be required to hire more staff as your business becomes more successful. Regardless of when you hit this step, you will need to expand, so consider what you want out of your staff before you even put it out into the world for your future employees to apply for. Consider what your philosophy is, what you want to convey through your salon, and even what services you want to focus on before hiring on more for your team.
6. Start marketing.
If they don't know about you, they can't come to you! Marketing is a requirement at the end of the process of creating your hair salon. Create one—or several—social media pages to create hype about what you do, along with reaching your target demographic. Don't forget to set up your website. It is your main point of entry for many people searching online for a service, so maintain control over your message through website.
Following this step-by-step process can help you really understand what is required when starting your hair salon. Don't be discouraged by the requirements, like the number of licenses or searching for a location. Be patient, be thorough, and take things one at a time, and soon you'll have your own hair salon that is thriving and growing.
Related Questions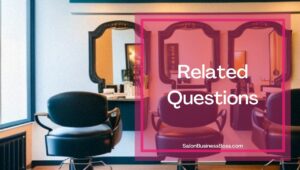 I need several licenses for my salon. How do I find where to get them?
In most cases, your licenses will start through either your local governmental tax office or through the state tax or revenue office. The best way to find out where you can get your licenses is by contacting your local tax office or visiting the business section on your state tax website.
Which is better, commission or booth rental?
When it comes to salons, there are two models—commission or booth rental. When a stylist rents a booth, they are an independent contractor and pay you rent while doing all their own taxes. You will have to create a rental agreement to outline the entire agreement between you and the stylist. Commission means you have hired employees to do the styling in your salon, and you are required to make sure they are paid and you will have to send in taxes for them, but you receive part of their commission for the job they do. Neither is better than the other—consider which is best for your salon and your stylists before you decide on a business model.
Looking to start your own Salon? Get the documents you need to get organized and funded here.
Please note: This blog post is for educational purposes only and does not constitute legal advice. Please consult a legal expert to address your specific needs.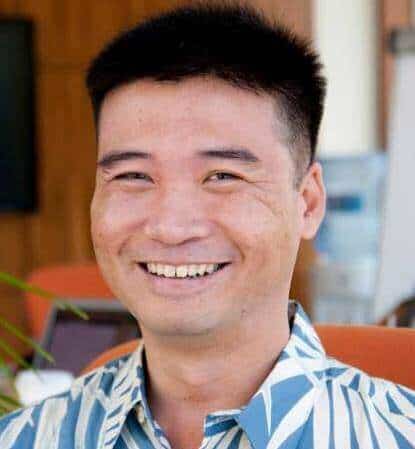 About the author. Entrepreneur and Salon Business Fan.
Hi! I am Shawn and I am a happy individual who happens to be an entrepreneur. I have owned several types of businesses in my life from a coffee shop to an import and export business to an online review business plus a few more and now I create online salon business resources for those interested in starting new ventures. It's demanding work but I love it. I do it for those passionate about their business and their goals. That's why when I meet a salon business owner, I see myself. I know how hard the struggle is to retain clients, find good employees and keep the business growing all while trying to stay competitive.
That's why I created Salon Business Boss: I want to help salon business owners like you build a thriving business that brings you endless joy and supports your ideal lifestyle.