Getting a salon off the ground can be difficult. If you're not part of a chain such as Great Clips, you don't have brand recognition or a reputation to trade on. You have to build your reputation from the ground up. In our hyper-competitive environment, a small business owner has to work hard to stand out. I'll give you a few ideas for promotions that will help you start up or expand your salon.
Some promotion ideas for salon owners are:
Refer-a-Friend Programs
Loyalty Programs
Social Media
Local Advertisements
Reach Out to Your Community
 Refer-A-Friend Programs
Many small businesses get their start selling services to their friends and family and they would refer their friends and acquaintances. This is a good place to start, but it can be limiting on its own. Your supportive relative might have ample motivation to refer their friends to you but your relative's friends only know you second hand. Without some compelling motivation, they might not be inclined to refer their friends. It's probably nothing against you. They're just not as invested in your success as your friends and family.
The key is to get them invested. Your typical refer-a-friend program gives the referrer and the person they're referring a small discount on a haircut. Something like a card with a discount offer usually works. A new customer would then bring the card in and get the discount. You would then contact the first customer, typically by text or e-mail, and tell them that because they referred a customer, they also get a discount. The discount doesn't have to be big but it does have to be enough that the customer notices. You should also word your discount offer carefully and make sure that you can afford it. You always want to make sure you keep your word and make sure you aren't making promises you can't keep.
Sometimes, this may mean adjusting the discount or offering it at certain times of the year. Some may offer it during times of the year when they aren't as busy. Some salons may require a certain number of referrals before the discount kicks in. This is up to you though
Loyalty Programs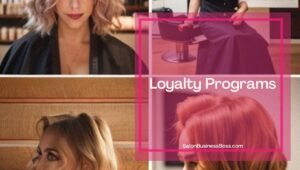 Loyalty programs are the backbone of any small business getting started. Having new customers come in is nice but depending on new customers is unwise. What salons need is a steady flow of repeat customers that can be counted on to come at regular intervals. Having regulars will help you stay busy during the off-season.
There are a few ways to run loyalty programs. The most typical program is punch cards. A customer brings in the card and you punch a hole in it on each visit. After a certain number of visits, the customer gets a free haircut or manicure. With the rise of apps, it has become common to ditch paper cards entirely. Apps save your businesses' and customers' information and they can deal with the loyalty program through the phone. On the upside, this can be more convenient for the customer. Punch cards have a habit of getting lost around cars and houses and the customer often has to start all over again, making the endeavor pointless. This can disincentivize participation in the program. Having them on an app means that the chances of the customer losing progress towards his reward is lower. On the downside, you may have to convince people to use the app. This can be troublesome if you are dealing with an older clientele.
Another loyalty program is discounts on certain products. Most salons have a rack of shampoos, conditioners, etc. near the register. Often, these are used to help people treat their hair at home. Sometimes, salons might have trouble moving these products depending on hairstyle trends. This is where you can use loyalty programs. Even if the products themselves aren't the latest trend, people getting discounted items or a free item with purchase is always in fashion. You can offer something like 20% off of a product for members of your loyalty program. This offers people an incentive to join your loyalty program and it helps you clear out some excess stock.
Social Media Promotion
Social media can be helpful when promoting your brand. You can introduce yourself to your local community. You can also show off your staff and their talents. People will like seeing your staff hard at work. They will want to see the hairstyles you and your staff can create.
You can even have your staff post on your social media. Part of the appeal of salons is the hairdressers themselves. Customers like seeing your staff as people they can talk to and have fun with while they get their haircuts. You can ask them to post about some generic things that can be interesting to your community. Things like rooting for a high school football team, or talking about their favorite haircare products.
Just make sure you aren't foisting social media management duties onto them. Their priority is to cut hair. You should also let your employees set boundaries. If they don't want to do an in-depth social media post beyond a short bio, that's fine. Anything beyond that should be voluntary. Not everyone is comfortable being required to be open on social media as part of their job.
Social media promotion has other practical applications. Your social media page will give your customers the information they need such as the location of your salon. People don't like getting lost trying to find a new business. People also don't like trying to find information piece-by-piece. Having your address on all your social media pages will give your customers the information they need wherever they visit.
You should also be sure to add a picture of your establishment on your pages. Sometimes, people will have trouble navigating by GPS and will circle the block trying to match the address. Since commercial establishments sometimes don't have the address on them, it can be helpful to give people a picture for reference.
How can you promote your business at events?
Before-and-After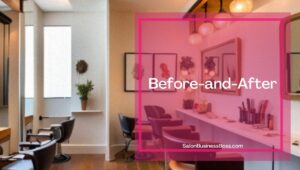 One of the best tools for promoting your salon is a series of before-and-after shots. When it comes to salons, people like to take the "show don't tell" approach. They want to see what you and your staff can do before they ask you to do their hair. Having these photos on your social media pages will give your customers a good idea of what to expect from your salon. You can offer a small discount to a customer in exchange for letting them take a picture of your work. My recommendation is to only take pictures from the back or leave out pictures of the customers' faces. This will help you avoid having to deal with legal issues.
Geo-targeting
If you have the money, you can use Google and Facebook's geo-targeting features. This will help you focus your advertising dollars on people in your community. This will be more efficient than not targeting your ads. If people outside your community are seeing your ads, that's wasted money. People aren't going to drive 2-3 hours out of their way for a haircut.
Local Advertisements
Speaking of local advertising, you can use local ad space to boost your business. This might sound expensive if you only think inside the box. It's true that you probably won't be able to afford a TV commercial even on local stations but there are other places to place advertisements.
Take schools for example. Some high school sports teams allow local businesses to place advertisements and coupons in their programs to pay for things for the team. You can reach out to your local booster club to get some space for your salon.
Getting your name recognized by teens and their parents can be handy. Business for salons picks up around homecoming and prom seasons when people need their hair done for the big dance. Having a good rapport with the teens in your community can help you generate repeat business since parents often get their hair done at the same time as their kids for convenience. You'll be getting 2-3 customers for the price of one.
Reach Out to Your Community
vOne advantage a small business has over a large chain is that it can be more deeply connected to the community. You can use your business to integrate yourself with your community. Be the face of your salon. Go to some events and festivals. Get to know your customers and let them get to know you. When a business is part of the community's fabric, it is more likely to succeed.
Related Questions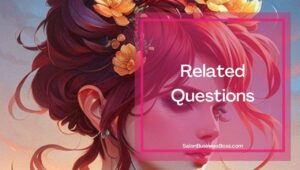 1. Any guidelines for social media?
Your posts should always be appropriate. A good rule of thumb is if you wouldn't like a business to say it to you, you shouldn't post it. You should also avoid spending too much time on it. Your focus should be being out with customers.
2. What are some other ways to connect to my community?
Look into charities and non-profits you can donate to. Even if the donation isn't big, it still leaves a positive impression in the eyes of the community.
Looking to start your own Salon? Get the documents you need to get organized and funded here.
Please note: This blog post is for educational purposes only and does not constitute legal advice. Please consult a legal expert to address your specific needs.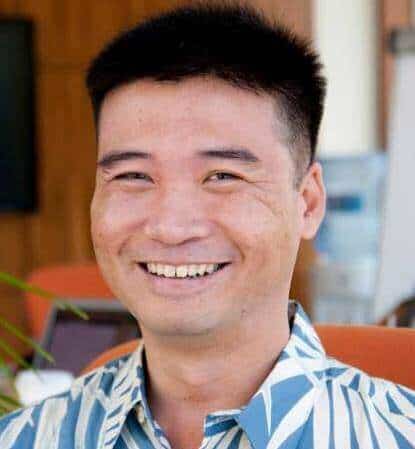 About the author. Entrepreneur and Salon Business Fan.
Hi! I am Shawn and I am a happy individual who happens to be an entrepreneur. I have owned several types of businesses in my life from a coffee shop to an import and export business to an online review business plus a few more and now I create online salon business resources for those interested in starting new ventures. It's demanding work but I love it. I do it for those passionate about their business and their goals. That's why when I meet a salon business owner, I see myself. I know how hard the struggle is to retain clients, find good employees and keep the business growing all while trying to stay competitive.
That's why I created Salon Business Boss: I want to help salon business owners like you build a thriving business that brings you endless joy and supports your ideal lifestyle.