Everyone can picture a hair salon as a hub of conversation and activity. For most people sharing small talk while having their hair styled is preferrable to awkward sounds of silence. For the customer, there is not much to do but chat while sitting in the stylist's chair. So, for many conversations with their stylists goes hand in hand with a trip to the salon.
Talking to clients at a salon is an important means to understand what your customer's needs and expectations are for that appointment. Additionally, all stylists must be able to communicate clearly to welcome clients, make clients comfortable, and develop connections.
Many people view the role of a stylist similar to that of a bartender or therapist as some customers may overshare their lives. Stylists need to balance too much personal information with too little so that no one seems standoffish. Continue reading for ideas on talking with clients.
Meeting Client's Needs
After the initial greetings, a stylist needs to get down to business. While stylists do not appear rushed or on a schedule, they can be both. Stylists must ask prompting and probing questions, so they can get the right tools for the appointment, especially if it your client is new or fairly new.
First conversations with clients require some extra time so a stylist can begin to understand the customer's needs and wants. Questions about the services the customer is currently receiving, without appearing judgmental, gives the stylist a good starting point. Follow-up inquiries about what they liked about their recent styling service along with what they were not satisfied with should occur.
Asking new clients probing questions about their hair and any challenges it presents is important to know. You can ask your new client to tell you two things they like about their hair. Conversely, then ask for two things they do not like about their hair. These answers may provide a glimpse into their lifestyle, so you can understand the time and effort the client prefers to take each day to style their hair.
With each visit, questions should be asked of your ongoing clients regarding the service provided at their last visit with you. Changing seasons, new jobs, or just seeking a different look could be inspiring your client to alter their request of you. Be sure to give the client the opportunity to ask for a new style, color, etc. You want your customer to continue to be satisfied with the services you provide. 
For new clients, this is a good time to provide an estimate on the costs of your services. You do not want someone to be surprised with their bill. For a more regular client, you would only need to discuss the costs if they were requesting a completely different service than usual.
What are the guidelines for salon staff etiquette?
Welcoming Clients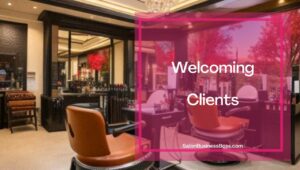 Now that some of the business is taken care of, it is time to ensure that your client feels welcome. Keep your initial conversations upbeat. Your focus is getting to either know your client or for returning clients a check-in on how they are doing. A client's life could have changed between appointments, so starting with everyday conversational topics is a good transition for you and your client.
Instead of asking questions that sound rehearsed or rote, ask more open-ended questions. This way the stylist can quickly ascertain how their client's day has been so far. Most people do enjoy sharing, so the goal is making your clientele feel welcome. You do not want your questions to feel like an interview.
Once you inquire with a genuine – how's your day – you usually can transition to an active listener. Your clients want to feel valued and appreciated. Paying attention to someone as they share their day's events or current life's story means so much to people. Through welcoming conversations, you can start developing a relationship with your client.
Making Clients Feel Comfortable
Now that your client is settled in your chair and you have a plan of what services they desire, it is time to focus on them. Check your body language to be sure that you are visibly engaged in listening. Making eye contact and smiling, which your client will view in the mirror, will demonstrate your connection to your client.
Getting to know more about your clients or receiving updates from clients you know should happen while you are styling their hair. Categories of questions can include –
Careers

Recent visits to area restaurants

Activities that the client engages in

Shows the client watches

Updates on their families, if you know the client well enough
Typically, most people agree that there are areas of conversation to avoid. Even if you and your client are comfortable discussing these topics, talking about controversial subjects in the salon can change the climate or atmosphere of the shop. In general, shy away from talking about –
Religions

Politics

Finances
Follow the lead of your client on how much or how little they want to engage in conversation. Even a talkative customer has an off day; take cues from their behavior.
Developing Connections
When you and your client have natural and organic conversations, you have developed a connection with them. Remember, your client is there for a salon treatment. Making customers feel special and focusing on their services needs to be the basis for your relationship.
As the level of trust builds, clients will be more amenable to different salon treatments. Stylists will be in a position to fully utilize their skills, training, and creativity. The more trust a client has in their stylist, the more apt you are to have loyal customers. Loyal customers usually are repeat business for a stylist and salon. Furthermore, satisfied customers will share with friends and acquaintances how great your salon is.
Additionally, the greater the trust, the more probable it is that the customer will be open to trying new products. With new products, clients might be more willing to try different styles. This provides the stylist and salon the opportunity to increase and sustain their business.
Building upon initial small talk aimed at getting to know your clients to establishing relationships is the goal of talking to your clientele. Creating an atmosphere in which your established customers genuinely feel valued will allow for a true sharing of ideas and thoughts in genuine conversations.
Your customers will look forward to their salon visits for many reasons. Their beauty treatment, conversations, and connections developed will produce a salon that many will enjoy.
Related Questions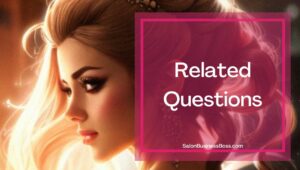 How do you know if a client does not want to talk?
Customers' body language will usually indicate if they would like some quiet time during their hair styling session. Avoiding eye contact, working on their phones, or just closing their eyes for a moment are some clues that your customer might like to just relax. Take the cues from your customer.
What is a quiet chair?
A quiet chair is a hair stylist's workstation in which there will only be perfunctory and necessary conversations. Started by a salon in Europe, the intent is to provide a space for customers who would prefer minimal, if any, conversation. So, people might need the quiet after a challenging day; others prefer not to engage in small talk. ​
Looking to start your own Salon? Get the documents you need to get organized and funded here.
Please note: This blog post is for educational purposes only and does not constitute legal advice. Please consult a legal expert to address your specific needs.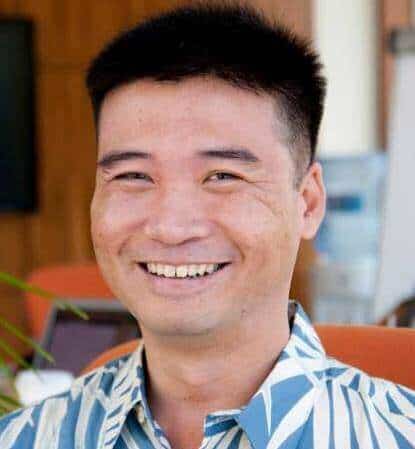 About the author. Entrepreneur and Salon Business Fan.
Hi! I am Shawn and I am a happy individual who happens to be an entrepreneur. I have owned several types of businesses in my life from a coffee shop to an import and export business to an online review business plus a few more and now I create online salon business resources for those interested in starting new ventures. It's demanding work but I love it. I do it for those passionate about their business and their goals. That's why when I meet a salon business owner, I see myself. I know how hard the struggle is to retain clients, find good employees and keep the business growing all while trying to stay competitive.
That's why I created Salon Business Boss: I want to help salon business owners like you build a thriving business that brings you endless joy and supports your ideal lifestyle.