Making a business model canvas for your hair salon is a great way to build upon and use your business plan more creatively. Business plans tend to be a bit on the dull side and can be challenging for readers to get through.
Instead of a standard layout, a business model canvas takes the most critical information from your business plan and puts it into an easy to digest model. 
To create your business model canvas for your hair salon, you need to include these nine sections:
Customer segments
Customer relationships
Channels
Value propositions
Key activities
Key resources
Key partnerships
Revenue streams
Cost structure
We will breakdown each of these sections, help you extract the critical information from your business plan, and give you examples of how to create each section in your model canvas. After that, we will have a sample canvas & template for you to fill out.
*For our examples and canvas at the end, we will be using "A Cut Above Salon" as an example. It is a premium, full-service hair salon that targets the affluent members of its market area. 
Customer segments
We begin our model canvas with customer segments; this helps us identify the ideal customers we are trying to serve. 
The reason for doing this is that if you try to reach every potential customer, you will stretch your resources too thin. You need to identify what customers need your services and will listen to your marketing message. 
Typical ways to breakdown customer segments include:
Age
Income
Marital status
Geographic location
Special needs/wants from their childcare
Example:
A Cut Above Salon has two main customer segments.
Our first and foremost customer segment is women between 50-70 years old with a household income of over $200,000/yr. These women are typically retired or semi-retired. They have plenty of time and are willing to pay for a premium salon service where they can get social interaction and beauty services.
Our second customer segment is younger women aged 30-50 years old and a household income of over $200,000/yr. We separate these two groups because this younger customer segment is still in the workforce and has different needs than the older generation. This customer segment is more focused on status and looking their best for their friends, family, and colleagues. 
We don't market as much to low-income customers because they typically think our prices are too high and they don't need the level of quality we provide.  
Key Points:
Target wealthy clients
Breakdown by age because of different needs from their salon
Avoid marketing to low-income clients because they aren't looking for our price point.
Customer relationships
Customer relationships are crucial to being able to retain customers, as well as leveraging your best customers to help bring in more clients. Every salon aims for great customer relationships, but sometimes these relationships suffer from many other tasks and priorities.
The keys to having excellent customer relationships are:
Be kind, be friendly, be respectful.This seems so easy, but it is easier said than done. Every time you or an employee interact with a client, you need to put their needs and experience at the center of your world. You can't let personal problems, frustration, or fatigue negatively affect your customer's experience at your salon.

 

Identify your BEST customers.

There's a significant difference between your right customers and your GREAT ones. Once you have identified your best customers, you need to work with them to help spread the word and bring in referrals. Your best customers are the ones who are delighted with your services and would be more than willing to send their friends and family to your salon.

Develop a referral program

A strong referral program can be the difference between fighting for customers and having a steady stream of quality clients. When you have a sound referral system, you get pre-qualified customers, but you also build stronger relationships with your customers who referred the new client to you.

 
Example:At A Cut Above Salon, our goal is to treat every customer with the respect & kindness they deserve. We want our customer's salon experience to be relaxing and have them leave with a smile on their face and newfound confidence.
We strive to build strong, meaningful bonds with our customers. We understand that our customers are the heart of our business, and we want it to be a win/win relationship. One way we do this is by offering incentives for referring their friends and family to our salon.
Key Points
Treat every customer with respect and kindness.
Provide excellent service and a relaxing environment
Leverage our great customers into referrals

 
Channels
Your marketing channels are the different platforms you will use to market and advertise your hair salon. Some typical marketing channels are:
Website
Social media
Search engine optimization
Search engine advertising
Newspapers
Flyers
Brochures
Billboards
Car advertising
Every salon will be different in their marketing needs, as well as their marketing plan. Along with this, each target market will respond differently to different marketing channels. This can be challenging to find the right mix of channels.
The most effective way to find the right combination is to try out a couple of channels that you think will work best. After this, you need to track your results, then make adjustments as needed near. This is an effective and economical way to get feedback on your marketing efforts. 
Example:
We are currently focussing on Facebook Ads and Google AdWords to direct customers to our website. With Facebook Ads, we can target our specific customer segments and give them offers tailored to their needs. Google AdWords is helping drive traffic from people searching for hair salons in our area. 
We have distributed some flyers to other local businesses and community locations to help drive local traffic. 
Key points
Facebook Ads
Google AdWords
Drive traffic to the website
Locally distributed flyers

 
Looking for more information about advertising your salon? Check out our article HERE to learn more!
Value propositions
Your value proposition is the things that set you apart from your competition and give customers a reason to choose your salon. It would be best if you narrowed down the value proposition to the handful of things your salon does better than everyone else. 
Some typical value propositions:
Lower cost
Exceptional service
High quality
Unique or multiple services
Highly-trained staff
Green products
Wellness programs
Excellent facilities
Convenient booking options
Free cancellation
Guarantees
Example:
At A Cut Above Salon, we make sure your salon experience is unforgettable and will leave you feeling like a million bucks. We offer premium services, highly-trained staff, and exceptional facilities. We guarantee you will be satisfied with our services our your money back!
Key points
Premium services
Highly-trained staff
Great facilities

 

Money-back guarantee
Key activities
Your key activities are the things you do that help you achieve your value proposition. 
These can be things like:
Getting a loan to purchase new equipment
Charge a higher rate so you can offer better services
Extensively train employees
Don't overbook, so clients don't have to wait.
Marketing effectively to increase revenue.
Example:
Our highly-trained staff is the key to helping us provide premium services that other salons can't compete with. It is a significant expense for us to train our employees as thoroughly as we do, but it more than pays for itself because we can charge premium prices for unique services. 
Key points
Highly trained staff
Premium services

 

High price point
Key resources
Your essential resources help you achieve your value proposition, but instead of things that you are doing, they are the things that help you with your key activities.
Things like:
Convenient location
Quality equipment
High-end CRM software
Well-trained employees
Quality facilities
Example:
We invest in our employees by requiring them to complete 20 hours of continuing education each year, at no expense to them. We believe our employees are our most incredible resource and should always be improving. Along with our employees, we reinvest 5% of our profits each year towards new equipment and technologies to improve our salon.
Key points
Continuing education for staff
Investing in new equipment
Key partnerships
Having some complementary businesses in your community that you can team up with can be an extra boost for your salon. Pairing up with other businesses can help you receive more customers and build a positive reputation in the community.
Typical partners for hair salons could be:
Retail stores
Wellness coaches
Masseuses

 

Gyms
Boutique stores
Example:
We have partnered with a handful of masseuses and wellness coaches to offer package deals for customers looking to improve their overall wellness and how they take care of themselves.
We have extended our referral program with these partnerships extensively and are receiving more qualified clients than ever. 
Partnering with other wellness businesses
Two-way referral program
Revenue streams
Your day-in and day-out operations are likely going to be the primary source of income for your hair salon. However, it is always best to diversify if possible.
Adding a couple of revenue streams can give your salon some flexibility and insurance for slow times. Multiple revenue streams are ideal, but make sure you are still putting enough time and effort to keep your salon running as it should.
Some options for other revenue streams:
Retail sales
Blogging
Online instructional videos
Hairstyling courses
Hosting parties or events

 
Example:
Currently, about 70% of our revenue is coming from daily operations. Along with this, about 30% is coming from selling retail salon products in our store. We build our blog with impressive articles and hair styling tips and hope to build this into another revenue stream within two years. 
Key points
Mostly day-to-day operations
Selling retail products is an essential chunk of the revenue stream.
Exploring other revenue streams
Cost structure
Your cost structure is a brief financial report highlighting your critical expenditures that will make your hair salon a success. 
Things like:
Renting vs. owning a facility
Are you taking out a loan?
How much staff will be hired
How much staff will be paid
How much you will spend on facility maintenance or improvements
How much you will spend on IT services
How much you will spend on equipment
Example:
We are currently renting a facility and have taken out a small loan for some minor improvements and equipment purchases. We plan to save some money to purchase a location in 3-5 years, hopefully
We plan on hirings 4-5 stylists at startup, with plans to hire one stylist roughly every six months as demand grows. We are currently budgeting $15,000/mo for salaries. 
Key points
Renting to save for a permanent facility later on
An adequate amount of staff
Small loan for improvements and equipment purchase
Hair Salon Business Model Canvas Example:
Looking to start your own Salon? Get the documents you need to get organized and funded here.
Please note: This blog post is for educational purposes only and does not constitute legal advice. Please consult a legal expert to address your specific needs.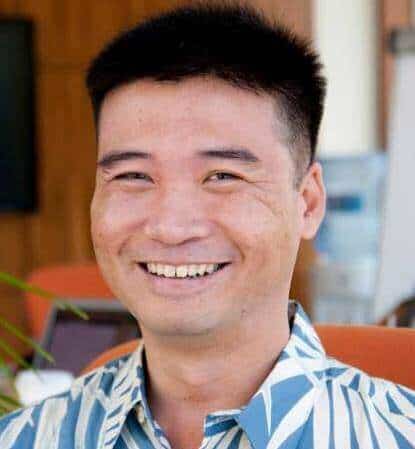 About the author. Entrepreneur and Salon Business Fan.
Hi! I am Shawn and I am a happy individual who happens to be an entrepreneur. I have owned several types of businesses in my life from a coffee shop to an import and export business to an online review business plus a few more and now I create online salon business resources for those interested in starting new ventures. It's demanding work but I love it. I do it for those passionate about their business and their goals. That's why when I meet a salon business owner, I see myself. I know how hard the struggle is to retain clients, find good employees and keep the business growing all while trying to stay competitive.
That's why I created Salon Business Boss: I want to help salon business owners like you build a thriving business that brings you endless joy and supports your ideal lifestyle.