There are many ways to go about building up a customer base for your salon. Listed are a few of those ways with a detailed description on how to go about implementing these methods.
To build salon clientele fast:
Generate an Instagram Buzz
Optimize your presence on Facebook
Make Booking Easy
Create a Deal for your Target Audience
To build a clientele fast, use Instagram, Facebook, Make booking easy, and create a deal to bring your target audience into your business. Sometimes all you need is a way to get them into the door and this can be the hardest part of starting up your own business. You can always get started by getting creative and creating a deal to bring in those who you want in your salon. You should avoid abnormal discount deals because you may bring in a type of clientele that you don't want. You can do something like offering an upper lip wax when getting a hairstyle for women with facial hair issues.
Convince is another key to appeal to the current clientele, it is key in bringing in client's existing in our fast paced day-to-day. The easier you make it for them to book with you the more likely they are to use your services. Another big pull for the modern client is social media.  Hair salons, especially should embrace this method of reaching clients, because it appeals directly to those you want to know about your services. Customers will get a chance to see what types of services to expect and even better yet they will know what to expect from your stylist before booking with you.
Generate an Instagram Buzz.
Make sure you create a professional Instagram account, you don't want your business account linked in any way to your personal account, it makes you look less serious about your business. When creating your business account the name of the account should be something that is easy to spell and relevant to the services you provide. You want people to easily understand what you are about, avoid extra letters and numbers. The photos on your page need to look appealing, high quality, and utilize good lighting.
Hashtags are also essential. Make sure your hashtags have to do with your post, like if you are posting a picture of an up do, keep the hashtags relevant to that hair style.  Also, use your location in your hashtag.  Appealing to your local audience is important, if your post reaches someone in another country that isn't going to do anything to grow your business.
When you create a hashtag you can use the name of the town you are in to appeal to your local audience. You can tag your location in your post, so locals can see your advertisements. Also, be sure to link your Instagram with your business Facebook account. This will make you look consistent, professional and continue build your clientele.
Hashtags will make it more likely for potential clients to happen upon your page. Also Instagram will award you for keeping an active page. You are more likely to appear in searches if you are posting frequently.
Check out these ideas to promote your salon at events!
Facebook:
On your Facebook page you want it to be as easy to understand and navigate as possible, just like with your Instagram page. Make sure to include what hair services you have, including what you specialize in. Where you are located and make it so potential client's can book an appointment with you as easy as possible.
Also, just like Instagram keep the photos up-to-date on your page, as well as your information and services. Include interesting posts to generate and keep a buzz around your business. Activity on your page is important.
If you are just starting your social media following you can generate pictures by doing free or discounted hair treatments for models. Then post those pictures of the various styles on those models onto your page to draw interest. The more high quality pictures the better.
Make Booking Easy
Wherever you can include your contact information, put it on your social media accounts, your website, your door any additional advertisement you do.  You want it to be clear and easy for client's to call you, if they don't want to book online. Make it clear if you allow walk-in's and what services you provide.
A great way to make booking convenient is to include a button, on your social media pages, and on your website. This is how you appeal to younger consumers. Convenience is king in our modern busy world.
Create a Deal to Appeal to your Target Audience.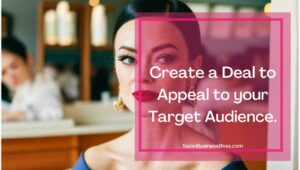 Deals are a great way to get new client's in the door. Make sure your deals avoid traps like giving a huge discount on your services to bring in clients. If you have too much of an initial discount, you may find your business drawing in undesired clients, ones who don't want to pay for your services. Instead create focused types of deals which bring in the client's you want in your salon.
Say you want to appeal to men with facial hair because you have a stylist who specializes in beard trims. Consider then a combination deal, a free beard trim with a hair cut. Those men who are in need of the service will appreciate the deal and they will find themselves more willing to try your services. You want these deals to target what you specialize in, specialization is an important way of standing out from competing salons.
Appealing your target audience will bring in a the clientele whom you specialize in. Does your salon offer waxing services, coloring combinations, beard trims? Use these specializations to create a deal to appeal to new clients. Also, convince is king, especially in the day and age when you can order groceries online you can easily lose potential client's by making booking more difficult. Making things easy will always appeal to a wider audience.
Also, use social media to your advantage. Take lots of pictures post them all over Facebook and Instagram to bring in more customers. Make sure all your social media accounts are linked, for ease of use. Convince and social media are two of the biggest factors driving the success of a business.
Related Questions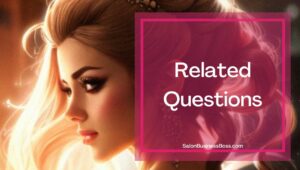 How can you measure the satisfaction of your clients?
You can always request client's answer a set of survey questions. You can offer a discount on their next haircut to incentive the completion of the survey. This way you can judge if some of your tactics to get client's through the door is effective, if not you may need to change some things up.
How do you get more stylists in your salon?
First you need to understand how much you can afford to pay that stylist and if you want to bring them on full-time or part-time. Then understand what qualifications you are expecting from those potential new hires. Create a job description then post it online, also consider recruiting from schools directly.
Should I have a theme for my salon?
You can have a theme, or a goal for your salon. You can appeal to just men if you like. You can also create a tropical theme which focuses on relaxation and spoiling yourself. Appealing to a certain type of clientele is a good way to make your business stand out from others.
​
Looking to start your own Salon? Get the documents you need to get organized and funded here.
Please note: This blog post is for educational purposes only and does not constitute legal advice. Please consult a legal expert to address your specific needs.
Sources: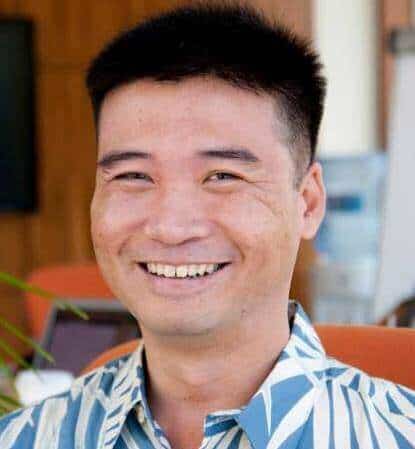 About the author. Entrepreneur and Salon Business Fan.
Hi! I am Shawn and I am a happy individual who happens to be an entrepreneur. I have owned several types of businesses in my life from a coffee shop to an import and export business to an online review business plus a few more and now I create online salon business resources for those interested in starting new ventures. It's demanding work but I love it. I do it for those passionate about their business and their goals. That's why when I meet a salon business owner, I see myself. I know how hard the struggle is to retain clients, find good employees and keep the business growing all while trying to stay competitive.
That's why I created Salon Business Boss: I want to help salon business owners like you build a thriving business that brings you endless joy and supports your ideal lifestyle.