If you have decided to open your salon, you've most likely done a ton of research. There's a lot to learn. You may be learning about what it takes to get your cosmetology license, how to get your business license, how much money it takes to get started, and how to prioritize budgeting. It is important to look into everything you need to get started. However, it is also important to look into things you should avoid. When you're excited you can get so caught up in what's next that you don't examine common pitfalls. That's where this article comes in.
The 15 mistakes you want to avoid when opening a salon are:
Not creating a business plan
Selecting a salon name similar to a competitor
Not getting your salon name trademarked
Going cheap on your logo design
Selecting the wrong salon location
Ignoring social media marketing
Not investing in a quality website
Not investing in a POS system
Not obtaining required professional licenses
Not getting your business license
Forgetting to purchase insurance
Not following a budget
Not conducting client research
Hiring the wrong staff
Ignoring salon decor
Not Creating a Business Plan
If you plan to start a business but fail to complete a business plan, you're making a big mistake. As a small business owner, you will benefit greatly from creating a business plan. This is because business plans help you get a birds-eye view of your proposed business structure. For example, a business plan can include information about the market. This would help you better understand whether or not the environment is supportive of your salon. You might learn about the number of salons in the area, the level of income in the area, and the amount of traffic your proposed salon location may receive. In addition to learning about marketing, there are a variety of other things that a business plan can help you with. Some of those things include:
Financial analysis
Milestones for implementation
The strategy of the business
Business forecasts
Services outlook
The business forecasts that you might learn about in a business plan include:
Sales
Profits
Loss
Cash flow
First-year projections
As you can see, a thorough business plan can start your business out on the right foot. You will be able to make educated guesses about the success of your business. These types of projections will be important if you plan to seek outside funding. Besides, a business plan can help you to stay on track as you do the work of scaling your business. Because of this, it is important to start on the right foot by creating a business plan.
Selecting a Salon Name Similar to a Competitor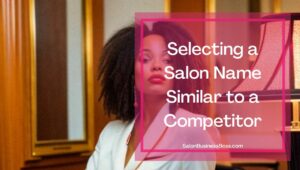 Selecting the right name for your business is extremely important. The name of the business serves as the first introduction. It serves as a way to bring in clientele, to let them know what you are all about, to signal the kinds of customers you plan to serve, and it makes your salon special. The name of your business will be omnipresent in your business. It will appear on business cards, supplies, your website, and on any direct marketing you plan to do. Because of this, it is important to choose a name that is unique and powerful. If you end up choosing a name that sounds similar to a competitor then you will lose some of that impact. If you choose a name similar to a competitor there are a variety of things that can happen. Here are some examples:
You can involve your salon in controversy
Affiliate your salon with one that has a bad reputation
Leave yourself open to violating trademark laws
Risk having to find a new name in the future
For these reasons, it's best to take your time to come up with the best name you can for your business. Because your salon's name will carry so much weight, it will be important to avoid creating confusion with it. As stated above, selecting a similar name to a competitor could also get you involved in some legal issues. Trademarked names and similar-sounding ones are protected legally. If you've copied a salon's name that was trademarked the owner could file an action against you. To avoid the financial calamity that could come from this, make sure you pick a unique salon name.
Not Getting Your Salon Name Trademarked
As you get larger you should consider getting your unique name trademarked. You may not need a trademark right away however a trademark protects you legally as stated above. Let's first get into what a trademark does. A legal trademark identifies the source of goods and services. There are a few things that can be trademarked. Some of these include business names, logos, product names, and labels. Now, let's talk more about what a trademark can do for you. A trademark has the following protections:
You'll have nationwide trademark protection
Your trademark ownership becomes part of the USPTO's database. This database publishes a public record of your ownership and the date you began using the trademark
People who search the database will see your trademark and be less likely to use it
You can file a federal suit to enforce your trademark
Registration creates a legal presumption that you own the trademark and can use it for the services or goods that you defined in your application
U.S. registration can also make it easier for you to obtain a trademark in other countries
Registration also gives you the right to use the registered trademark symbol
Overall, not getting your trademark leaves you without the protections listed here. And knowing that filing a simple piece of paperwork can get you all of this, why would you not trademark your salon name? Who knows, maybe you'll want to start your line of products. By trademarking your name, you'll be prepared for this step.
Going Cheap on Logo Design
Just like your salon name, your salon's logo is a symbol of your standards. If you effectively execute branding, you can make your logo synonymous with your salon. Not only will people know you by name, but they'll know you by your logo. In creating your logo, make sure you go to a professional. I can't count how many times I've seen a grainy logo on a website or business card. To me, this reads cheap. If your name and logo are the first ways people come into contact with your salon, it is worth it to invest in it. Find a reputable company, tell them your vision for your logo, and confidently share what you do and don't like. You're going to live with the logo for as long as you have your salon. Unless you decide to rebrand. However, if you do it right the first time, you won't need to rebrand. So avoid the mistake of skimping on your salon's logo. It'll be one of the best forms of marketing for your business.
Selecting the Wrong Salon Location
We've all heard the phrase "location, location, location". It's famous for a reason. Making sure you pick the right location for your salon can impact the amount of foot traffic you receive, the type of clientele you serve, and the reputation your salon earns. Before you start picking out the salon location make sure you do a ton of research. Some things to think about before selecting a location include:
Style of operation
Demographics
Foot Traffic
Parking and Accessibility
Competition
Site's Image and History
Style of operation focuses on whether your salon will be elegant or laid back. Depending on what you select, it'll be useful to place your salon in a location that mirrors your selected style. Demographics are also important. They focus on what types of people might frequent the area where you want to place your salon. If people in your chosen area are less likely to pay for salon services, you don't want to place your salon there. Foot traffic is useful if you plan to focus on bringing in customers that happen to stop by your salon. The more foot traffic there is, the more likely you are to find new customers.
Parking and accessibility are huge in selecting a location. If you plan to focus on serving seniors at your salon you may need to make sure that the building is accessible to those with mobility issues. Parking is also big because if people decide that it is too much of a hassle to enter your salon, they won't. They'll choose a place that is easier to access. Competition is a factor in decisions about salon location for obvious reasons. If there are a bunch of salons located in an area, they'll all be battling for the limited number of clientele. Finally, the site's image and history are important for those in the area. If your salon location is known as being located in a dangerous area, people are less likely to visit.
Ignoring Social Media Marketing
Social media marketing is all the rage these days. Many international businesses are now focused on their social media presence. This is because the way you appear on social media can give potential clients cues about whether they'd like to patronize your salon. For example, if your goal is to present as a laid-back salon where anyone would feel welcome, then your social media should depict that. You have to do your best to create a vibe that your target audience will identify with. Also, social media allows you to better engage with your clients. You can pose questions to them, learn about their likes and dislikes, and propose changes and ask for input. If you do it right, social media can skyrocket your number of customers.
Not Investing in a Quality Website
While social media will offer you the ability to engage with your clients more easily. A well-designed website can pull a lot of weight for your business. For example, your website could offer pricing information, could include a scheduling feature, allow for prepayment for services, and offer more detail about the services you provide. Besides, a good website will be useful for connecting to people who choose not to use social media. Because your website can do so much, it is important to make sure looks good. You don't want to send clients to a difficult to maneuver site. You also don't want them to have to look at a site that looks poorly constructed. When I'm looking at a business website, I want to feel like they took time to curate it. For me, it serves as a test drive before I decide to patronize the establishment. If the site is terrible, I avoid the business. Don't want that to happen to you? Be sure to create a budget for your business website. It'll need consistent updating as your business grows. Don't forget to include pictures of yourself and the salon on the site. As I said, this will serve as the first experience with your salon for potential clients.
Not Investing in a POS System
All businesses operating today need a reliable POS system. POS stands for "point of sale". This system will allow you to conduct transactions with your clients. This system needs to be reliable so that you can conduct business without any issues. It needs to keep your client information safe. It also should help you with maintaining and supplementing your budget. There are many options for POS systems out there. Many of them can be connected to your salon's website for scheduling and payment integration. This will make it easier for your clients to do business with you. Overall, the perfect POS system for your salon depends on your needs. Make sure you do some research to identify what features are important to you.
Not Obtaining Required Professional Licenses
One way to put yourself out of business before really getting started is to fail to obtain the required professional licenses to run your salon. To get your cosmetology license, for example, you'll need to complete the required education and pass a state-determined exam. Each state has its own rules and guidelines for how you must receive your professional license. But, one thing they all have in common, is that you must demonstrate some form of knowledge before performing any client services. Once you decide the scope of your salon, make sure you have completed all the necessary education, completed any examinations, and filed for your license. A cosmetology license generally requires the most hours with barbering right behind. Keep in mind that if you refuse to receive your license, you can be reported and face different forms of penalty.
Not Getting Your Business License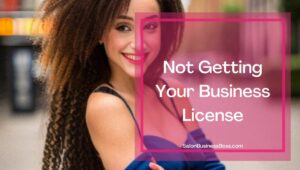 Forgetting to get your business license is another mistake that can cause a lot of problems. If you open your salon without obtaining your business license you can be fined by your local, state, and/or federal government. Also, you can be forced to shut down. Finally, another issue that could arise is that you could leave yourself open to lawsuits from clients. If you don't perform your services in a way that they perceive as safe and responsible, they could sue you. All of these things could create major problems for you and your employees. Make sure you follow all of the requirements in your state to avoid these kinds of problems.
Forgetting to Purchase Insurance
Insurance is another thing you need to keep you safe as a business owner. Thinking that you can avoid this cost is a major mistake. Insurance can cover a variety of things related to your business. For example, it can assist you if something happens to your salon building. It can cover you if a client is injured on the premises. Insurance is often necessary before you can obtain a business license. Make sure you put purchasing insurance at the top of your list.
Not Following a Budget
If you followed the necessary parts of a business plan, you might've already created a budget. The problems can arise when you forget or refuse to follow the budget once your salon opens. A budget will help you keep your business open by helping to prevent you from overspending. It'll also help you better understand how much you need to earn to stay afloat. In times of economic downturn, you may need to cut different aspects of your business to stay open. If you don't have a budget, you may not know what is expendable. A budget is the lifeblood of any successful business. Do your best to follow your budget and to adjust as needed. Your budget should be a working document. As you learn new information make necessary changes.
Check out our article on budgeting HERE.
Not Conducting Client Research
Market research should be conducted in your business plan. However, you should also make sure that you spend some time looking at the type of client you hope to serve at your salon. This information can help educate you on client likes and dislikes. It can help you focus your business on processes and services that are more likely to yield success. For example, if you learn that your potential client is likely to be interested in being offered additional amenities in addition to salon services, you'll need to offer them. Make sure to be open to what you learn from this type of research. It could be extremely important to keep your clients coming back to your salon.
Hiring the Wrong Staff
If you hire the wrong staff for your salon then no amount of research will save your business. That is because customer service is paramount to the success of a business. If you have staff that spends more time arguing than serving the customer, then you're bound to have problems. In addition to making sure the staff communicates with clients well, you'll also want to make sure that they perform their jobs well. If you have stylists on staff, you'll want to make sure that they can do the styles that your clients will request. Having a good group of staff members in your salon will make your life easier in the long run. If they can function well without you being present, you'll be able to take needed breaks. Also, they'll bring in clients. So, make sure you pay attention to the types of people you hire. They can easily make or break your business.
Ignoring Salon Decor
We've done a lot of talking about your clients. This is because your goal is to serve them. That's why you want to open a salon. So, when you start thinking about decorating your salon you'll need to continue to keep your clients in mind. As I shared before, you'll need to define what types of clients you plan to serve. If they are laid-back then your decor will reflect that. If they are more elegant, your decor should reflect that. Just because you have the skills and the tools doesn't mean you should avoid the important task of decorating your salon for those you want to serve. Use the information you gained from client research and decorate your salon based on what you learn. Your salon decor will be presented on your social media and your website. This means it'll be seen by a variety of people. If it looks good you'll be able to bring in new customers that fit your client profile.
Related Question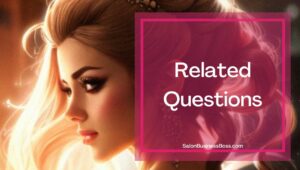 Who should I contact to trademark my salon name?
To get started on completing your trademark you can visit https://www.uspto.gov/trademarks/basics/trademark-process. This site will explain the process for completing a trademark and will connect you to the appropriate entities.​
Looking to start your own Salon? Get the documents you need to get organized and funded here.
Please note: This blog post is for educational purposes only and does not constitute legal advice. Please consult a legal expert to address your specific needs.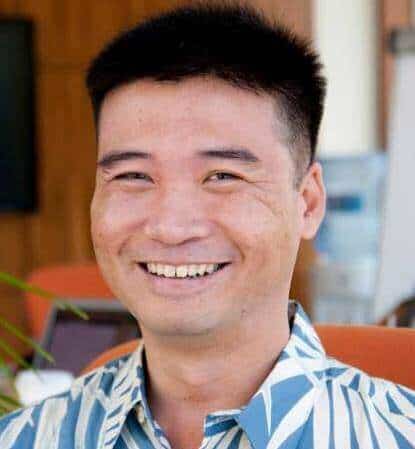 About the author. Entrepreneur and Salon Business Fan.
Hi! I am Shawn and I am a happy individual who happens to be an entrepreneur. I have owned several types of businesses in my life from a coffee shop to an import and export business to an online review business plus a few more and now I create online salon business resources for those interested in starting new ventures. It's demanding work but I love it. I do it for those passionate about their business and their goals. That's why when I meet a salon business owner, I see myself. I know how hard the struggle is to retain clients, find good employees and keep the business growing all while trying to stay competitive.
That's why I created Salon Business Boss: I want to help salon business owners like you build a thriving business that brings you endless joy and supports your ideal lifestyle.