When you start your own salon, creating your pricing and knowing when to offer discounts will be vital for the success of your salon. By offering too many discounts or coupons, you can put your business in jeopardy. To help you use discounts, deals, and coupons in a way that benefits your salon, we have included all the guidelines you need to know.
As a salon owner, you should offer discounts, deals, and coupons. However, it is essential to limit your discounts to a few times per year. It is also important to compare your discounts to your overhead expenses, to ensure that you are always in the positive financially. Discounts can be a great way to build your client base.
Limiting Discounts in Your Salon
To help your salon remain financially successful, it is important for you to limit the amount that you offer discounts, deals, and coupons in your salon. There are multiple disadvantages that come along with offering discounts too often or consistently.
The first disadvantage of offering discounts too often is your customers will become used to this price. When you decide to remove the discounted price or deal, your customers will likely become surprised and upset by the regular price of your services. When you are offering discounts, it is important to make sure that your clients know that this is a temporary discounted rate and not the regular price they'll pay for your services.
The second disadvantage of offering discounts too often is what it can do to the finances for your business. If you are consistently offering lower rates and your overhead costs aren't decreasing, your finances will likely continue to decrease and can end up going in the negative.
 Discounts, deals, and coupons can be a great tool to use in your salon. However, they should be used sparingly throughout the year in order for you to be able to use them for all the benefits they can offer your business. If you consistently use discounts in your salon, the discounts will work less when it comes to creating urgency for booking services in your salon. 
For example: If a potential new client sees you always have a discounted rate going on every month, they will be less urgent to book services and may decide to put off visiting your salon for another time. If the discount is for a limited time, the client will want to hurry and get in before the discount is gone. Limited discounts give your clients urgency to visit your salon.
Creating the Best Discount for Your Salon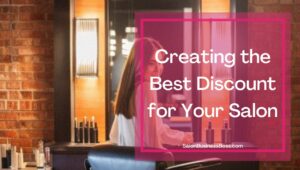 When you are creating a discount, deal, or coupon for your salon, you need to be careful not to offer a discounted rate that is too high. If your discount is too high, then your salon could end up being in the negative financially for the services booked with the discount. Discounts will increase your sales, but you shouldn't be losing money on every sale the discount brings to your salon. It's important for your finances to remain in the positive.
We recommend adding up the overhead costs for the services and then comparing it to the discounted rate. Will you still be in the positive after offering the discount and paying for your overhead expenses?
For most services, we recommend not offering discounts over 25% off your regular price. By offering more than 25% off your services, you will be more likely to go in the negative. The ideal range for a discount is around 10% to 20% off your regular price. Clients will still be extremely attracted to this discounted rate!
Using Discounts and Coupons to Build Your Client Base
Discounts, coupons, and deals are an excellent tool to use when it comes to building your client base. When a potential client is looking for a new salon to start using, they will likely be attracted to a discounted rate or a coupon available for new clients.
Offering a coupon for new clients allows you to limit the use of the coupon (since the client will only be able to use it on their first visit), and it also gets more new clients in your salon. This is a great tool to use if your salon has a lot of availability in your booking calendar, and you are seeking new clients.
Another way discounts can help you build your client base is by providing you with an excellent point of attraction for your marketing. If you are offering a certain deal in your salon, you can create an advertisement on social media and talk about the deal that's going on. This will catch the eye of potential new clients when they see the ad.
Discounts help you build your client base because it gives potential new clients a reason to try your salon. If they've never been to your salon, they likely don't have any trust built in your salon yet. They haven't witnessed the value of your services yet. By getting a discount on the services they'll receive, it gives them a reason to try your services for themselves.
Ideal Times to Offer Discounts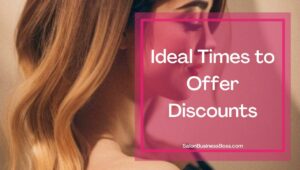 As we mentioned earlier, it is essential to offer your discounts, deals, and coupons sparingly throughout the year. Discounts should not be a consistent part of your salon. To help you time your discounts correctly throughout the year, we recommend offering your specials during certain times of the year. This will help your discounts be the most effective.
 We recommend offering discounts around back to school shopping and Black Friday weekend, then also around Valentine's Day and Mother's Day. This would give your salon around four different discounts throughout the year, which is the ideal amount. We recommend limiting your discounts to no more than five times per year. 
 During the time when students are going back to school, hair salons will be much busier than normal. Not only will the younger children be getting their haircut, but high school and college students will be getting their hair done as well. To help you take full advantage of this time of year, we recommend offering a back to school discount.
 For Black Friday weekend, we recommend offering a discount on gift certificates. During this time of year, all shoppers are expecting great discounts with the holiday season, and they will be shopping for their loved ones. Salon gift certificates make excellent holiday gifts. You can increase your sales by offering a discount on your own certificates. 
 Another way gift certificates can benefit your salon is it helps you get new clients in your salon. For example: If one of your current clients buys a gift certificate for their sister-in-law, you will get a new client when the sister-in-law uses the certificate. If she is happy with the services and enjoys her experience, she'll also be likely to keep returning to your salon!
 Valentine's Day and Mother's Day are two excellent times to also offer a discount, deal, or coupon at your salon. Around these holidays, men will likely be shopping for gifts for their wives, girlfriends, or mothers. Gift certificates to a salon make an excellent gift idea for women, and they are easy for the men to purchase! 
 You can even put together a special Valentine's Day and Mother's Day package, where you offer multiple services at a discounted rate. Then you can offer gift certificates for these packages that can be booked within a certain time frame (like up to 90 days).
 Discounts, deals, and coupons are an excellent tool for you to use in your salon! Special pricing attracts both your current clients and potential new clients. Discounts are likely to largely increase your sales every time as well! By using our guidelines above and offering discounts strategically, discounts can add to the success of your salon!
Related Questions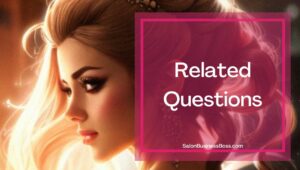 Do I need business insurance for my salon?
Yes, all salons should have business insurance! Some states will even require proof of business insurance before you can get your business license. However, we highly encourage it for all salons, even if it's not required in your state.
Business insurance acts as a form of protection for your salon. If a client gets hurt in your salon and you have general liability business insurance, you could submit a claim and your insurance company would cover the medical costs. Without insurance, you'd have to cover the costs yourself (which puts your business at risk).
What type of marketing should I use for my new salon?
Marketing is an excellent way to build a client base for a new salon. However, we know your budget can be small when you are first starting your business! For a new salon, we recommend sticking with social media marketing. By marketing on social media, you will be able to attract the most amount of people for the best price.
By creating a business profile on Facebook and Instagram, you can create advertisements where you decide what your budget will be. It can be as little as $1 per day. The amount Facebook or Instagram shows your ad is based on the budget you set for the campaign. You can also put in characteristics of your target audience, which will help your advertisement be as successful as possible.
Looking to start your own Salon? Get the documents you need to get organized and funded here.
Please note: This blog post is for educational purposes only and does not constitute legal advice. Please consult a legal expert to address your specific needs.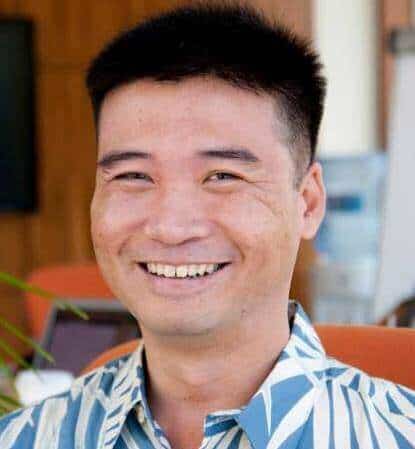 About the author. Entrepreneur and Salon Business Fan.
Hi! I am Shawn and I am a happy individual who happens to be an entrepreneur. I have owned several types of businesses in my life from a coffee shop to an import and export business to an online review business plus a few more and now I create online salon business resources for those interested in starting new ventures. It's demanding work but I love it. I do it for those passionate about their business and their goals. That's why when I meet a salon business owner, I see myself. I know how hard the struggle is to retain clients, find good employees and keep the business growing all while trying to stay competitive.
That's why I created Salon Business Boss: I want to help salon business owners like you build a thriving business that brings you endless joy and supports your ideal lifestyle.