In an era where personal grooming and self-care reign supreme, the concept of a home-based salon has blossomed into a captivating and thrilling venture. Whether you're a seasoned stylist or a passionate beauty enthusiast.
Here are some enchanting home-based salon ideas to unleash your creativity: from spa sanctuaries to mobile beauty on wheels, dive into the world of at-home elegance.
This article is your treasure map to explore 10 irresistible home-based salon ideas that can elevate your entrepreneurial spirit to new heights.
The Tranquil Retreat: Spa Sanctuary
Imagine converting a cozy corner of your home into a peaceful sanctuary, where gentle lighting, soothing fragrances, and a calm atmosphere envelop you. This concept, "The Tranquil Retreat: Spa Sanctuary," allows you to offer a selection of pampering spa experiences, spanning from revitalizing facials to tension-relieving massages.
Within this personal haven, you have the chance to extend a welcoming refuge to clients who yearn for a break from their bustling routines. As they step into your abode, they step into a world of tranquility where worries dissipate and relaxation takes center stage.
Soft music playing in the background, subtle lighting casting a warm glow, and fragrances that evoke serenity – these elements contribute to an atmosphere that nurtures the mind, body, and spirit. Whether your clients seek solace from stress, a moment of rejuvenation, or a way to reconnect with themselves, your spa sanctuary becomes their haven for embracing calmness and rejuvenation.
In this venture, you're not just offering spa treatments; you're gifting your clients an opportunity to find serenity within the comforts of your home. It's a space where everyday concerns fade, replaced by a sense of peace that leaves a lasting impression.
Read more about: Hair and Cut Cost Hair Salon: What You Need to Know
Glamour on Wheels: Mobile Hair and Makeup Studio
Embark on a journey of style and convenience with "Glamour on Wheels: Mobile Hair and Makeup Studio." Utilize your expertise by transforming a stylish van into a versatile beauty haven. This innovative concept allows you to cater to various occasions, such as weddings, special events, and photoshoots, by offering on-the-spot beauty transformations.
Imagine arriving at the venue, be it a wedding venue or a photoshoot location, in your well-equipped mobile salon. Inside, clients are met with a range of beauty services tailored to their needs. From elegant updos and flawless makeup to hairstyling that complements their personalities, your mobile studio is a one-stop solution for enhancing their looks.
The real charm lies in the convenience you bring to your clients' lives. No need for them to rush to a salon amidst their busy schedules; your salon-on-wheels arrives at their doorsteps. This not only saves their time but also adds an element of luxury and personalized service.
As you navigate the streets with your mobile beauty studio, you're not just providing beauty services; you're delivering an experience. It's a journey where you transform ordinary spaces into glamorous backdrops, all while offering a touch of elegance that's as mobile as it is magnificent.
Nail Nirvana: Manicure and Pedicure Paradise
Dive into the world of artistic nail care with "Nail Nirvana: Manicure and Pedicure Paradise." This specialty lies in the realm of nail artistry, where your creativity flourishes. Your home-based nail salon offers an array of options, from classic French tips to elaborate and intricate designs that make each client's fingertips a unique work of art.
Within your welcoming space, clients can escape into a world of self-expression through their nails. As you meticulously craft their manicures and pedicures, their preferences and personalities come to life through a symphony of colors, patterns, and styles.
Imagine delicately painting floral motifs, geometric shapes, or even tiny landscapes onto each nail, turning them into miniature canvases. Your expertise not only enhances the aesthetics but also boosts your clients' confidence, as they carry your creations with pride.
Your nail haven becomes more than just a salon; it's a place where individuals find an outlet for their creativity, a moment of pampering, and a boost of confidence rolled into one. Your hands transform their hands, and your passion transforms their nails into a unique form of self-expression.
Welcome to "Locks of Love: Hair Extensions and Styling Studio," a haven for hair enthusiasts and stylistic transformations. If hairstyling is your passion, this niche is where you can shine. Beyond the usual haircuts, your focus lies in the realm of hair extensions and intricate hairstyles.
Picture this: your home is transformed into a welcoming space where clients find comfort and style combined. Whether they're gearing up for a special occasion or simply seeking a confidence boost, you offer an array of services that cater to their unique desires.
From adding volume and length through extensions to crafting elaborate hairstyles that reflect their personalities, your expertise becomes a canvas of creativity. Each strand of hair you work on holds the potential to make someone feel their best, igniting a sense of confidence that radiates outward.
Your cozy studio becomes a sanctuary of transformation, where clients step in with one look and walk out with another. With your skills, you're not just a hairstylist; you're an artist, sculpting looks that mirror desires and capturing the essence of each individual's style.
Effortless Elegance: Vintage Hair and Makeup Salon
Step into a realm of classic charm with "Effortless Elegance: Vintage Hair and Makeup Salon." This distinct concept invites you to journey back in time and embrace the enchantment of bygone eras. Your specialization lies in recreating vintage hairstyles and makeup looks that carry the elegance of yesteryears.
Imagine your salon as a gateway to another time, where clients are transported to epochs marked by grace and allure. With your expertise, you craft hairstyles that capture the essence of retro glamour, from pin-up curls to finger waves. Makeup takes on a classic touch, accentuating features in a way that harkens back to iconic styles.
The unique theme of your salon isn't just a design choice; it's an experience. As clients step through your doors, they're greeted by an ambiance that resonates with nostalgia. Your mastery in vintage aesthetics becomes a conversation starter, a topic that draws intrigue and fascination.
In a world where trends come and go, your salon stands as a timeless oasis, offering a glimpse into the elegance of the past. It's not just about hair and makeup; it's about embracing the spirit of eras that continue to inspire. With each transformation, you weave together the threads of history and style, turning your salon into a captivating portal to the past.
Read more about: Hair Business Ideas: From Salons to Styling Ventures
Barber Bliss: Grooming Hub for Men
Step into a world of masculine indulgence with "Barber Bliss: Grooming Hub for Men." Recognizing that men deserve pampering too, this venture invites you to create a space dedicated to their grooming needs. Imagine a sanctuary where classic barber chairs and rustic vibes merge seamlessly.
Within this haven, you offer a range of services tailored to men's preferences. From stylish haircuts that elevate their appearance to meticulous beard trims that enhance their facial features, your expertise is at their service. The experience extends to hot towel shaves, a timeless ritual that brings a touch of nostalgia and relaxation.
Your space isn't just about grooming; it's a nod to the charm of old-school barber shops. The classic chairs and vintage décor evoke a sense of familiarity, where men can unwind and enjoy an experience that's crafted just for them.
In a world where self-care knows no bounds, your grooming hub fills a niche. It's a place where men step in for a makeover and leave with a renewed sense of confidence. With each cut, trim, and shave, you weave together the threads of care and style, offering a space where men can experience their own version of pampering bliss.
Luscious Lashes: Eyelash Extension Hideaway
Indulge in the trend of mesmerizing lashes with "Luscious Lashes: Eyelash Extension Hideaway." In a world where fluttering eyelashes hold immense allure, your home-based salon is poised to become the ultimate haven for achieving stunning lash transformations.
Picture this: clients walking in with the desire for fuller, more captivating lashes. This is where your expertise in the art of eyelash extensions comes into play. With precision and care, you enhance each lash, creating a lush and luscious frame for their eyes.
Your salon becomes a go-to destination for those seeking a boost of confidence through their eyes. As they leave, they're armed with a reason to bat their lashes with renewed self-assurance, whether it's a special occasion or simply a day of feeling fabulous.
Your mastery in eyelash extensions goes beyond mere beauty; it's about accentuating features and amplifying confidence. In a single session, you create an impact that's hard to overlook. With each lash meticulously placed, you're crafting a canvas of allure and charm that your clients wear with pride. Your salon isn't just about lashes; it's about empowering individuals to showcase their own unique beauty, one lash at a time.
Mini-Makeovers: Quick Makeup Fixes
Step into the realm of quick beauty fixes with "Mini-Makeovers: Quick Makeup Fixes." This concept caters to those who desire a dash of enchantment in their everyday routines. Imagine setting up a mini-makeup studio that's ready to work its magic at a moment's notice.
Your focus lies in offering swift solutions that enhance natural beauty. Whether it's a last-minute touch-up or a makeup emergency, your expertise comes to the rescue. Think of it as a quick makeup pit stop where clients leave feeling more confident and ready to take on the day.
But it's not just about touch-ups; it's also about education. You offer makeup lessons that empower your clients to become their own makeup artists. From mastering the art of a flawless base to nailing that perfect winged eyeliner, your guidance becomes a valuable skill.
Moreover, your personalized makeup shopping experiences offer a tailored approach. You help clients find the products that suit their skin tone and style, making their makeup routine simpler and more effective.
Your mini-makeup studio isn't just about makeup; it's about convenience, education, and enhancing beauty on the go. With each brush stroke and makeup tip, you're adding a touch of magic that turns everyday routines into moments of glamour and self-confidence.
Read more about: Hair License Cost: Your Journey to Professional Styling
Bridal Beauty Abode: Wedding Day Glamour
Step into the world of romance and preparations with "Bridal Beauty Abode: Wedding Day Glamour." As love fills the air, so does the anticipation of the big day. Imagine converting a room in your home into a haven dedicated to the bridal journey.
Within this bridal beauty sanctuary, you offer comprehensive packages that encapsulate all things beauty for the bride-to-be. From hair styling that complements her gown to makeup that enhances her natural radiance, you ensure she walks down the aisle exuding confidence and charm.
But it doesn't stop there. Your offerings extend to pre-wedding skincare, ensuring the bride's skin is as radiant as her smile. With personalized attention, you tailor treatments to her unique skin needs, preparing her for the spotlight.
Your abode becomes a place where wedding dreams come to life, a space where brides step in as individuals and emerge as glowing, confident beauties. It's more than just hair and makeup; it's about embracing the essence of love and turning it into a vision of beauty. With every brush stroke and skincare regimen, you're crafting a narrative of bridal elegance that will be cherished for years to come.
Zen and Style: Yoga Hair Studio
Merge the realms of tranquility and style with "Zen and Style: Yoga Hair Studio." Imagine crafting a distinctive space that marries your love for yoga and haircare. Here, clients embark on a journey that nurtures both body and hair.
This unique concept begins with a yoga session, allowing clients to immerse themselves in relaxation and mindfulness. As they unwind and connect with their inner selves, they're preparing for the indulgence that follows.
Following the yoga session, clients receive expert hair treatments that cater to their specific needs. Whether it's nourishing treatments, styling, or even hair spa experiences, your focus is on transforming their locks with care and expertise.
Your holistic approach to self-care ensures that clients emerge not only with fabulous hair but also with a renewed sense of energy and well-being. They're rejuvenated from head to toe, experiencing a fusion of serenity and style that's rare to find.
Your studio isn't just about hair; it's about embracing the synergy between wellness and beauty. With each yoga pose and hair pampering, you're creating a haven where self-care isn't just a routine – it's a transformative journey of rejuvenation and style.
Conclusion
Whether you're drawn to the tranquility of spa treatments, the artistry of nail design, or the elegance of vintage styling, each idea is a path to creating a business that reflects your passion and skill.
As you embark on this exciting journey, remember that your home-based salon is more than just a physical space. It's a canvas where you paint beauty, confidence, and self-care for your clients. Let your entrepreneurial spirit flourish, and may your home-based salon shine as a beacon of creativity, style, and unwavering dedication.
Frequently Asked Questions
Q: What types of services can be offered in a home-based salon?
A: Home-based salons can offer a wide range of services, including haircuts, styling, nail care, makeup application, waxing, and even spa treatments like facials and massages.
Q: Is it legal to operate a salon from home?
A: The legality of a home-based salon varies by location and local regulations. It's important to research and comply with zoning laws, licensing requirements, and health and safety standards in your area.
Q: How can I attract clients to my home-based salon?
A: Effective marketing strategies like social media promotion, creating a professional website, offering special promotions, and providing exceptional service can help attract and retain clients.
Q: What are the advantages of a mobile salon business?
A: A mobile salon offers convenience for clients who prefer services at their doorstep. It reduces overhead costs and allows you to reach a broader clientele. However, logistical planning is crucial for growth.
Q: What safety measures should be in place for a home-based salon?
A: Maintaining hygiene, disinfecting tools, using clean and safe products, and following health guidelines are essential. Adequate ventilation, proper waste disposal, and a clean working environment are also crucial for client safety.
The information provided by SalonBusinessBoss.com ("The Site") is for general informational purposes only. All information on the Site is provided in good faith, however, we make no representation or warranty of any kind, express or implied, regarding the accuracy, adequacy, validity, reliability, availability or completeness of any information on the Site. Under no circumstance shall we have any liability to you for any loss or damage of any kind incurred as a result of the use of the Site or Reliance on any information provided on the Site. Your use of the Site and your reliance on any information on the Site is solely at your own risk. This blog post is for educational purposes only and does not constitute legal advice. Please consult a legal expert to address your specific needs. Terms and Conditions. (https://salonbusinessboss.com/terms-conditions/)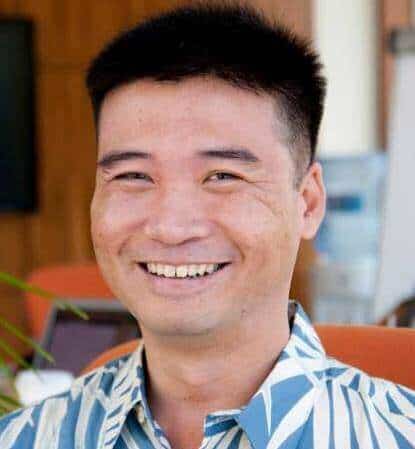 About the author. Entrepreneur and Salon Business Fan.
Hi! I am Shawn and I am a happy individual who happens to be an entrepreneur. I have owned several types of businesses in my life from a coffee shop to an import and export business to an online review business plus a few more and now I create online salon business resources for those interested in starting new ventures. It's demanding work but I love it. I do it for those passionate about their business and their goals. That's why when I meet a salon business owner, I see myself. I know how hard the struggle is to retain clients, find good employees and keep the business growing all while trying to stay competitive.
That's why I created Salon Business Boss: I want to help salon business owners like you build a thriving business that brings you endless joy and supports your ideal lifestyle.