It is a common misconception that hair salons are operated solely by a handful of hair stylists that manage all functions on a day-to-day basis. The actual hierarchy of a hair salon business is a complex network of different specialists synced in a harmonious dance of functions that see a hair salon operated flawlessly daily. 
Though the responsibilities are diverse, the roles of hair salon staff fall into five general categories.
Receptionists
Assistants
Hair Stylists
Managers
Auxiliary Roles
Receptionists
Though some might think of a receptionist as an entry-level position relegated to new hires with little experience receptionists play a very important role in that they are brand ambassadors for your hair salon business. Receptionists are the first point of contact when a client makes an appointment or enters the salon. Your first impression in essence. They are also the last person a client will interact with as they leave your salon. The ability to offer a great first impression and a memorable final impression are two very important functions performed by someone in the receptionist role.
When hiring someone for a receptionist position take their overall personality and demeanor into account. An outgoing, bubbly person with the ability to multi-task is essential to success in this role as they will be constantly interacting with people while juggling phone calls, setting appointments, and greeting clients.
Though being a brand ambassador for the salon is the main role filled by a receptionist, general responsibilities may also include the following.
Answering phones and general inquiries
Booking, confirming, and canceling appointments
Performing monetary transactions
Record keeping
Information inputting
Maintaining the appearance of the front lobby of the salon
Handling retail product sales and maintaining stock inventory
Serving refreshments to clients as they wait for their appointment
Assistants
Unlike the receptionist role, the job of an assistant is, in all actuality, an entry-level position. This is the position to place new hires for training and apprenticeship purposes and can be applied to any other role in the hair salon. For example, you may have an assistant receptionist, hairstylist, or manager at any given time. Their role is mostly to support the person they are working under as they learn the skills and necessary training to one day take over that person's position. 
Most often assistants are hired right out of cosmetology school and are looking to get their foot in the door at a salon to gain practical, real-world experience in the field. Look for individuals who are eager to grow and learn with a positive attitude. It is also necessary to hire someone willing and able to accept constructive criticism as someone just starting in the hair salon industry.
Learning and absorbing their training will be the primary responsibilities of an assistant, but most will also be expected to take on such tasks as:
Cleaning and maintaining the appearance of the salon
Laundering and folding linens and aprons
Assisting in hair color formulation
Shampooing a clients hair
Blow drying a clients hair
Preparing a client to receive a service
Sweeping the floor after a cut has been performed
Restocking hair stylist's stations
Hair Stylist
The majority of your staffing will come from the hairstylist position from which your entire base will be built. The unmistakable star of the show in the hair salon business, the hairstylist is the workhorse of every salon. To become a stylist an individual must complete up to two years of formal schooling and apprenticeship as well as obtain a license to practice from the state board. Even after completing this process the training for a hairstylist is never-ending. New styles and trends keep individuals in this role constantly studying and honing their craft. 
There are many paths a stylist's career may take after finishing school, so finding not only the right mix of experience but also finding a mix of different individuals specialized in various functions is essential to any well-oiled salon operation. For example, some stylists specialize in only men's or women's hair cuts or even a specific type of cut within either of those genres. Find a blend of specialties that works for your salon concept by being explicit in the interview process about what roles within the general stylist position that you want to offer.
Though the list of responsibilities is more trained and narrow than the previous roles discussed there is more to that list than simply cutting hair. A stylist may also be tasked with any of these other responsibilities involved in providing services to a client.
Maintaining personal workstation and tools
Ordering supplies
Suggestively selling products to clients
Prepare, mix and perform coloring on clients hair
Consulting on clients color, hair type, and condition
Performing perms or relaxers
Curling or straightening hair
Maintaining personal relationships with clients and creating repeat customers
Managers
Just as with the other roles required to operate a hair salon the role of the manager is not for everyone. As a manager, you will be required to have a working knowledge of any and every other position in the salon to oversee that these jobs are being performed correctly and to fill in or assist with them as needed. Though some may be successful at running the business aspect of managing a salon, it is highly recommended to have held each of the other positions for a length of time to fully understand all roles involved in day-to-day operations. 
Because the role of salon manager is so complex, it is imperative to fill this role with someone that has a wide variety of experience in the field as opposed to a specialty. This individual must also have great business acumen and understanding of how to operate the financial and interpersonal aspects of managing a hair salon.
In addition to being able to perform all responsibilities necessary for each of the other roles, a manager must also be able to perform the following tasks relating to the business operations side of things.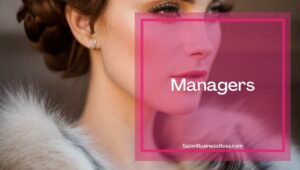 Budgeting, overseeing finances, bookkeeping
Hiring and firing employees
Training new salon staff members
Overseeing productivity and holding the other roles accountable for their responsibilities
Opening and closing down the salon
Ensuring a high level of client satisfaction
Maintaining compliance with local health and safety standards
Licensing and operations
Overseeing the marketing campaigns
Auxiliary
This section covers all of the other potential roles to fill in the salon outside of the other four main categories. This can include specialists such as barbers, make-up artists, estheticians, massage therapists, and nail technicians. Not all of these positions are necessary, but depending on how diverse the offerings are at your salon you may want to include some of these auxiliary roles. 
Recruiting for these positions will be a bit different than filling the other roles because they encompass an altogether different skill set than hairstylists. Recruiting directly at cosmetology schools and career centers is a highly effective method for capturing candidates to fill these types of roles in your salon.
By including some of these different roles some responsibilities may overlap with the hairstylist and assistant roles already filled at your salon but will also be responsible for things such as:
Apply color in a more refined way using highlights and lowlights to create unique looks
Assisting clients in achieving a complete look by apply make-up
Administering facials and offering body waxing
Overall skincare suggestions
Creating a calm and relaxing atmosphere for clients through the use of essential oils and massage therapy
Manicures, pedicures, and nail applications
Check out how to hire employees HERE.
Related Questions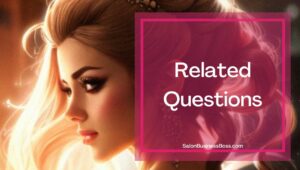 What are some recruiting tactics that can be used to capture some candidates for these roles?
Some great recruiting tactics to use when trying to fill all of the roles at your hair salon include going to job fairs at local cosmetology schools or hairstylist academies, posting on social media, soliciting referrals from current employees, and utilizing your professional network to garner potential candidates.
Why add a massage therapist to your hair salon staff?
The benefits of adding a massage therapist to your salon staff are numerous. First, you'll instantly be able to charge more by adding a shoulder, facial, or scalp massage to each cut. This added value will undoubtedly boost the reputation of your salon and earn you more clients. The advertising opportunities associated with offering this as a complimentary service, though the cost will be built into the cost of the cut, are also a huge benefit.
What are the benefits of offering a diversified list of services at your hair salon?
There are many benefits to offering a diversified list of services at your salon. The allure of being a one-stop shop for all of a client's beauty needs is first and foremost. The ability to capture more business than just those in need of a haircut is also a great way to diversify how your salon creates income.​
Looking to start your own Salon? Get the documents you need to get organized and funded here.
Please note: This blog post is for educational purposes only and does not constitute legal advice. Please consult a legal expert to address your specific needs.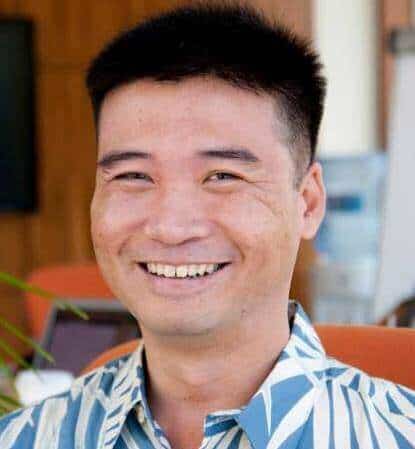 About the author. Entrepreneur and Salon Business Fan.
Hi! I am Shawn and I am a happy individual who happens to be an entrepreneur. I have owned several types of businesses in my life from a coffee shop to an import and export business to an online review business plus a few more and now I create online salon business resources for those interested in starting new ventures. It's demanding work but I love it. I do it for those passionate about their business and their goals. That's why when I meet a salon business owner, I see myself. I know how hard the struggle is to retain clients, find good employees and keep the business growing all while trying to stay competitive.
That's why I created Salon Business Boss: I want to help salon business owners like you build a thriving business that brings you endless joy and supports your ideal lifestyle.