If you have dreamed of starting your own business, allow me to begin by saying: you are not alone! According to recent studies, there are over 580 million entrepreneurs in the world. But the truth is, most startups fail within the first year. Thus, before taking the plunge, there are many things to consider. 
For instance, the beauty and cosmetics industry is one of the sectors with the best startup statistics. So, if you are looking to start a beauty salon or spa, you are already on the right track.
Owning a salon comes with a plethora of benefits and advantages, such as:
Career Advancement Opportunities

Profitable Industry

Catering to a High-Demand Market 

Options for Growth 

No Formal Education Required

Personal Fulfillment

Decision-Making Power 
Below we will go over each of the benefits mentioned above, to help you make an educated decision.
Career Advancement Opportunities 
It may or may not be your case; however, career advancement is one of the biggest motivators and benefits of owning a salon. Hairstylists, and estheticians, who have spent years working under the direction of a salon owner, usually have all the qualities and knowledge needed to start their salon. After working within the industry for years, they know how the business functions; hence, owning their salon is a seemingly natural transition. 
Moreover, in some cases, stylists and specialists are the ones bringing in the clientele. So, more often than not, they develop strong relationships with clients that, in return, will follow them wherever they go. As a result, they seize the opportunity to establish a brand for themselves by opening their establishment. 
Profitable Industry
As you may already know, the beauty and cosmetics industry is a multibillion business. Last year, it accounted for over $445 million in the U.S. alone — and according to recent studies, it is one of the fastest-growing markets worldwide. Hence, one of the most obvious benefits of owning a salon is how profitable they can amount to be. 
Furthermore, salon owners can make an average of $41,000 a year. However, according to the National Bureau of Labor Statistics, salons are not only good for their owners, but they are also highly lucrative for their personnel. Usually, hairstylists, nail specialists, and estheticians make more money than the average office employee. Besides, depending on the scope of services, size of the business, and clientele, a salon can earn $60,000 a year or more. 
Lastly, the median salon profit margin is 8.2%, 0.5% higher than the general business average, which is 7.7%. Besides, it is said to be improving year on year, which means that based on how the business is managed, it can amount to anywhere between 2-17%. 
Catering to a High-Demand Market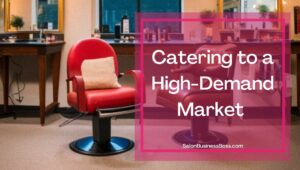 It is no secret that salons cater to a high-demand market. According to the latest Mintel research, 72% of women use professional care services. Thus, the demand is huge! But, if you are still not convinced, take a look a the following statistics:
Women spend $40 – $50 per haircut, with some services (such as coloring and keratin treatments) exceeding $300 per visit. 

A woman who gets her nails done biweekly spends almost $1,400 a year on her manicure/pedicure. 
As a result, an average woman will spend roughly $1,800 per year on nails, haircuts, and blowouts. Here, we are only considering how much the average woman spends on treatments and products. Thus, some women will pay even more for salon services. 
Options for Growth 
The good thing about the beauty industry is that it is continually changing, innovating, and advancing. As a result, you will always have room to grow. More so, if you establish a solid client base and a well-known brand. 
For example, plenty of salons develop their line of beauty products ranging from conditioners and shampoos to lotions and makeup. Or enter negotiations with established brands to re-sell their products in the salon. Remember, salons offer a captive audience, and salon owners can cross-sell products and services, making more money. 
Another great option for growth is offering a more comprehensive range of services. So, if you specialize in nails, consider hiring waxing specialists or stylists as a means to expand your business into different areas. Keep in mind that clients will spend more if you give them a reason to visit your establishment more often. 
Additionally, if you are looking to expand, look into the most high-paying services. Tanning, facials, and other spa-like services allow you to charge more than ordinary services such as manicures or blowouts. 
No Formal Education Required
Although it might seem odd, another attractive incentive for owning a salon is the fact that there is no formal education required. Estheticians, cosmetologists, and specialists need to get licensed to practice a variety of services. Nonetheless, this usually takes less than a year and consists of several simple classes that can even be done (in most cases) online. 
Thus, if you do not have a degree or a formal education, this does not prevent you from following your dream of owning a salon or spa. Contrary to popular belief, most salon owners were never business or marketing majors. A passion for beauty and the desire to make it work and put in the time will suffix. 
Furthermore, as a business owner, you will experience a ton of other benefits that, are not directly related to owning a salon but come with the role such as:
Personal Fulfillment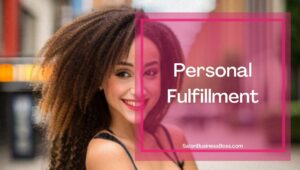 For most entrepreneurs, owning a business is a way for them to fill fulfilled at a personal level. More often than not, people strive to 'have their own thing' and to be able to 'be their own boss.' Hence, opening a salon becomes a medium to build a reputation, name, and image. 
Besides, owning a salon is also a way to follow your passion and give back to the community. Contrary to what most people believe, salons can help women (and men) feel more comfortable in their skin. According to recent data, 38% of women between the ages of 25-55 claimed that they visit salons as a means to feel more confident about their appearance and feel more attractive to the opposite sex.
Thus, whether you open a salon to feel accomplished or to help others feel better with themselves, salons have a lot to do with personal fulfillment. 
Decision-Making Power
One of the most significant benefits of owning your salon is that you will be in charge of everything and anything related to the business. Consequently, you are the one in control of the decision-making process — meaning that:
You can manage the work schedule as you see fit, hence having more flexible hours and on-demand vacation time. 

You can choose the people you work with, hiring only qualified personnel to represent your brand.

You can decide on what services you provide, and choose how much you will charge for each one. 

You can expand, relocate, remodel, and decorate according to your preferences. 

You establish what the business model, marketing investment, and public relations will take place.

You decide what products you buy, allowing you to have better control over quality.
However, with great power comes great responsibility. Running a salon is hard work! And being a business owner includes you have much more to lose. For instance.
Downsides of owning a salon include: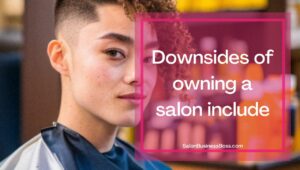 1. There is a lot of administrative work involved
As the owner of a salon, you will have to handle insurance, taxes, licenses, and other time-consuming administrative tasks that will require managerial skills. 
2. Having to rely on the staff
In general, business owners heavily depend on their personnel. However, when dealing with a salon, you practically depend on it! This means that if someone is not doing their work efficiently or professionally, it directly affects your profits.  
3. Competition is fierce
Salons are what marketers call 'red oceans,' meaning that there is a wide range of competitors on different levels. As a result, you will need to strive to differentiate yourself from others and continually innovate. To do so, experts advise you to build a support network, stay focus, and watch out for expenses. 
Below you will find some of the most frequently asked questions that come to mind when opening a salon. 
Related Questions
How long does it take to develop a clientele for my salon?
On average, crafting a list of loyal clients takes anything between 12-18 months. More so, most salon owners say it can take up to two years to find and captivate your desired audience.  
Nonetheless, with the right marketing and public relations practices, you can reduce this timeframe considerably. 
How much should I spend on marketing?
Overall, companies should invest between 3-5% of their total revenue on marketing and public relations efforts. Nonetheless, startups are a little trickier! In the beginning, you should spend around 8-10% of your profits (or initial investment) to develop the brand and be able to grow your business.
Ready to start your own salon? Get the startup documents necessary here.
Please note: This blog post is for educational purposes only and does not constitute legal advice. Please consult a legal expert to address your specific needs.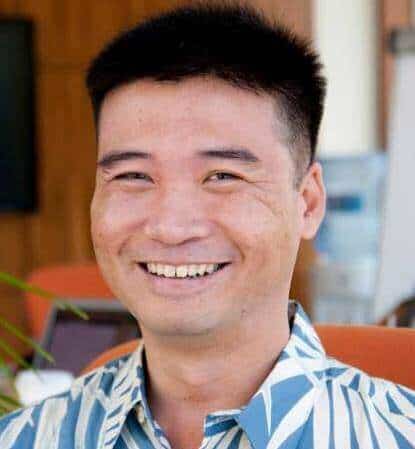 About the author. Entrepreneur and Salon Business Fan.
Hi! I am Shawn and I am a happy individual who happens to be an entrepreneur. I have owned several types of businesses in my life from a coffee shop to an import and export business to an online review business plus a few more and now I create online salon business resources for those interested in starting new ventures. It's demanding work but I love it. I do it for those passionate about their business and their goals. That's why when I meet a salon business owner, I see myself. I know how hard the struggle is to retain clients, find good employees and keep the business growing all while trying to stay competitive.
That's why I created Salon Business Boss: I want to help salon business owners like you build a thriving business that brings you endless joy and supports your ideal lifestyle.