Whether you are considering starting a salon business or are trying to organize the logistics in the opening, as a future salon business owner you may be wondering about a typical hair salon's staff, particularly the members' roles and responsibilities.
Typically, a hair salon's business staff falls into four categories: administration, up-front, maintenance, and optional. All of them are invaluable to running a smooth, customer-friendly hair salon service.
Administration Roles
As the coordinators of the hair salon, these people are essential to organize the business functions. They consider the hair salon's logistics and ensure the success of the rest of the staff.
Operator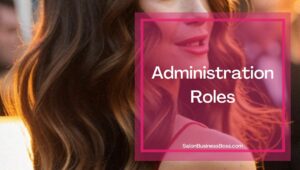 This member is often the owner of the business and has the most authority in executive decisions. Some of these decisions involve finances, customer service, retail (if it is provided), hiring management (since salons are too small for an HR department), and evaluating current employees. With these responsibilities, an operator needs the ability to handle multiple deadlines, adapt quickly to changing situations, and organize the information they gather.
If they are running a smaller salon, the operator may also do some of the actual hair services, especially if the rest of the staff is completely booked. However, the operator will need a Cosmetology license in this case.
Manager
As the closely associated assistants of the operator and indirect aids to the hairstylists, these members work with "spreadsheet details," such as finances, paperwork, scheduling, and maintenance. Because of this, they often require a strong attention to detail. 
They can also manage and train staff as needed. A manager can help coordinate retail alongside the coordinator, checking in the store to ensure that enough supplies are provided and to check customer demand. Finally, if the operator is currently unavailable, the manager can temporarily take their place.
According to Indeed, the average hair salon manager makes about $28,803 per year.
Up-Front Roles
These are the first staff that comes to mind at the word "hair salon." They work face-to-face with the clients and directly provide the salon services. Also, they directly coordinate retail and provide a more welcome customer experience.
Hair Stylist
These are the people that the clients come for! As the workers who do the actual hair maintenance, hairstylists may work best with trims, hair treatments, updos, extensions, or hair coloring. On average, a hairstylist can take six to twenty clients per day. Because of the high number of clients, a hairstylist needs good interpersonal skills, along with the ability to learn new hairstyles or cuts quickly so they can follow trends.
To prove that they are qualified, the hairstylist will need a Cosmetology license (or a similar one). Typically, a hair salon will have several levels of hairstylists based on their skill and experience, such as the Master Stylist. 
According to Indeed, the average hairstylist in the United States makes about $15 an hour. 
Receptionist
This is the person at the front desk who often greets the customers. Their responsibilities include organizing clients, checking people in, and responding to calls and emails. Because of this, they need to be both detail-oriented and people-oriented. 
If the hair salon has retail, they may also perform transactions and help refer customers to specific products. Overall, the receptionist serves to coordinate appointments and keep the salon's workflow on schedule.
Indeed has been found that the average receptionist in the United States makes about $12 an hour. 
Maintenance Roles
Oftentimes, these roles involve more of the monotonous work associated with the salon's upkeep. They are essential to attract and keep customers, along with providing a workable salon and freeing up the up-front workers' time.
Cleaners
Often, stylists and assistants do the cleaning, especially in smaller salons. However, a larger hair salon may have designated cleaners for the hair treatment area, workstations, front desk, bathrooms, etc. From day to day, a hair salon cleaner will sweep up trimmed hair, organize the workstations, and provide towels. They may also organize and clean shelves if the salon has a retail section. Once in a while, they will need to do a deeper cleaning, which typically involves thoroughly cleaning the restrooms, floors, and commonly-used surfaces. With these responsibilities, a cleaner should be able to do repetitive work and remain observant, so they can assist stylists and customers.
According to Indeed, the average cleaner in the United States makes about $9.81 an hour. 
Salon Assistant
As they work alongside the hairstylists, the salon assistant may wash hair, mix colors, clean workstations while the stylists are busy, and retrieve supplies such as towels. They help keep the workflow running and allow the stylists to focus on their work. Similar to managers, they may keep track of customers; similar to cleaners, they may help tidy the work areas. Because of this, they can replace both positions in smaller salons. Like the cleaners, they need to be attentive to the stylists' needs.
As Indeed has found, the average salon assistant in the United States makes about $11.83 an hour. 
Marketing
An administrator or manager may primarily do the marketing, but a hair salon can also have an assigned marketer, especially if those members are busy or do not have a knack in the area. A good marketer can help with branding, formulating campaigns, finding ways to bring in new customers, making new coupons/deals, etc. Depending on their skill set, a marketer may also be able to maintain an updated website (both for content and SEO). Finally, if the hair salon has a retail section, they may consider product trends, plan out product arrangements that appeal to customers, and design sales for specific products. Along with these skills, a marketer needs strong learning and creative abilities.
If the salon only needs marketing and advertising services once in a while (for example, to come up with a new campaign, redesign the logo/website, write new content, etc.), it can offer temporary positions or short-term projects to contractors as needed. 
Optional Staff
Although these staff members may not be necessary for all salons, they can provide a leg up by attracting more customers. They can offer additional services for nail and skincare, encouraging customers to come back and providing more options for retail if it is available.
Manicurist
If the hair salon also has a nail salon section, it can have a few manicurists. The manicurists may paint nails, help with cuticles and nail health, file/trim, etc. A general nail technician makes about $17 an hour according to Indeed. 
Aesthetician 
These staff members specialize in makeup and skincare, such as facials. If a salon includes skincare services but does not have it as a primary focus, an aesthetician can be a less expensive and more general alternative to the makeup artist. According to Indeed, the average aesthetician makes about $19 an hour.
Massage Therapist
Although massage services do not have to do directly with beauty, they often fit well with the relaxing setting and are attractive to many hair salon customers. If the salon is smaller or on a tight budget, an aesthetician can provide massage services as well—but they do not have as advanced training in the area. Indeed has been found that a typical massage therapist makes about $31 an hour.
Check out our tips to training the BEST employees HERE.
Conclusion
As indicated throughout the roles described, some staff members' responsibilities overlap. This is because each staff's responsibilities differ depending on their experience and the salon's size or workload. For example, if a salon is smaller, it may just need a few assistants to aid the stylists, do the cleaning, and work at the front desk. In a few salons, the stylists themselves may do many of these responsibilities. On the other hand, if the salon is larger, it may need an assistant, cleaner, manager, and stylist, all of whom are extremely busy with their own tasks.
Related Questions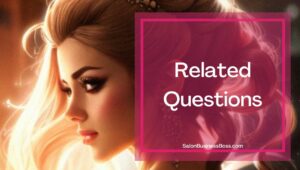 How do I find the right staff members for my team?
Along with advertising openings on the company website and on billboards, a hair salon can post jobs on online job boards, where they can provide more specific criteria and target a more specific audience. Throughout the hiring process, the salon should provide clear information, focus primarily on the prospect's abilities, and understand each applicant's skill set.
How do I properly train my hair salon staff?
Training salon staff on the spot as opposed to finding high experience can not only lower rates but also allow the salon to focus primarily on the members' abilities. Even the highly experienced will benefit from knowing the salon's exact policies. Throughout the training process, the staff should be trained intensely in a few paid sessions, as opposed to only be taught a few new things occasionally. 
What are the benefits of having skin and nail services in a hair salon?
These services often imitate upselling, giving the customers more options and encouraging them to return. Also, if they want to have a "makeover" for a special event, they can have their hair, makeup, and nails done in one go.
Looking to start your own Salon? Get the documents you need to get organized and funded here.
Please note: This blog post is for educational purposes only and does not constitute legal advice. Please consult a legal expert to address your specific needs.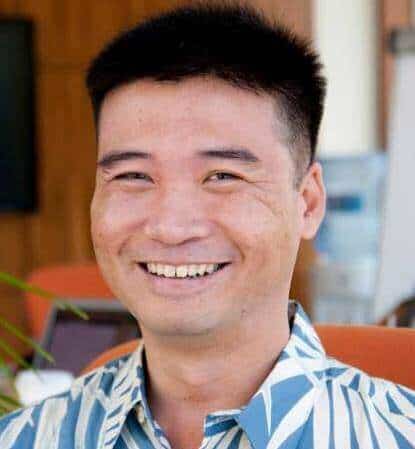 About the author. Entrepreneur and Salon Business Fan.
Hi! I am Shawn and I am a happy individual who happens to be an entrepreneur. I have owned several types of businesses in my life from a coffee shop to an import and export business to an online review business plus a few more and now I create online salon business resources for those interested in starting new ventures. It's demanding work but I love it. I do it for those passionate about their business and their goals. That's why when I meet a salon business owner, I see myself. I know how hard the struggle is to retain clients, find good employees and keep the business growing all while trying to stay competitive.
That's why I created Salon Business Boss: I want to help salon business owners like you build a thriving business that brings you endless joy and supports your ideal lifestyle.